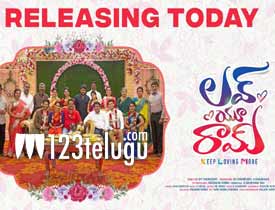 Release Date : June 30, 2023
123telugu.com Rating : 2.25/5
Starring: Rohit Behal, Aparna Janardanan, Dasaradh, Beneji, Prashant Sharma, Sri Meer, Pradeep Kondiparti
Director: DY Chowdary
Producers: DY Chowdary and Dasaradh
Music Directors: K Vedaa
Cinematographers: Saai Santosh
Editor: SB Uddhav
Related Links : Trailer
Small movie Love You Ram, written and produced by noted director Dasaradh, has hit theaters today. Dive into our review to see how the film fared.
Story:
Ram (Rohit Behal), a selfish businessman in Oslo, Norway, seeks to marry someone obedient to resolve a business problem. He chooses Divya, a middle-class woman working at the Red Cross in Khammam. However, Divya soon learns the truth behind the marriage. What does Divya do next? Does she break up with him or change him? Does Ram solve the issue in his business? The answers are revealed in the movie.
Plus Points:
Rohit Behal delivers a commendable performance as the selfish protagonist, effectively making viewers despise his character. Divya, played by Aparna Janardanan, is a calm and composed character, with grace and beauty.
The film's producer and writer Dasaradh, who also plays a key role in the film, surprises with his acting skills, evoking laughter through his actions and expressions.
The film features a couple of enjoyable songs that are visually pleasing. The score effectively enhances the film's emotional impact.
Minus Points:
The story itself is the main problem in this movie. It is outdated and generates to a sense of boredom. The sluggish writing and screenplay are to blame for this. Kishore Gopu and Shiva Mokka could have improved the weak writing by K Dasaradh.
The screenplay further adds to the boredom, making it even more unbearable. DY Chowdary could have utilized his writing team more effectively to make Love You Ram at least somewhat enjoyable.
Apart from the lead actors and Dasaradh's characters, the other artistes don't have anything significant to contribute to the plot. After the movie is over, one will feel that the first half is a bit better than the second.
If there were more emotional scenes between the heroine, her family, and Ram, it might have changed the fate of the movie. Many scenes in the second half feel like unnecessary fillers. The film suddenly shifts from serious scenes to comedy scenes, creating an inconsistent tone.
Technical Aspects:
Director DY Chowdary and writer Dasaradh could have made Love You Ram a better film by taking proper care of the story and screenplay. Praveen Varma's dialogues are average.
As mentioned earlier, K Vedaa's music is a saving grace, with a couple of songs providing relief. Saai Santosh's cinematography is cool. Editor SB Uddhav could have trimmed many unnecessary scenes, especially in the second half. Production values are satisfactory.
Verdict:
Love You Ram is a lackluster love drama that falls short due to its weak storyline and slow-paced screenplay. Despite commendable performances by the lead actors and Dasaradh's comedic timing, the movie fails to offer anything fresh or engaging.
123telugu.com Rating: 2.25/5
Reviewed by 123telugu Team
Articles that might interest you:
Ad : Teluguruchi - Learn.. Cook.. Enjoy the Tasty food