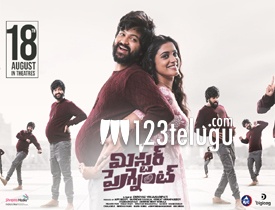 Release Date : August 18, 2023
123telugu.com Rating : 2.75/5
Starring: Syed Sohel, Roopa Koduvayur, Suhasini Manirathnam, Raja Ravindra, Brahmaji, Ali, Harsha, Abhishek Reddy Bobbala, Swapnika
Director: Srinivas Vinjanampati
Producers: Appi Reddy, RaviReddy Sajjala, Venkat Annapareddy
Music Directors: Shravan Bharadwaj
Cinematographer: Nizar Shafi
Editors: Prawin Pudi
Related Links : Trailer
Syed Sohel Ryan of Bigg Boss Telugu S4 fame is back with a new movie titled Mr Pregnant. Directed by Srinivas Vinjanampati, the flick hit screens today. Check out our review to find out how the film fared.
Story:
Gautham (Syed Sohel Ryan), a renowned tattoo artist, initially overlooks Mahi's (Roopa Koduvayur) deep affection for him. Eventually, he reciprocates her feelings but with the condition of not having children. Despite her love for babies, Mahi reluctantly agrees, and they get married. Everything goes smoothly until Mahi becomes pregnant. Gautham, who strongly dislikes kids, struggles with this situation and surprisingly decides to carry the baby himself. The movie delves into the reasons behind his bold decision, its consequences, and the reactions of their parents and the society.
Plus Points:
Firstly, this unique concept is a rarity in Tollywood, and the makers deserve appreciation for tackling such a distinct subject.
Sohel, known for his stint in Bigg Boss Telugu S4, deserves credit for taking on this challenging role. Accepting a character like this isn't easy for any actor, and Sohel's performance is admirable. He displays restraint in his acting, a noticeable improvement from his previous films.
Roopa Koduvayur's role is also well-portrayed. Although not being the central character, her performance as a hyperactive teen and an emotional mother is impressive.
Suhasini Maniratnam, Harsha Chemudu, and Brahmaji contribute significantly to the film, enhancing it with their performances.
Minus Points:
The unconventional concept itself could be a drawback for the film, as not everyone may accept it, similar to how it's portrayed in the story.
Debutant director Srinivas Vinjanampati could have paid more attention to ensuring the film was an emotional rollercoaster. The emotional aspect is essential, especially in films that explore the concept of motherhood (fatherhood?).
While the dialogue writer and music composer made efforts to elevate certain scenes, the responsibility of creating impactful scenes that evoke emotion ultimately rests with the director.
Several characters in the film, such as Raja Ravindra, Avinash, and Ali, have minimal presence and do not significantly influence the overall narrative.
Technical Aspects:
Despite being his debut feature film, Srinivas effectively conveys his intended message. However, a tighter screenplay in the initial hour could have made the movie more captivating.
Music by Shravan Bharadwaj contributes to the film's mood. Cinematography by Nizar Shafi is satisfactory. Prawin Pudi's editing in the first half leaves room for improvement. Some dialogues by Chalamaji, especially in the climax, stand out. Production values are decent.
Verdict:
On the whole, Mr Pregnant is an emotional drama that resonates to some extent. Sohel and Roopa's performances, along with Brahmaji's comedy, shine. While the story is fresh for Telugu audiences, its direction is somewhat predictable. A more engaging screenplay in the first half could have elevated the film further. If you're okay with these aspects, consider watching this film in theaters this weekend.
123telugu.com Rating: 2.75/5
Reviewed by 123telugu Team
Articles that might interest you:
Ad : Teluguruchi - Learn.. Cook.. Enjoy the Tasty food