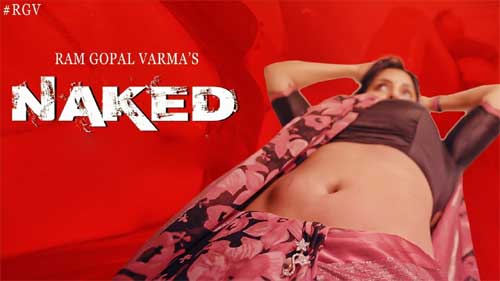 Star Cast : Sweety, Deepak
Director : Ram Gopal Varma
So, continuing the series of reviewing movies and shows during the lockdown period, our today's pick is RGV's new OTT release Naked Nanga Nagnam. Let's now see how it is. The film is available on RGV World/ Shreyas ET.
What's it about?
The film starts with Deepak and Sweety, a couple fighting with each other. An upset Depak leaves the house and Sweety goes for a shower. When she comes out of the shower, Sweety's maid, Jamal watches her in a naked avatar. Taking this as a chance, Sweety woos Jamal and starts making love to him. This is the time, her husband suddenly enters the scene and starts trashing his wife and the servant boy. The rest of the story is as to what happens to the poor boy and how Sweety handles the situation.
What's good?
These days, it is very hard to pick what is good in RGV films. But as we have to put something that's good, then it will be the sound design which is decent. The main lead, Sweety provides some eye candy that will be loved by teenagers. The best part of the whole movie or short film you can say is the acting by the poor servant boy who plays the role of Jamal. He is somewhat decent with his expressions and makes some sense in the film.
One more advantage for the makers is that there is hardly any expenditure in the film and RGV has put 200 Rs as the ticket. So, as he has good craze, his fans will watch it and that itself will bring good money for him. In a way, he has made a clever business tactic and will make a lot of money from this film.
What's bad?
Many posters of RGV films make you think that were will be a lot of eye candy. But when you watch the film, there will be nothing in it. It was proved with his last film climax and the same is the case with Naked as well. The so-called glamor showcased looks cheap in many areas. Especially those close-up shots and various angles in which the camera showcases the heroine is really cheesy.
Storywise, there is nothing in this film. At least RGV should have made it into an hour-long film and added some scenes and drama to make things look better. 90% of the film is shown in a lustful manner and the last scene is where the twist comes and that too, it is executed in a very silly manner. You can say that there are far better stories and emotions in the 30 second Tik Tok videos that come out these days.

Final Word
Overall, Naked Nanga and Nagnam is yet another dud from the master filmmaker, RGV. At least in his last film, Climax, there was some kind of story and thrill but here, one fails to understand the theory behind making this film. The glamor show is silly, story and narration are over the top and the basic emotion in this film is purely missing making this film a horrible watch. Just stay away from this one.
Rating : 1.5/5
Articles that might interest you:
Ad : Teluguruchi - Learn.. Cook.. Enjoy the Tasty food