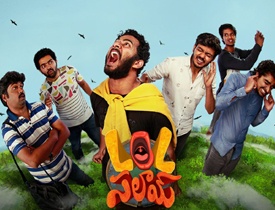 Release date : June 25, 2021
123telugu.com Rating : 2/5
Starring : Sandeep Bharadwaj, Harsha Vardhan, Vasu Inturi, Kivish Kautilya, Padmini Settam
Director : Naani Bandreddi
Music : Ajay Arasada
Cinematography : Rakesh S Narayan
Editor : Venkata Krishna Chikkala
Zee 5 has been churning out some good content in the last few months. Next in line is a fun web series called Lol Salaam. The series is out and let's see how it is.
Story
A wicked politician(Harshvardhan) plans to burn down a village and its nearby area. This is also a time when the Naxalites are planning to save things in full flow. In such a time, five bachelors plan a getaway and get stuck in a landmine placed by the Naxalites. What happens later is the basic story of the show.
Plus Points
The basic theme of the show is good and has a good premise. The comedy angle works to an extent as the way the friends pull each other's leg looks nice and creates some moments here and there.
The guy who played the role of Babai is pretty good and evokes some fun with his dialogue delivery. The main lead Kivish Kautilya as the frustrated youth has done well in his role. The locations chosen are also good.
Minus Points
One of the major drawbacks of the show is that it lacks basic seriousness. One of the friends puts his foot on a landmine and hell breaks lose. But the scenes that follow and the way the characters behave looks outright silly and cheap.
One of the friends goes to the cops, but the way cops behave and how things unfold are disappointing, to say the least. The logic goes for a toss as comedy is given forte but that too sounds vulgar after a point.
But there was good scope for some emotions and to execute things in the right manner. But what follows is the beaten to death narration and lack of any impressive scenes. The backstories and the character of Khan and his scenes can give you frustration to no extent.
Technical Aspects
As said earlier, the production values of the show are pretty good. Dialogues are witty though they have so many cuss words. The camera work is good and so was the production design. Coming to the director Naani, his idea of a friend's getaway going wrong is good but the narration he chose lacks basic seriousness. He adds so many silly scenes one after the other that the show looks over the top and lacks any basic rhythm.
Verdict
On the whole, Lol Saalam is a youthful comedy that goes wrong in many aspects. The logic goes for a big toss and the episodes lack any basic seriousness. Except for some witty comedy between the friends, this show ends a pretty silly watch with some over-the-top performances.
123telugu.com Rating : 2/5
Reviewed by 123telugu Team
Articles that might interest you:
Ad : Teluguruchi - Learn.. Cook.. Enjoy the Tasty food