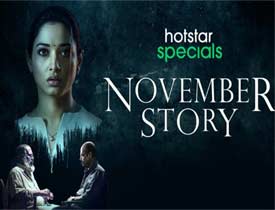 Release date : May 21,2021
123telugu.com Rating : 3/5
Starring : Tamannaah
Director : Indhra Subramanian
Production company : Vikatan Televistas
Music Directors : Saran Raghavan
Cinematography : Vidhu Ayyanna
Edited by : Sharan Govindsamy
Continuing the series of reviewing movies and shows on OTT, our today's pick is Tamannah's latest web series, November Story which is out on Hotstar. Let's now see how it is.
Story :
Anuradha(Tamanah) is an ethical hacker who wants to sell her old house. But her father(GM Kumar) has Alzheimer's and is not interested in selling the house. He starts behaving weirdly and gets himself involved in a murder. A special cop is assigned and things change rapidly. Anuradha gets tense and decides to save her dad. Who got killed in the old house? Does Anuradha's dad have a connection with the victim? how will Anuradh save her dad? and what's the whole murder mystery all about? That forms the story.
What's Good :
What attracts you in November Story are the superb performances. Tamannah takes a U-turn from her regular glam roles and aces the role of Anuradha. Be it her look or the way she showcases tension, love towards her father, and investigates the case, she was too good.
GM Kumar as her father is also amazing and brings a lot of depth to the series. Pasupathi, who plays the crazy Yesu is also amazing and surprises you with his act. Director Indhra Subramanian nicely establishes the basic story in the first episode and narrates the story in a multi-layered format.
The basic story and twists in the show keep the audience engaged for the most part. One more asset is that each episode starts off with a small flashback about the villain's character which looks quite good.
What's Bad :
The show has a solid story and is nicely narrated in the beginning. But director Indhra takes way too much time to establish each character. A major twist is brought quite late and a certain section of the audience might get irritated as to why the murderer is not being revealed.
The slow pace is also a burden as so many investigation scenes of the cops could have been removed from the show to make it crisp. As it is a web show, the director went all out and narrated the show in too much detail which was not needed at all.
Technical Aspects :
The production values, camera work, and production design are top-notch. In a way, you can say that the show has the best BGM and well-etched character. The last episode is also dragged for no reason and the flashbacks of the main villain also drag the show for no reason.
Verdict :
On the whole, November Story is a web series that has a superb premise and solid performance by Tamannah. The suspense factor is also decent along with the amazing production values. But to enjoy the show, one has to go through a slow pace and some lengthy episodes. If you are okay with this, November Story is a passable watch during this weekend.
123telugu.com Rating : 3/5
Reviewed by 123telugu Team
Articles that might interest you:
Ad : Teluguruchi - Learn.. Cook.. Enjoy the Tasty food