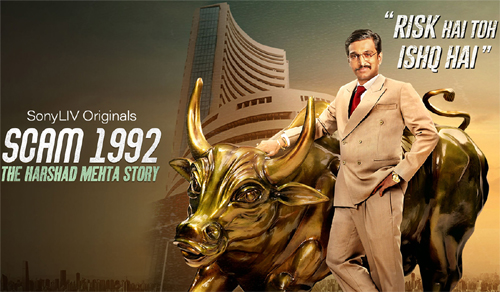 Cast : Pratik Gandhi ,Vishesh bansal , Hemant Kher, Kumkum Das
Director : Hansal Mehta, Jai Mehta
Music : Achint Thakkar
Cinematography : Pratham Mehta
Edited by : Kunal Walve
So, continuing the series of reviewing movies and shows on OTT, our today's pick is the latest web series Scam 1992 based on the controversial life of stock exchange king Harshad Mehta. The series is available on Sony Liv, and let's see how it is.
Story :
Pratik Gandhi plays Harshad Mehta in this series which has 10 episodes. The series is based on a book called Scam which was out in the year 1993. This series showcases the frauds done by Harshad Mehta, a stockbroker in the Bombay Stock Exchange who became world-famous. His life and how he, being a common man, created the biggest of the scams are showcased in the series.
What's Good
The entire series is focused on the life of Harshad Mehta and talented actor, Pratik Gandhi does supremely well in his role. He does not overact, keeps his expressions subtle, and delivers a solid performance. He is a find and gets his due after a long time in the industry.
Director Hansal Mehta needs to be credited as he narrates the story which was famous in the '90s in a very clear and crisp manner so that everyone can understand. The way he showcases the family life of Harshad Mehta is so nicely done and creates an emotional effect right away. The screenplay is gripping and engages you most of the time.
The manner in which the rise of Harshad Mehta is showcased is the best part of this series. The crime angle and how Harshad Mehta uses all the loopholes in the trade are also showcased without any fear. Dialogues are superb and so was the art direction. The BGM production values and camera work are just amazing.
What's Bad
Those who are aware of this scam will enjoy it more but for those who want thrills and drama, this series lacks a bit in this department. The first three episodes take forever to complete and they should have been edited a bit to get into the actual story. After creating such hype, the ending looks a bit rushed and could have been narrated in much more detail as to how CBI was involved and how the scam was put out in the public.
Final Verdict :
On the whole, Scam 1992 is one of those gritty web series that is engaging and has terrific performances. The life and scams of Harshad Mehta are showcased in a wonderful manner through an interesting narration. Though it starts on a dull note and has an abrupt ending, the rest of the proceedings make up for an intriguing watch. Go for it.
Rating: 3.25/5
Reviewed by 123telugu Team
Articles that might interest you:
Ad : Teluguruchi - Learn.. Cook.. Enjoy the Tasty food