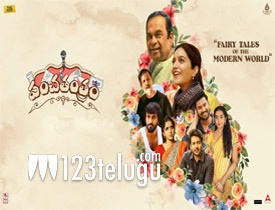 Release Date : December 09, 2022
123telugu.com Rating : 2.75/5
Starring: Dr. Brahmanandam, Swathi Reddy, Samuthirakani, Rahul Vijay, Shivathmika Rajasekhar, Naresh Agastya, Divya Sripada, Vikas, Aadarsh Balakrishna, Sri Vidya Maharshi
Director: Harsha Pulipaka
Producers: Akhilesh Vardhan, Srujan
Music Directors: Shravan Bharadwaj, Prashanth R Vihari
Cinematography: Raj K Nalli
Editor: Garry BH
Related Links : Trailer
An anthology film named Panchathantram, starring legendary Brahmanandam and Swathi Reddy in key roles, has attained decent buzz with its promotional material. The film, directed by Harsha Pulipaka, has hit the screens today, and let's see how it is.
Story:
Veda Vyas Murthy (Dr. Brahmanandam), a retired employee from AIR, thinks of starting a new phase of life by becoming a writer. So he participates in a storytelling competition, the winner of which would get a publishing contract. Veda Vyas narrates five stories and selects his theme as the five senses. The first story's theme is hearing, which is told through a frustrated software employee played by Naresh Agastya. The second story's theme is taste which is about a person looking for a perfect life partner with Rahul Vijay and Shivatmika in key roles. The third story's theme is smell which is about a retired employee experiencing some odd smell, played by Samuthirakani. The fourth story's theme is touch, which is about a wife and husband going through a miserable situation, played by Vikas Muppala and Divya Sripada. Finally, the last story's theme is sight which is about a children's storyteller played by Swathi Reddy.
Plus Points:
The basic outlook of the film is good, and the idea of telling the stories linking them to human senses is appreciable. The dialogues are nicely written with good depth. Particularly in the second story, Shivathmika Rajasekhar talks about the key aspect of selecting a life partner in one's life, which makes one think. Through this story, the filmmaker tries to say that knowing thyself is more important before entering a married life which is nicely articulated.
The last episode of Swathi Reddy, Aadarsh, and Utthej is emotional and heart-touching. It has a nice message about having confidence in oneself irrespective of the challenges people go through, which is impressive. There are a few subtle emotions that are nicely portrayed, and there are a few good moments here and there in the film.
Brahmanandam did a nice job as a narrator, and it was nice watching the legendary actor in a non-funny role. Though he appears briefly, Brahmanandam still makes his presence felt. Swathi Reddy, Rahul Vijay, Shivathmika, Divya Sripada, and Vikas Muppala impressed with their performances.
Minus Points:
Though the primary idea is interesting, the movie isn't completely engaging. A few stories had more scope but were just shown at the surface level, making them underwhelming. The exact concept of a few plots was not projected clearly. More depth and interesting scenes should have been included to make things engaging.
The pace of the movie is a tad slow, and the film gets boring at times. In addition, the editing was not up to the mark, and the film feels prolonged due to a few sequences. The first half, in particular, could have been better with a few more exciting moments and a fast narrative.
The very nature of the movie may not appeal to the masses, as it doesn't have any commercial aspects. In addition, the length of this anthology needed to be short to make it register. A few stories could have had more impact had there been a lot more drama.
Technical Aspects:
The music by Shravan Bharadwaj and Prashanth R Vihari is pleasant to hear, and a couple of songs were delightful. The cinematography by Raj K Nalli is fine, and he captured the visuals nicely as per each story's theme. The editing is below par. However, the production values are good.
Coming to director Harsha Pulipaka, he did an okay job with his first film. His thought to convey his stories using the five senses is fine, but more effort was required to make the film engrossing. A few stories were nicely executed, but a few weren't. The potential is visible, though.
Verdict:
On the whole, Panchathantram caters to a niche segment of the audience. The performances and a couple of stories make their mark. But the length and a few jading stories restrict the film's impact. Those who love watching anthologies can give it a shot, but others might not find the movie great.
123telugu.com Rating: 2.75/5
Reviewed by 123telugu Team
Articles that might interest you:
Ad : Teluguruchi - Learn.. Cook.. Enjoy the Tasty food
TAGS:
Aadarsh Balakrishna
,
Divya Sripada
,
Dr. Brahmanandam
,
Naresh Agastya
,
Panchathantram Movie Review
,
Panchathantram Review
,
Panchathantram Review and Rating
,
Panchathantram Telugu Movie Review
,
Panchathantram Telugu Movie Review and Rating
,
Rahul Vijay
,
Samuthirakani
,
Shivathmika Rajasekhar
,
Sri Vidya Maharshi
,
Swathi Reddy
,
Vikas