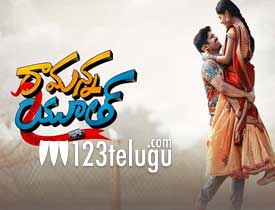 Release Date : September 15, 2023
123telugu.com Rating : 2.5/5
Starring: Abhai Naveen, Vishnu Oi, Anil Geela, Amulya Reddy, Thagubothu Ramesh, Srikanth Iyengar, Jabardasth Roshini, Jagan Yogiraj, and others
Director: Abhai Naveen
Producer: AAR
Music Director: Kamran
Cinematographer: Fahad Abdul Majeed
Editor: Rupak Ronaldsan, Abhai Naveen
Related Links : Trailer
Actor Abhai Naveen has acted and directed a film named Ramanna Youth. The movie has hit the screens today, and let's see how it is,
Story:
Raju (Abhai Naveen), a youngster belonging to Ankshapur, Telangana, wants to become a youth leader. He is head over heels for Sapna (Amulya Reddy). Raju is inspired by MLA Ramanna (Srikanth Iyengar), and he wants to get into the good books of the politician. Raju and his friends erect a banner in his village, which changes their lives upside down. What happened next? This is what the film is about.
Plus Points:
Abhai Naveen is natural in his role, as he plays his part with conviction. Ramanna Youth is one more film that depicts the Telangana culture in a neat way. The small-town setup looks authentic.
A few conversations between the protagonist and his friends came out well, evoking laughs. Taagubothu Ramesh, Srikanth Iyengar, and Anil Geela are adequate in their respective roles. The message that the film tries to convey is good.
Relatively, the second half is better than the first hour. The movie turns into a serious tone during the last half an hour, and this is where things look neat. A few comedy scenes here and there are passable.
Minus Points:
It isn't enough if the message is strong but what matters the most is the way in which it is presented. The social message needs to be backed by strong drama, but sadly, it is missing big time in Ramanna Youth.
The message is conveyed in the climax, but it is very rushed, and the film ends on an abrupt note. The emotions are handled in a very weak manner, and hence, one won't be able to root for the characters.
Till the last few minutes, nothing significant happens in the movie. A romantic track is present in the movie, and it doesn't fit into the story properly. There is a lot of beating around the bush as a lot of time has been wasted with dull scenes.
Technical Aspects:
Kamran's music and background score are fine. The cinematography by Fahad Abdul Majeed is neat. The editing team could have chopped off many unnecessary scenes to avoid redundancy. The dialogues that come towards the end are well written. The production values are good.
Abhai Naveen's direction is flawed, and he should have concentrated more on creating solid drama and emotions. The movie falters heavily in this aspect, and hence the intended message doesn't land well.
Verdict:
On the whole, Ramanna Youth aims to convey a good message to youth, but the presentation is underwhelming. The actors did a good job, and the last few minutes were good. But ultimately Ramanna Youth doesn't have proper drama emotions to hold the film together.
123telugu.com Rating: 2.5/5
Reviewed by 123telugu Team
Articles that might interest you:
Ad : Teluguruchi - Learn.. Cook.. Enjoy the Tasty food
TAGS:
Abhai Naveen
,
Amulya Reddy
,
Anil Geela
,
Ramanna Youth Movie Rating
,
Ramanna Youth Movie Review
,
Ramanna Youth Movie Review and Rating
,
Ramanna Youth Rating
,
Ramanna Youth Review
,
Ramanna Youth Review and Rating
,
Ramanna Youth Telugu Movie Rating
,
Ramanna Youth Telugu Movie Review
,
Ramanna Youth Telugu Movie Review and Rating
,
Thagubothu Ramesh
,
Vishnu Oi