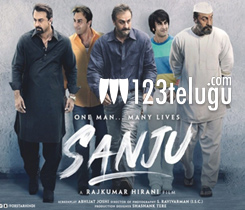 Release date : June 29, 2018
123telugu.com Rating : 3.75/5
Starring : Ranbir Kapoor, Dia Mirza, Sonam Kapoor
Director : Rajkumar Hirani
Producer : Vidhu Vinod Chopra
Music Director : A. R. Rahman
Cinematographer : Ravi Varman
Editor : Rajkumar Hirani
Sanju is one of the most awaited films in the recent times. Based on the life of controversial movie star Sanjay Dutt, this film has Ranbir Kapoor playing the lead role and has hit the screens today. Let's see how the film turns out to be.
Story:
Sanjay Dutt(Ranbir Kapoor) is found guilty in the arms act and is ordered to surrender himself before the court of law. He gets upset with this verdict and decides to find an author who can write a book which will showcases what really had happened in his life. He approaches a world-famous novelist(Anushka Sharma) but she disagrees to pen his book. Sanju somehow requests her to listen to his story and narrates his life right from childhood which is shown in different phases in the film.
Plus Points:
The film is terrific in every which way and one could not stay away from saluting the brilliance of Raj Kumar Hirani as he has showcased the life of Sanjay Dutt in a very emotional manner. He does not dwell into his movie career or his linkups with the underworld but showcases the inner struggle of what Sanjay Dutt went through in his life and how his dad Sunil Dutt stood by him as a rock. This is where the film clicks big time and moves you emotionally in many places.
Perhaps, no one could have played Sanjay Dutt better than Ranbir Kapoor. After a few minutes into the film, you forget that there is Ranbir Kapoor in the film as you only see Sanjay Dutt reliving his life once again. Such is the finesse of Ranbir Kapoor who is undoubtedly the best actor in the current generation. The way he breathes life into Sanjay Dutt's role is mind blowing and Ranbir moves you emotionally with his performance during the drug phase of Sanjay Dutt and his later life in jail.
Yet another main pillar for this movie is Paresh Rawal who plays Sunil Dutt. His supporting role lifts the film to another level altogether. All his scenes with Ranbir Kapoor will move you to tears in many areas. Diya Mirza was good in her role and Anushka Sharma played the sheet anchor's role to the perfection.
The first half of the film showcases the drug phase of Sanjay Dutt and is filled with shocking revelations of Dutt's early life. Manisha Koirala is superb as Nargis Dutt and so was Vicky Kaushal who plays Dutt's best friend in the film. The second half is where things get serious as the unknown facts about Sanjay Dutt's life involving his court cases are showcased in the open without any fear.
Minus Points:
There are a very few drawbacks in this biopic and one of them is the length of the film. The first half takes its own sweet time as too much time is spent on showcasing the drug phase of Sanjay Dutt. Sonam Kapoor plays a normal role which does not have any weight.
Also, a section of the audience might feel that the film is made only to polish the negative image of Sanjay Dutt in the public. Those who watch the film with that angle will find things a bit hard to digest.
Technical Aspects:
Sanju is super strong in the technical aspects. The background score is riveting and breathes life into the film. All the songs only move the film forward. Dialogues are superb and the manner in which various Hindi songs are used to encourage Sanjay Dutt in every aspect of life is thought of extremely well. Production design and especially make up department needs a special mention as they have done a terrific job to make Ranbir Kapoor look like Sanjay Dutt. Camera work is terrific as it showcases the time zones in a superb manner.
Coming to the director Rajkumar Hirani, no one better than he could have narrated Sanju's life the way he did. By adding a small fiction part through Anushka's character, he has narrated the film in a mind-blowing manner. The way he has played with the emotions and evoked them in crucial areas was awesome. The highlight of his direction was the manner in which he showcased what pain Sanjay Dutt and his dad went through all their life through Ranbir Kapoor and Paresh Rawal's performance was amazing. Even the serious of problems of Sanjay Dutt's life was showcased with a lot of humor by Hirani which is his core strength.
Verdict:
Making a biopic on a person's life who is still living and is a known one to all is very difficult. Raj Kumar Hirani comes out with flying colors and makes one of the best biopics in the form of Sanju. He takes you on a ride which is filled with grueling emotions and startling facts which many do not know about Sanjay Dutt. To top things, Ranbir Kapoor takes things a notch higher with his mind-blowing performance and makes you go in awe of him. The film will surely set the box office registers ringing and will be remembered for a long time to come. Finally, do yourself a favor and book tickets to this film where you get to see the emotional life of India's most controversial star relived by the country's best actor.
123telugu.com Rating : 3.75/5
Reviewed by 123telugu Team
Articles that might interest you:
Ad : Teluguruchi - Learn.. Cook.. Enjoy the Tasty food