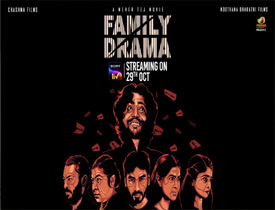 Release Date : October 29,2021
123telugu.com Rating : 2.75/5
Starring: Suhas, Teja Kasarapu, Pooja Kiran, Anusha Nuthula, Shruti Meher and Sanjay Ratha
Director: Meher Tej
Producers: Chashma Films, Noothana Bharathi Films
DOP: Venkat R Shakamuri
Music Director: Ajay & Sanjay
Editor: Ramakrishna Arram

Young actor, Suhas is back with his new film Family Drama. The film is now live on Sony LIV and let's see how it is.
Story:
The film is about two brothers Ram (Suhas) and Lakshman (Teja Kasarapu). Because of his bad and crazy behavior, Ram gets kicked out of the house by his father. The abusive father continues the same behavior with Lakshman and his wife as well. Things get too far as Lakshman makes a special plan with Ram to handle the situation. Not many know that Ram has become this serial killer now. How Ram enters the scene and scares everyone is the basic story.
Plus Points:
Family Drama belongs to Suhas. He does a superb job in a negative role. Be it his look or the way Suhas behaves in a crazy manner, the young actor performs so well and shocks us with his talent.
Pooja Kiran and Anusha Nuthula are effective in their roles. But it is Shruti Meher who gets a better part. Her performance is solid. Sanjay Ratha is convincing in a negative character.
The thrill factor in the film is pretty good as director Meher does not waste time and takes the audience right into the story. The way he has showcased Suhas is also impressive.
Minus Points:
After establishing the plot one feels that the narration will be gripping but that does not happen as the same scenes get repeated time and again.
The premise and first half are good but the second half looks a bit forced as the drama is not that engaging. The logic goes for a toss regarding the serial killing and nothing much is shown in this regard as the makers let loose of this aspect.
Technical Aspects:
The production values of the film are very good. The cameraman has showcased the dark theme in a superb manner. The BGM is also amazing and elevates the proceedings. The production design and character arcs are well designed.
Coming to the director Meher, his story is good and the way he set up the film in a different premise is also good. Had he handled the second half well, the output had been even better.
Verdict:
On the whole, Family Drama is a film that has an intense premise. Suhas kills it with his hard-hitting performance and the thrills showcased are passable. But the film gets derailed with repeated scenes and logical errors in the second half. If you are the one who likes thrillers, give this film a shot and the rest can look for something else.
123telugu.com Rating : 2.75/5
Reviewed by 123telugu Team
Articles that might interest you:
Ad : Teluguruchi - Learn.. Cook.. Enjoy the Tasty food