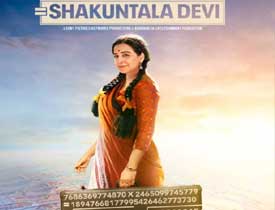 Release date : July 31st, 2020
123telugu.com Rating : 3.25/5
Starring : Vidya Balan, Jisshu Sengupta, Sanya Malhotra
Director : Anu Menon
Producer : Sony Pictures Networks India, Vikram Malhotra
Music : Sachin–Jigar
So, continuing the series of reviewing movies and shows during the lockdown period, our today's pick is the Hindi film, Shakuntala Devi. The film is available on Netflix and let's see how it is.
Story :
The film is based on the life of mathematics legend Shakuntala Devi. Right from her childhood, Shakuntala Devi(Vidya Balan) lives in the shadows of her dad and does not even go to school. But her brilliant mathematical mind changes things for her. She leaves her family and heads to London and shines there. Things take a turn when she gets married to Paritosh Banerjee(Jisshu Sen Gupta). After the birth of her daughter Anu(Sanya Malhotra), Shakuntala Devi keeps away from the limelight and this does not go well with her. She fights with her husband and takes Anu away along with her. On the other hand, Anu is strict against this fame and living under the limelight. She too fights with her mom comes to India. The rest of the story is as to how Shakuntala Devi and her daughter realize the mistakes they have done and get back together.
Plus Points
National Award-winning actress, Vidya Balan once again showcases her acting prowess. She as Shakuntala Devi lives in her role and impresses big time. Vidya gets to play her character through various stages and she does an amazing job. Be it her slang, arrogance, and emotional outbursts, she plays it with aplomb. The comedy touch given to her role is also thought of well. The way Vidya performs in the climax and in all her scenes with her daughter are top-notch.
Sanya Malhotra, who plays Vidya's daughter also does a good job. Amith Sadh is getting better with every film. The starting of the film is quite promising as the emotions connect well. The last half an hour of the film is quite emotional and has many moving scenes that are ably performed by Vidya Balan and Sanya Malhotra.
Jisshu Sen Gupta is amazing as Vidya Balan's husband. The film is given a healthy fun touch and is not made over dramatic which looks good. All the needed drama is saved for the end and this is where things click quite well.
Minus Points :
The middle portion of the film gets bogged down. The manner in which problems get created for Shakuntala Devi and how she deals with them should have been showcased in a more dramatic manner. Things happen on a simple note and scenes are rushed during this time.
The pace of the film is quite slow and all those who expect something entertaining will be disappointed. The film needs a bit of editing and the key scenes where she creates records with her math genius are not that effective. They should have been shown in a more dramatic manner.
Technical Aspects :
Production values of the film are top-notch as the camerawork nicely showcases the past and present times quite well. Dialogues are superb and the best part was Vidya Balan's styling which is amazing. The way her look is showcased in different age groups is impressive. The production design and BGM are also on point.
Coming to the director Anu Menon does a good job with this biopic. She gives Vidya Balan the best role and extracts solid performances from her cast. Whenever you think the film is going down, Anu's pulls up some solid scenes and keeps things engaging. The way she ends the film on an emotional note is the best part.
Verdict :
On the whole, Shakuntala Devi is an emotional drama of a mother and daughter. Interesting backdrop, good emotions, and Vidya Balan's mind-blowing performance keep you hooked till the end. The film is narrated in a slow pace and gets a bit dull in the middle portions. Apart from that, the film is an endearing watch and should be given a shot to know the emotional side of India's biggest brainchild, Shakuntala Devi. Go for it.
123telugu.com Rating : 3.25/5
Reviewed by 123telugu Team
Articles that might interest you:
Ad : Teluguruchi - Learn.. Cook.. Enjoy the Tasty food