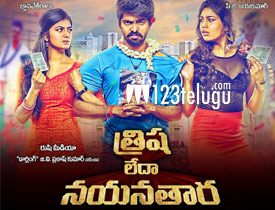 Release date : November 5, 2015
123telugu.com Rating : 2.5 /5
Director : Adhik Ravichandran
Producer : Rishi Media
Music Director : G. V. Prakash Kumar
Starring : G.V. Prakash Kumar, Anandhi, Simran

Musician turned actor, G V Prakash is back with his second film Trisha Leda Nayanthara. This Tamil dubbed adult comedy has hit the screens today and let's see how it turns out to be.
Story:-
Jeeva(G V Prakash) Ramya(Anandi) and Aditi(Manisha Yadav) are childhood friends who live in the same colony. As time passes by, Jeeva falls in love with Ramya. But their relationship is short lived as Ramya ditches Jeeva and moves on with her life.
During the same time, Aditi proposes to an upset Jeeva. Seeing things favorable on his side, Jeeva says yes to Aditi. After dating for nearly three years, Aditi too ditches Jeeva for good. Left with no choice, a dejected Jeeva heads back to his native place for a break.
There, he once again encounters Ramya. The only change this time around is that Ramya is a bit affectionate and cool. Cupid strikes once again and the couple star dating and decide to get married.
Twist in the tale arises when Jeeva ditches Ramya all of a sudden and runs away. Why did Jeeva take this extreme step ? What is this chaos all about ? To know answers to these questions, you need to watch the film on the big screen.
Plus Points:-
Certain double meaning dialogues have been executed well. A good amount of fun is generated during the first half which makes the proceedings breezy. G V Prakash is just about ok in his role. Simran makes her presence felt with her cameo and VTV Ganesh's punch dialogues work well.
Bus Stop fame Anandi is best of the lot and gives a decent performance with her expressions and screen presence.Manisha Yadav does a passable job and ends up as just an eye candy in the film.
Minus Points:-
As the concept of the film is adult comedy, it will be liked only by a certain section of the audience. One of the biggest drawbacks of the film is its nativity. Right from the beginning, the film has a complete Tamil flavor and does not sink with Tollywood standards. Story, narration and second half are the biggest drawbacks of the film.
After an entertaining start, narration lacks focus and the entire second half goes for a toss. The story gets predictable after a point and pace of the film also becomes drastically slow. Songs come in as speed breakers and deviate the flow of the film.
There are certain logics which go against the film. The concept of true love and all the scenes related to it lack conviction. Both the love stories showcased in the film could have been executed in a better way. None of the emotions are carried out in a proper way making the film look silly most of the times.
Technical Aspects:-
Camera work is pretty good as all the locations have been showcased well. Music by G V Prakash is decent but it is his background score which is a copy of his own old tunes. Certain double meaning dialogues written by Sashank Vennalkanti are good and executed in a timely manner. Editing is bad and so is the screenplay.
Coming to the director Adik Ravichandran, he has done a below par job. His narration lacks experience as all the good points are wrapped up in the first half leaving the second part quite boring and tedious.
Verdict:-
On the whole, Trisha Ledha Nayanthara is a below par adult comedy. Other than some interesting double meaning dialogues and a few punches here and there, this film has nothing much to offer. All those who like adult comedies might end up liking it but for the rest, it ends up as just a silly over the top romantic entertainer.
123telugu.com Rating : 2.5/5
Reviewed by 123telugu Team
Articles that might interest you:
Ad : Teluguruchi - Learn.. Cook.. Enjoy the Tasty food