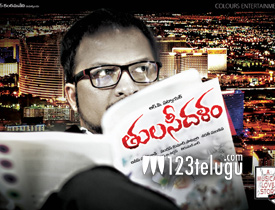 Release date : March 11th, 2016
123telugu.com Rating : 2/5
Director : RP Patnaik
Producer : RP Patnaik
Music Director : RP Patnaik
Starring : Nishchal Deva, Vandana Gupta, RP Patnaik, Duvassi Mohan
Continuing with the trend of horror thrillers in Tolyywood, Thulasidalam is one film which is looking to cash in on the craze. RP Patnaik makes a comeback after a brief hiatus with this film which has the screens today. Let's now see how this film fares.
Story:
Satvik (Nishchal Deva) is an orphan who moves to Las Vegas to be closer to his girlfriend, Nisha (Vandana Gupta). He is a firm believer that no spirits exist while his room mate, Subbu is a firm believer in ghosts.
One fine day, Subbu challenges Satvik to spend a night in a graveyard by himself. Although Satvik successfully completes the challenge, he starts experiencing paranormal activities later on.
In addition to this, he notices a girl named Shanti following him. To find out the reason behind these events, Satvik takes the help of Dr. Tilak (RP Patnaik). What is the reason behind these paranormal activities ? Who is Shanti? and how does Dr Tilak solve all these problems ? That forms the rest of the story.
Plus Points:
Even though debutante Nishchal Deva is average looks wise, he manages to pull off a decent performance. Lead actress Vandana Gupta impresses to an extent and looks good as well.
RP Patnaik is just about okay in his short but important role. Duvvasi Mohan and the actor who played the role of Subbu did well in their roles. The short and crisp runtime is a major asset to the movie, keeping the film racy.
Minus Points:
The story of the film is extremely weak and the reason that is showcased behind the paranormal activities is atrocious. The foolish climax will have the audience perplexed. Logic goes for a toss while the story is filled with loopholes.
The film is one of the worst horror flicks in recent times with very few thrills. Even these so called thrills fail to scare the audience as well. The VFX used in a few scenes is lousy.
Even though the makers have claimed to have shot the film in Las Vegas, they failed to make use of the locations except for a few pick-up shots.
Technical Aspects:
RP Patnaik's songs are frail and create an hindrance to the film. Editing is weary, although the short runtime is a plus. Production values are very flimsy.
RP Patnaik tried to carry the whole film on his shoulders from acting to directing, producing, writing the story and providing the music as well. He failed in most of the departments except for a decent background score in a few scenes. Although he is a noted music director, direction wise he has no grip and fails to impress big time.
Verdict:
Overall, Thulasidalam is one of the weakest horror flicks released in the recent times. Even though the cast manages to impress with their decent performance, the film falters in every other department and fails to impress whatsoever. You can safely ignore this film this weekend and look for something else.
123telugu.com Rating : 2/5
Reviewed by 123telugu Team
Articles that might interest you:
Ad : Teluguruchi - Learn.. Cook.. Enjoy the Tasty food