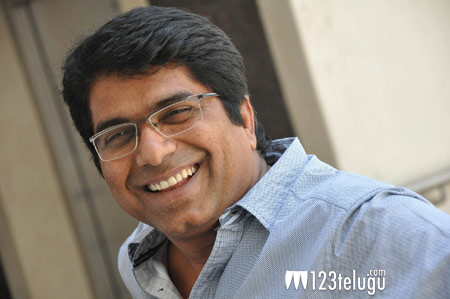 Director Dasaradh's 'Greeku Veerudu' is all set to hit the screens this Friday. The director teamed up with Nagarjuna earlier for 'Santosham' and he is hoping to repeat that magic with 'Greeku Veerudu'. This very soft spoken director interacted briefly with some members of the press today. Here is the transcript of that conversation.
Q. How did 'Greeku Veerudu' happen?
A. Sivaprasad Reddy garu and I wanted to make a film with Nagarjuna. We wanted to make a wholesome family entertainer, with a character driven story. That is how 'Greeku Veerudu' started.
Q. Is there a relation between 'Greeku Veerudu' title and Nag's character in the film?
A. Nagarjuna garu will be seen as an NRI event manager in this movie. There is no relation between the event manager's character and Greeku Veerudu title. We just went with that name as it suits Nag's image. We wanted to use 'Love Story' earlier. But we dropped it as we felt it would convey a wrong image. This film is not only about love
Q. What happened to your 'S' sentiment for titles?
A. "Naaku title sentiment ledhu". After 'Santosham', 'Sambaram' came out and that is where this rumour started. Even for 'Mr. Perfect', I did not use S, so you can see for yourself,
Q. In your films, the hero usually experiences a change of heart. His beliefs alter towards the end.Any particular reason for that?
A. We start with some beliefs and then we change our belief system based on experiences. It is a natural process and I like to showcase that in my films. It is something all of us experience in our lives.
Q. What can we expect from Nagarjuna in the movie?
A. Nagarjuna is the biggest strength for this film. His character, his look and his performance are all assets. You will see him in a very glamorous avatar.
Q. How was it to work with Nayanatara?

A.Nayanatara is supremely disciplined. Shooting with her was a very happy experience. She used to come to the sets on time and she was very professional. She is also a very good human being. "Nayanatara tho 100 cinemalu ayna comfortable ga cheyochu.
Q. You seem to be fond of Vishwanadh garu..
A. Vishwanadh garu is a very nice person. Apart from being a great director, he is also a great artiste and a good human being. It is always a pleasure to work with him. I like his work a lot.
Q. Did Kona Venkat and Gopi Mohan assist you in the script?
A. Kona Venkat and Gopi Mohan helped me out in the script in some areas. I want to express my thanks to them.
Q. So can we expect a lot of entertainment in this movie?
A. People are expecting more entertainment these days, so yes, I have kept that in mind for 'Greeku Veerudu'. There is good entertainment in the film.
Q. Brahmanandam seems to have a prominent role in the movie?
A. Brahmanandam will be seen as a doctor in this movie. He will be seen as a very egoistic person and his character has good presence in the film.
Q. You don't use serious Villains in your film. Any reason?
A. That is only because of the scripts I choose. I usually take family stories,where there are no scope for serious villains. "Mana families lo entha mandhi murder lu chestarandi?"
Q. What should viewers expect from 'Greeku Veerudu'?
A. The film is a mature love story. When I say mature love story, I mean a story where there is no infatuation between the characters. Tender love stories are the toughest to handle. I am thankful to Nagarjuna garu and Siva Prasad Reddy garu for giving me this opportunity.
Let us wish Dasaradh the very best for his 'Greeku Veerudu'.
CLICK HERE TO TELUGU INTERVIEW
Articles that might interest you
Ad : Teluguruchi - Learn.. Cook.. Enjoy the Tasty food