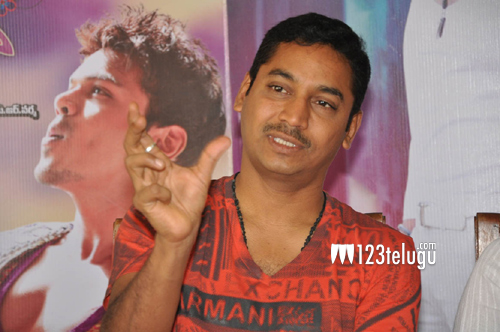 Lagadapati Sridhar, who has produced successful films like 'Evadi Gola Vaadidhi' in the past, is gearing up for the release of his latest production venture 'Potugadu'. Manchu Manoj is essaying the lead role in this movie and Pawan Wadeyar is the director. Lagadapati Sridhar is quite upbeat about the movie. He interacted with members of the press today. Here is a transcript of the conversation.
Q. How did 'Potugaadu' happen?
A. As most of you know, the film is a remake of a Kannada hit. When the first song from the Kannada film released, I was hooked by it and I decided to watch the project. I was impressed with the director's creativity and originality. After the movie became a big hit, I decided to make it Telugu with the same director.
Q. What can you tell us about the film?
A. "Manchi tho paatu punch unna cinema" .. These days, almost nobody watches a film a second time. But I am confident that people will throng to the theaters to watch my movie. People will see it 3 – 4 times. The movie has that capacity to pull in crowds.
Q. Films from your banner usually get a U certificate. Why was 'Potugadu' given an A? Is it intentional?
A. I can't speak for the censor board. But I am not worried about the A. My target audience falls into the 18 – 30 category and they will love this film. There is a good dose of action in the movie. With the presence of 4 very attractive heroines, naturally some glamour show can be expected. Perhaps, that is the reason for the A.
Q. What can you tell us about Manoj?
A. With this film, Manoj will become the 'Collection King'. He is a very passionate actor. "Talent tho paatu creativity kuda undhi". The music album has become a big hit and credit must go to Manoj as well as Achu for that. He has performed some very risky stunts in the movie. This is Manoj's film all the way. His character will have 4 shades in this movie.
Q. This is a Kannada film. Have you made any changes for the Telugu version?
A. Yes. Certain portions have been changed to reflect Telugu nativity. The climax has been changed.Posani's character will be a highlight in the movie.
Q. There are four actresses in the film. Are they present only for the glamour or do they have any importance in the story?
A. All four heroines are crucial for the film and they have been given equal importance. They are all very prominent models and former beauty queens.
Q. You have taken a long gap as a producer. Any specific reason?
A. Our banner has a certain image and credibility. We have a minimum guarantee image. Apart from that, I took some time off to understand the tastes of viewers. It took me a while to analyze and understand what they want.
Q. Why are you releasing the film on a Saturday, instead of on Friday?
A. (Laughs) Friday the 13th has its own history and baggage. We did not want to steal its limelight. Apart from that, we needed the extra day to complete our CG work and get the prints ready.
Q. Why did you choose the Kannada director for the remake?
A. Pawan Wodeyar is an incredibly talented and multifaceted guy. At the age of 25, he has given two blockbusters in Kannada. I have faith in him and his creativity. We will be working together again.
Q. What are your expectations from the movie?
A. I am expecting the movie to do very well. We are getting a big release, with more than 800 screens and I must thank all my distributors for that. This movie will be a test between me and the audience (smiles). I am sure that after the success of this movie, the word 'Potugadu' will become a household name, in a good way. Sreedhar Sipana has penned the dialogues in this film. With this movie, he will become a trendsetting writer.
With that, we ended our interaction with Lagadapati Sridhar. Let us wish this young producer the very best for his film 'Potugadu'.
Interviewed by Mahesh S Koneru
CLICK HERE FOR TELUGU INTERVIEW
Articles that might interest you:
Ad : Teluguruchi - Learn.. Cook.. Enjoy the Tasty food