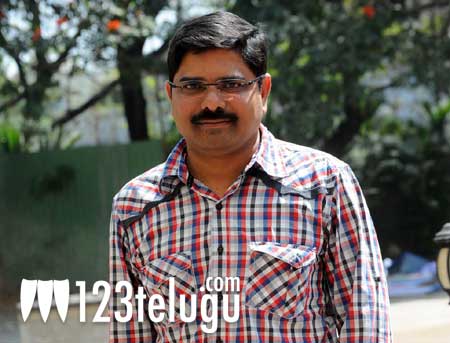 'Madhura' Sreedhar, the director of the critically acclaimed movie 'Sneha Geetam', is not your regular Telugu industry personality. This new age director has a solid educational and professional background. He worked in some of the best IT companies in India before the movie bug bit him. His debut film Sneha Geetam did well at the box office and earned him good reviews. He is now ready with his second offering 'Its My Love Story'.
Our correspondent Mahesh K.S caught up with this innovative director at Shabdalaya Studios for a small chitchat. Here is Madhura Sreedhar for you folks.
Q) Tell us about your upcoming project.
A) 'Its My Love Story' is a soft romantic movie set in today's corporate world. Its a soft and breezy romance between two corporate employees. The hero is a game designer from Hyderabad and the heroine is a fashion designer from Visakhapatnam. They The movie is going to touch the hearts of students and IT employees who will relate very easily to the scenes and the story. The movie has come out very well and the youth will love it.
There are some very senior artistes as well in the movie. Jayasudha and Sharat Babu have a meaty role and their performance is excellent as always. Apart from that, 'Its My Love Story' also has Pragathi, Kashi Vishwanath, Vennela Kishore and Tagubothu Ramesh in key roles.
Q) Could you tell us more about the hero and the heroine?
A) The hero is Aravind and the heroine is Nikita.I have selected both of them through a star hunt and I am happy to say that they have done a fantastic job. You will be surprised to see the level of performance debut artistes are capable of if given the right direction.
Q) Do you consciously choose to work with debut artistes? What about established stars?

A) I feel more comfortable working with debut artistes. They are available whenever I want to hold a shoot and they are basically very flexible. It is definitely a challenge to extract the best performance out of them but I relish that. I would like to first achieve success with these debut artistes and establish my credentials as a solid director before trying to work with any big stars.
Q) What about your future projects after this movie?

A) I have a three movie deal with the current producer. So my next movie will also be with him. I basically like love stories and experimental concepts. They are my forte and that is where I will primarily work. I want to ensure that the producer stays in a safe zone. There is a 30-40% risk with movies these days and it is necessary to make movies with a smart budget and good storyline.
Q) That is heartening to hear. Experimental films and money for the producers – these two are critical for the industry now.

A) Laughs. Yes, they are indeed critical. I love to experiment and I want to do offbeat cinemas as well. I love to think out of the box.I would love to work with RGV. I like the way he thinks and works. When I achieve more success as a director, I will definitely work with him.
123telugu.com Madhura Sreedhar the very best for his upcoming release.
– Mahesh K.S
Articles that might interest you:
Ad : Teluguruchi - Learn.. Cook.. Enjoy the Tasty food