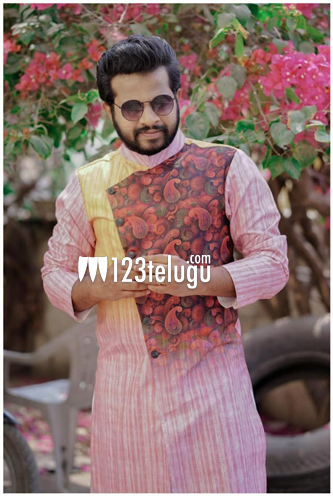 Continuing the lockdown interview series, today, we bring you an exclusive interview with noted comedian Hyper Aadi. In a heartful conversation, we spoke to him about future plans, association with Pawan Kalyan, social service, the inspiration for his punchlines, praise from Chiranjeevi and much more. Here is the transcript.
What have you been doing during the lockdown?
Just a day before the lockdown was announced, I went back to my native place in Ongole and have been spending time with my family. Apart from this, I have been working on scripts of my future episodes and have been also been preparing scripts for my dream project.
Are you planning to become a director in the future?
I feel that writing is an inbuilt talent in me and my dream is to write a full-fledged script for a feature film. I have been writing scenes for many films and that is the time I realized, I can write a complete script. I also have a few ideas up my sleeve and have been working on that during this lockdown
Tell us about your struggles in life?
I come from a simple family of farmers. I did my Btech in ECE and wanted to get into films. The moment I told this to my people, they laughed at me. This hurt me big time and I made a point to prove it to the world what I am capable of. You won't believe that I went to my native place only two years after I made it big with Jabardasth. I still remember the reception I got when I landed there. People from the surrounding villages came in groups to congratulate me. It was a very proud feeling.
Your best compliment to date?
I was in Annapurna Studios and came to know that Chiranjeevi garu was shooting for the MEK TV show. I somehow wanted to meet him and went right in front of his car as he was leaving and waved at him like a fan. To my surprise, he got down and gave me a hug and said "I watch all your episodes and love your work". That was the biggest moment of my life which I cannot forget.
Working with an actor like Venkatesh?
Recently, I got a call from Suresh Babu garu who asked me to meet him at his studio. The moment I went there, I was shocked to see Venkatesh garu. He spoke to me for nearly two hours and also appreciated my work. The best part was when he called me during this lockdown and inquired about me and my family. This was yet another memorable moment for me.
Your inspiration to get into films?
If you remember the film Athadu, the moment Brahmanandam makes an entry, the next few scenes are filled with hilarious punches. I have been hugely inspired by that film and feel that the audience loves such scenes and made it my strength.
Your association with Brahmanandam garu?
Yes, he called me to his house and watched one of my skits thrice and spoke about each aspect of the skit. It was such a happy moment for me.
How do you plan your punches in your skits?
It looks very easy on-screen but trust me, a lot of work goes behind the scenes. Initially, it took a week for us to write a script for a single episode. I see what is trending in society and write my scripts keeping that in mind. Once we start writing punches follow automatically.
There are some complaints that your skits are women bashing. What do you have to say?
Not many know that more than the guys, the women love these skits and they are the ones who come and meet me on a regular basis during my outdoor shows. We do not make any skit in a vulgar manner which would degrade any woman or for the matter anyone in the society. Our humor is just for that moment and is linked to the nature of the skit.
You are a huge Pawan Kalyan fan. Share your best moment with him?
It was during these recent elections I met Pawan garu in Bheemavaram. He knew about how I was working for the party and appreciated me a lot and asked me to keep going. That was one very emotional moment that I shared with him.
Your bonding with Jabardasth?
Whatever I am today it is because of Jabardasth. Mallemaala has given me wings to spread and showcase my talent. Whatever movies I am getting and the love the audience is showing is only because of Jabardasth.
Will you ever leave TV for your lucrative movie career?
I have made one thing very clear that I am not going to leave TV at any cost. The next few years TV and OTT platforms are going to rule the roost. I don't believe the fact that TV artists cannot become big on the silver screen. I am getting good offers for films as well and am balancing them both perfectly.
With that, we ended our interview with Hyper Aadi and wished him the best of luck in his career.
Interviewed by Avad
Articles that might interest you:
Ad : Teluguruchi - Learn.. Cook.. Enjoy the Tasty food