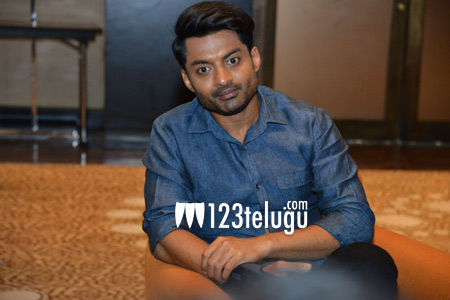 Nandamuri Kalyan Ram is very busy as he is juggling between two films of his one after the other. His latest release is MLA which hits the screens this Friday. On this occasion, we caught up with him for an exclusive interview. Let's see what he has to say.
How political is MLA going to be?
There is nothing seriously political about MLA. The film is a typical commercial entertainer with a small message. The first half starts off as a love story and by the end, it turns a bit political. There is no connection between the current political scenario as the film is made for sheer fun.
In the pre-release event, Posani requested you to become MLA in real life. Will you become one in the future?
Laughs!. See, I never thought I would come such a long way in my career after a series of flops early in my career. Likewise, you never know what is going happen in the future. I may or may not enter politics. As of now, I am very happy as an actor and am doing some good films.
What is that factor that changed your look and approach towards your career?
Things have changed rapidly during the last few years. The audience wants everything to look good and this was the reason I reinvented myself with ISM. I am looking younger and fit now and this has automatically changed everyone's perspective towards me. In fact, I am being approached by a lot of filmmakers for different roles nowadays and I am loving my transformation and the way everyone is looking at me.
What attracted you towards this film?
For me, I need to like the basic storyline. The moment I heard this story, I felt that I should do it as it will showcase me in a complete entertaining manner after a very long time. Not only this film, every film I do I need to like the script. I do not accept films just because of the director or banner. I need to like the content and back such films even though they flop sometimes.
Working with Kajol after a long time?
The makers always wanted a star heroine to do this film. It is her role that drives the film in the second half and who better than Kajal to pull off such a strong role. She did her first film with me and I felt very happy working with her after a long time.
What is your comment on the current political scenario?
I don't want to comment on anything as of now as I am busy with multiple films and hardly have time to think about all these.
How do you look at failures?
They hurt me big time. We actors wake up at 6 in the morning and shoot till late in the night. We go through a lot and work as a team. When our films which we work for so long flop, we get upset hugely. Same is the case with me too, But lately, I am taking feedback from various sources as to where things have gone wrong and try to make things better the next time.
What kind of films do you want to do in the future?
I am game for all kinds of films and would even love to do the negative roles if it is author backed. My philosophy is simple and it is that the film should be narrated in an entertaining manner.
What made you choose a love story next in Na Nuvve?
I was surprised when director Jayendra came to me with a love story. I asked them whether they were sure while narrating the story. Once I heard the line, I said yes to the film and the audience will see me in a completely new avatar in this film.
What do you think has changed for you in the recent times?
I feel that my transformation and young looks have given my directors hope that I can pull off any role now. I am being approached by many filmmakers a lot and I am just loving this new phase of my career.
With that, we ended our interview with Kalyan Ram and wished him the best of luck for his future.
Interviewed by Avad
Articles that might interest you:
Ad : Teluguruchi - Learn.. Cook.. Enjoy the Tasty food