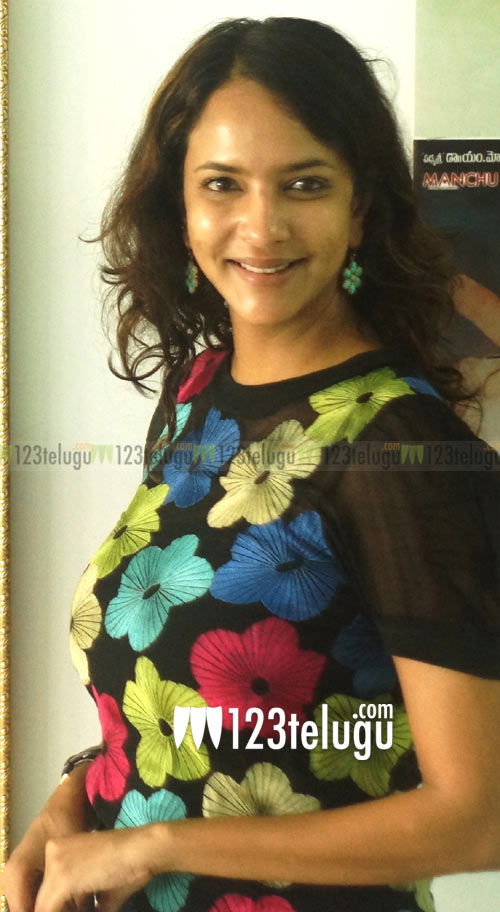 Lakshmi Manchu has been making a name for herself as a talented and versatile woman who can don many hats – Actress, Producer, Tv Host. She is coming up with two big projects which have been making waves for their look and feel, 'U Kodathara Ulikki Padathara' and 'Gundello Godaari'. UKUP is getting ready for release tomorrow and we caught up with Lakshmi for an exclusive chitchat.
She spoke candidly about UKUP, Gundello Godaari, why she prefers working with Manoj, her interests and her spiritual beliefs. Here is the transcript of that enjoyable conversation for you folks.
Q. UKUP is hitting the screens tomorrow, after all the hard work. What are your expectations?
A. I am sure UKUP will be the biggest hit in our production.It will be a major success for both Manoj and Balayya. I know the amount of effort we put in for the film and I know the quality we have in our film. I am very excited and I have dreamt about this day for so long.
Q. What makes you so confident about the film?
A. I excel in what I do because of the choices I make. I am not being cocky, I am just being confident.I get involved in producing a project only if I absolutely like it. You see, I do not have money to throw around. I only have enough money to make a film here and there. "Idhi Baguntundhi ankuntene diguthanu" (Smiles)
Q. Is Mohan Babu garu happy?
A. He is very very happy. He has seen the film and he is proud of our efforts. But he is also nervous (Laughs). This is a kind of film he has never attempted before, be it in terms of the story or looks or scale of production. He says that this kind of a buzz has not been around our productions for a very long time.
Q. How did you convince Mohan Babu garu to fund this expensive project?
A. I didn't ! I told him it was a small budget film. And then it kept growing in scale and size. Once Balayya stepped in, we decided to go all out. And here we are.
Q. Both your forthcoming projects, UKUP and Gundello Godaari,have grand, unique and authentic sets. Conscious strategy?
A. Nope!  "Adento, ala jarigipoindhi". I don't enjoy getting sets ready. It is the most frustrating, time taking and exhaustive exercise. Dad actually enjoys building and constructing things. I am the kind of person who will buy a fully furnished house and move in. I think a lot before deciding to even move a painting. I prefer to keep things as they are and set building is just not my cup of tea.
Q. But both the sets generated good buzz for the film.
A. Thank You, but I would love to generate the same kind of buzz for my future films without going through the stress of building such sets. Its too much pain.
Q. Speaking about Balayya, his look in UKUP is being widely acknowledged as his best in recent times.
A. Yes. And I take 300% credit for that (Gives a satisfied smile). I took extreme care in all aspects of his look. For example, makeup personnel used to apply a lot of gel to freeze the hair of his wig in place. I refused to use that. I wanted that loose and dry look, though it meant more maintenance and constant touch ups. The effort was worth it. "Ayana ni oka precious bomma laga chuskunnanu". And Balayya annayya co-operated without a whimper. He is a thorough gentleman.
Q. Manoj said the same thing  about Balayya in his interview.
A. Yes. There are a lot of rumours about him outside. In reality, he is such a pleasure to work with. He gets angry only if there is no discipline on the sets. We were brought up in a similarly disciplined environment so he was always very happy.
Q. When can we see Lakshmi in a full fledged role?
A. (Smiles) Gundello Godaari. Coming right up. Its a full fledged role.And I have just recently listened to a very promising script from a new director. I will not be producing it but I will be playing the lead role in it. Once all the things are in place, we will start.
Q. When will you produce films with other heroes?
A. The reason I like working with Manoj is because he thinks out of the box. He constantly tries to innovate. Now that I have worked with Balayya, I want to work with him again. As for producing films with other heroes, I will think of a project if I get good scripts. Basically, I don't know how it will be to work with other heroes as people have their own preferences and work ethics. But lets see.
Q. As Mohan Babu's daughter, you have a certain image and pedigree. Many senior filmmakers say "Lakshmi maa aadapaduchu". Does this influence or your affect your career choices?
A. (Smiles) I love the way you said "maa aadapaduchu". Thank you for that. Yes, as Mohan Babu's daughter I have a certain reputation to uphold. But basically, I do not want to cheat people by being artificially good. I am not a typical sari and bottu wearing girl. So in my career choices and my costumes, I always try to stay true to myself. When new directors pitch scripts to me, they do have certain apprehensions. Some people pitch bad scripts, without even doing their homework. "Mohan Babu gari ammay mana story oppeskunte manaki pedda production lo debut ostundhi ankuntaaru". I am very careful there.
Q. UKUP has been shown to a lot of people. Best compliment you received?
A. The best compliment I got was "Lakshmi, you stole the show" (laughs). What better compliment can I get? But otherwise, everyone has been telling my dad that we have a great product on hand.
Q. When will Gundello Godaari release?
A. As soon as the Special Effects work is complete. In this movie, the CGI scenes have a lot of water. Once you have water, special effects become very complicated. Water needs to interact with the artists in the scene (splashes, spillage etc). It is not like inserting a tree or putting a car in the background. I am taking time to make the product perfect.
Q. How is Mani Ratnam's film coming along?
A. Oh its brilliant. It was always a dream for me to work with Mani sir and the experience is just fantastic. He is making a straight Tamil film (without a Hindi version) after a long time and he is enjoying himself in this project.
Q. Are you a foodie? Which cuisines do you prefer?
A. I am a mad fan of my mom's spicy Rayalaseema food. I curse the spice while eating it, but I just love it what way. Apart from that, I enjoy Sushi a lot. You don't get good Sushi in Hyderabad so when I went to Dubai recently, I indulged my craving.
Q. Any future business plans apart from films? What about talk show plans?
A. (Shrugs) "Nenu plan cheytam manesanu Mahesh". Basically, whenever I plan something, God has other plans for me. So I am taking things as they come now. As for talk show plans, I am not doing anything now. But I am going to host 4-5 shows of my show 'Luck unte Lakshmi'. I want to see how I enjoy hosting game shows.
Q. You have trained and worked in Hollywood. Now you are working here. Is that experience helping you here?
A. The two industries are worlds apart. But yes, the experience is helping me. I learnt about being professional there and I am using that here. For example, I make it a point to come to office everyday I am in town. I turn up early to sets and I try to set an example.
Q. How is Andy doing? Do you consult him on your career?
A. (Her face and eyes light up) I would not be here if not for Andy. He is a very special person and he gives me complete freedom over my career choices. We have trained ourselves to be there for each other. We make special efforts to be together whenever possible. He follows my day to day activities on Twitter (Laughs)
Q. You are spiritually inclined. What do you believe in?
A. I believe in spirituality. I believe in Karma and every life has a purpose. We are here for a special reason and we need to discover that. I take off on periodic spiritual retreats to cleanse myself of all these worldly influences and to meditate. Once both these films are complete, I will be gone for two months.
Q. Any message for Telugu Film lovers?
A. I hope that we can win their appreciation and meet their expectations with UKUP. We worked very hard for this movie and we are hoping that you will be entertained.
So that is it folks. We took leave as Lakshmi headed off to attend to some last minute preparations for UKUP's grand release. Let us wish Lakshmi the very best for UKUP and for her forthcoming projects.
Interviewed by Mahesh S Koneru
Click Here For Interview in Telugu
Articles that might interest you:
Ad : Teluguruchi - Learn.. Cook.. Enjoy the Tasty food