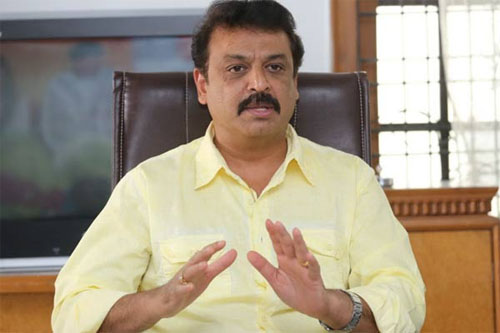 Senior actor Naresh is on top of his game. There is no role he cannot do these days and is busy with close to a dozen films in his kitty. His role has been hugely appreciated in Uma Maheshwara Ugra Roopasya. On this occasion, we caught up with him for an exclusive interview where he spoke about his life, career, controversies, and much more. Here is the transcript.
How is the response for Uma Maheshwara Urga Roopasya?
The response has been terrific. Frankly, I was not that happy when the film was sold to Netflix. But the reach it has taken, I never expected it. People are calling me from all over the world and wishing me for my role. Many Tamil directors have appreciated my role and have offered me Tamil films. I am getting some crazy offers and I am super happy with the response.
How did you go about playing your characters?
I am a method actor and go deep into my role. I feel the pain, joy, and situations of the character and perform it. I am a huge SV Ranga Rao fan and feel that an actor should all sorts of roles. Once I get the feel of the role, I get into the physical aspect of it. Many in Telugu cinema ignore this aspect but it is very key and I mold myself according to the character. For example, in the sad song from Rangasthalam, I never used glycerine even once and did the scene naturally. I should be thankful that young directors like Venkatesh Maha who are considering senior actors like me.
How do you rate Satyadev's in this film?
Satyadev is a gen-next actor and one to watch out for. He will be a big star in the days to come and will also do international cinema. He has a wide range of emotions and did exceptionally well. The way he worked on his role in Uma Maheshwara was just another level. The physical aspect and mental transformation he brought to the role was too good.
Acting-wise, is there anything you cannot do?
Laughs! I have done all sorts of my roles and am taking each character as a challenge. Now, I am interested in doing a negative role. My big dream is to play a solid villain in a Telugu film. Thanks to our new directors, the era of proper Telugu actors has once again come back. Too much of Mumbai export was happening but ever since people like me and Jagapathi Babu are doing such key roles, directors are choosing us and I feel the old era of SV Ranaga Rao, Rao Gopal Rao, and other major villains is back in the form of Rao Ramesh, Murali Sharma and us.
You are at the peak of your career? What was Vijaya Nirmala garu's response to your second innings?
My mother has been quite blunt with me all her life. When I wanted to be a hero, she told me I should become a doctor. Then, when I left films and joined BJP, she was not happy. Once I came back and started doing films and was struggling for hits, she was worried about me. But she was the happiest when I started my second innings as a character actor. She and Krishna Garu were so happy and I still remember in her last stages, she watched Sammohanam and just loved my performance. She was so happy for me.
So much is being written about your flamboyant lifestyle. What do you have to say?
I have been brought up in a rich family and started earning from a really young age. So, I was into partying, cars, and leading a lavish lifestyle from a young age. For me, work comes first and what I do off-screen is not anyone's business. That is my personal space and I don't care what people write about me. I will only react when things start damaging my peace of mind.
What are you enjoying more? Success as a character actor or the highs you saw when you were a hero?
My motto was always doing different films. So, if you observe closely, most of my films are super hits. Even in the second innings, many of my films are being lauded so much for my roles. When I was a hero, I loved the craze and success. But this second innings has made me hungry as an actor. I am getting to do such challenging work and am living life king size by farming and planning my life happily.
You are very outspoken. What do you have to say when people term you as arrogant?
To everyone its own. I am living every moment of my life. I say and do what I feel. I am only answerable to myself. Unless and until I do not insult my inner self and do my work sincerely, I am not bothered about others. I work for the entire month and party hard. I am on point and if someone does not like it, that is their problem.
Finally, have the Maa association issues solved? What has it done for its members during this lockdown?
Maa is like a big family and problems keep coming time and again. Now, things are set after senior actors like Krishnam Raju sir and Chiranjeevi garu have come in. I have no issues with Jeevitha and we have made peace. Coming to the work we have done, Maa has got COVID insurance done for close to 300 members in this lockdown. Apart from this, the groceries are being sent, life insurance has been done to most of the members and we are doing things like never before.
With that, we ended our interview with Naresh garu and wished him the best of luck for his future.
Interviewed by Avad
Articles that might interest you:
Ad : Teluguruchi - Learn.. Cook.. Enjoy the Tasty food