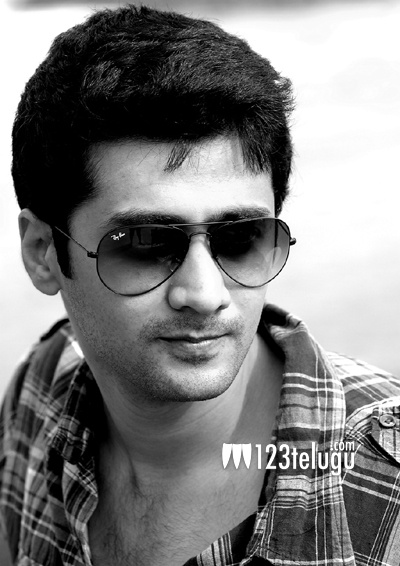 Rahul Ravindran made his Telugu debut with the film 'Andhala Rakshasi'. Though the movie did not fare too well at the Box Office, Rahul was noticed for his boy next door looks and innocent charm. His new film, 'Nenem Chinna Pillana', is all set to hit the screens tomorrow. Rahul is quite excited about the film and he says he is totally in love with TFI and Hyderabad. Let us see what this courteous and soft spoken actor has to say.
Q. From Andhala Rakshasi to Nenem Chinna Pillana, how has the journey been so far?
A. It has been a fantastic journey. Basically I love the industry. This is a place where there is good respect for artists, irrespective of their stature. Andhala Rakshasi gave me an identity and the movie's music was a big hit. So I have decided to seek my destiny here. I have also fallen in love with city of Hyderabad and I have made this my base.
Q. You are working with a big banner like Suresh Productions early on in your career..
A. Yes and I am very lucky that way. Suresh Productions is in its golden jubilee year. In fact, it will be completing its 50th year this week. So it is extra special for me as my film is coming out during this time. For me, getting to work with someone who has produced most of the films that my parents love, is quite an honour.
Q. How did the project take off?
A. The film's writer, Ramani garu, narrated the script to Mr. Ramanaidu. He liked the story and started putting the team in place. The director and other technicians were picked first. Ramanaidu garu happened to watch 'Andhala Rakshasi'. He happened to like me and started enquiring. He called up my AR producer Sai Korrapati garu for his opinion and fortunately for me, Sai garu gave a good report. So I was called and that is how it all happened. No matter what happens tomorrow, I will always be happy with this association and it is also a good career move.
Q. What can you tell us about your character in the film?
A. In this movie, I will be seen as Krish. This character is the exact opposite of my character in 'Andhala Rakshasi'. In that film, Hanu asked me to be like the moon. Basically, I had to reflect Lavanya's emotions and express everything through my eyes. In this film, I am more vocal. Krish believes in saying whatever he feels inside. "Europe lo ontari ga bathukutunna oka abbay katha" . He doesn't believe in full time jobs. If he gets a 100 Euros per day, that is enough for him. It is a very interesting character.
Q. Comedy and entertainment have become crucial these days. Does your film have these elements?
A. Well, there are a few special comedy scenes in our film, but most of the comedy comes from the characters themselves. There is a big star cast in the second half. We have people like Ali, LB Sriram etc. It is a typical Ramanaidu film, with good family emotions and drama.
Q. Does life become easier when you work with big production houses?
A. The one good thing about our Telugu Film Industry is the way stars are treated, irrespective of whether it is a big budget or a small budget film. The kind of respect artistes get is uniform. The advantage of a big banner lies elsewhere. A production house like Suresh Productions is a well oiled machine. They know what to do and how to get things done. Things like location permissions and sourcing of equipment become very easy. Another big advantage is the huge publicity and a wide release that big production houses ensure. For a budding star like me, these things are crucial.
Q. What can you tell us about Tanvi Vyas, your co star ?
A. Tanvi is a former Miss India. Because of that exposure, she is very confident and never nervous. Self confidence is her biggest asset. She was able to adapt and do what is required. In the film, she plays the role of a village girl who belongs to a joint family. She comes to Sweden to study. She envies my freedom and I envy her big family. In the second half, there is a good family drama.
Q. You are speaking Telugu quite fluently.. Are you putting in special efforts?
A. Thank you . I have been putting in a lot of effort to become comfortable with the language. I make it a point to interact with people on the set in Telugu. Even if I make mistakes, it gives me an opportunity to correct myself. I also watch as many Telugu films as possible, to improve my understanding of the language. I learnt Hindi in the same way during my childhood and I am employing the same formula now. I want to stick with this industry and learning Telugu is therefore an absolute must.
Q. You seem to be doing romantic films only. Is that your comfort zone?
A. I am not yet an established hero. I am trying my best to reach out to different sections of viewers with every film. At this stage of my career, I cannot choose what I want. I am just trying to make the most of what I get. A comfort zone will only come after I get established as a hero. After Andhala Rakshasi, I received a lot of offers for similar roles. I did not take them up. But then, people thought I was not interested in Telugu films.
So I decided to work in a few films which appealed to me. As much as possible, I am trying to play different characters. My role in AR is very different from my role in this film. Eventually, the idea is to slowly break away and do something which is not a pure love story.
Q. Which actor has a deep influence on you?
A. Every Telugu star has his or her own individual talent and they use it beautifully to their advantage. I try to learn from them all. Among world actors, my all-time favourite is Paul Newman. He struck a fine balance between being a star and an actor perfectly throughout his career.
Q. How do you spend your free time?
A. The last four months have been pretty hectic, so I did not really have much free time. When I do, I catch up with family. Hyderabad has fantastic restaurants, so I love eating out. And Cinema is always my fav option.
Q. Wedding bells in February? What can you tell us about Chinmayi?
A. Yes.The marriage should be in Feb . I first knew Chinmayi as an awesome singer and I was her fan. The next thing you know, she is my life partner. We met because of AR, so in more ways than one, AR is very special. She is a supremely talented and lovely person.
Q. You are working with an established director for the first time. How was the experience?
A. You are right. He is a very calm director and he does not get ruffled easily. That probably comes with experience. For the first time, he has come out of his comfort zone and attempted a family drama. We have all come to understand each other's strengths and weaknesses. It helps when you have a director who has received numerous awards and a lot of critical acclaim.
Q. What can viewers expect from 'Nenem Chinnapillana'?
A. The film is geared towards a very specific section of the audience. This film will appeal to people who like entertaining family dramas. My favourite part of the film is the climax. After a good emotional moment, it is a happy ending. The story of the film is very strong. M.M.Srilekha has given good music so that should help as well.
With that, we wrapped up our conversation with Rahul Ravindran. Let us wish this good natured and soft spoken guy the very best for his film.
Interviewed by Mahesh S Koneru
CLICK HERE FOR TELUGU INTERVIEW
Articles that might interest you:
Ad : Teluguruchi - Learn.. Cook.. Enjoy the Tasty food