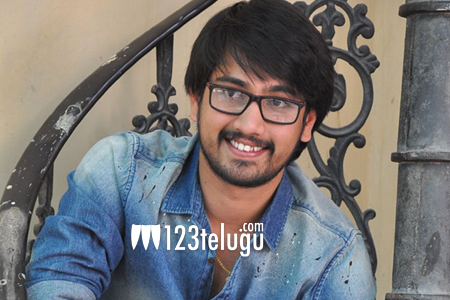 Young hero, Raj Tharun has been going great guns in his career and is now back with yet another interesting project called Kittu Unnadu Jagartha which is up for a release this Friday. On this occasion, we caught up with the chilled out actor for an exclusive interview. Let's see what he has to say.
Firstly, how excited are you about this film's release?
I have recently watched the film and am super confident about the project. Kittu Unnadu Jagartha is filled with entertainment throughout and will surely impress everyone.
Your film is releasing with two other projects. How do you feel?
Incidentally, Manchu Manoj revealed to me that both of our projects are releasing on the same day. Frankly, I don't have a say in these things as my producers felt that this is the right to come out as the exam season will get more intense later. I personally feel that all the three films should do well as it will only benefit the industry.
Your role in KUJ?
I play a man who kidnaps dogs for a living. There are many layers in the film and some known actors are doing crucial roles. Everyone's role is quite powerful and they are heroes in their own right in the film.
Working with Arbaaz Khan?
Arbaaz Khan plays the main villain in the film and his role will be quite interesting. Personally, I have never seen a star who is so down to earth even after coming from a prestigious family. Arbaaz's sense of humor is just great and if you sit with him for half an hour, you will just keep laughing for the entire duration.
Lip Lock with Anu Emanuel?
It's just yet another romantic moment in the film which comes at a crucial time. There is nothing much to talk about it but Anu has done a wonderful job in the film and will be added bonus to the project.
How difficult was it shooting with the dogs?
Personally, I love dogs and have 13 of them at home. I had a great time working with them and the comedy generated through the dogs will surely go well with the audience.
About your three film contract with AK Entertainments?
I have no contract with them and all the reports going around are false. It's just that my next film, Andhagadu is also with Anil Sunkara, the media is carrying a report that I have signed a contract with him.
So the news about him gifting you a villa is false?
Yes, it is false. But the fact is that I bought the villa myself. But the interesting thing here is that the villas are constructed by Anil sir's and Dil Raju's company. From a long time, I was planning to buy a house and finally, I cracked a good deal as I am working with both of them.
How do you look at your star status in the industry currently?
I go by the rule that you're only as good as your last film. Times have changed and there is heavy competition and the audience rate you only with your last film. On the other hand, I am living a dream and my star status is just an added bonus. I don't take it that seriously and keep focusing on my next film.
How do you deal with failures?
Once my film is released, I completely cut off and move on to my next project. There is no point in hanging on to things which you cannot change.
Reason for walking out of Shatamanam Bhavati?
As I had three films back to back, I had to let go of the project. All the rumors that I was dropped out of the project are false. To make things better, I am doing Dil Raju's new film very soon.
A certain section of the press has labeled you as arrogant. What do you have to say?
I remember going late for Kumari 21F interview and hell broke out loose and every quoted me saying that I was very arrogant and not punctual. Even before I wanted to clear the air, things went out of my hand. The same thing happened with Laasya's issue too. I tried to clear it through my twitter but the issue blew up even more. So now, I have decided not to speak about such things and impress everyone only with my work.
About your friends in the industry?
Hebah Patel, Nikhil, and Manoj are my good friends. I share a very close bond with Nikhil as we chat a lot about films and much more. I live alone in the city and spent most of the time at home. If I am not filming, I write scripts for my films that I want to make in the future. I also watch a lot of movies on a daily basis.
Your future projects?
My dates are completely blocked for this year. Post Kittu, my next film, Andhagadu is also ready and will release by the end of summer. Apart from this, I have also started shooting for a film in the production of Annapurna Studios which will be directed by a lady director. Once these two films release, I will move to Dil Raju's movie which will be announced soon.
Finally, why should we watch KUJ?
The film has non-stop entertainment from the word go. You can leave your brains behind and just relax and enjoy the film which has some great production values.
With that, we ended our interview with Raj Tharun and wished him the best of luck for his future.
Interviewed by Avad
Articles that might interest you:
Ad : Teluguruchi - Learn.. Cook.. Enjoy the Tasty food