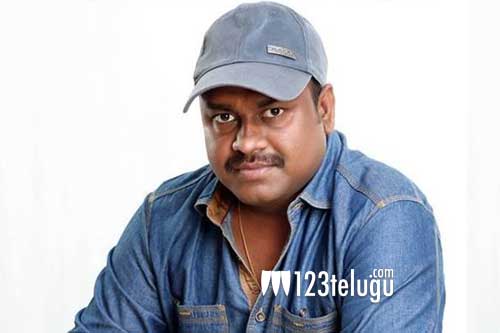 We all know what kind of sensation did films like Sampoor's Hrudaya Kaleyam and Kobbari Matta created during its release. These films were made by producer-director Sai Rajesh. He is ready with his new film Color Photo whose teaser has gone viral. On this occasion, we caught up with him for an exclusive interview. Here is the transcript.
How is the response to your film Color Photo?
The response has been mindblowing and there is a superb appreciation for the teaser. In the recent past, all my films were appreciated by fans and social media public. But for Color Photo, the industry has recognized my effort and many of them have called me ever since the teaser has gone viral. The respect I am getting and the way I am being treated as a serious producer is really heartwarming for me.
When you say serious producer, were you not considered one before?
Yes, I was not. I made two films as a producer and I feel no one considered those films seriously and most of the time neglected them. Both me and Sampoo were not even called to various film functions. Now that Color Photo is trending, I understood how the industry works and I am reacting according to it.
What made you choose Suhas as a hero and Sandeep the director who is new in the industry?
I am pretty much aware of Sandeep's skill as a writer. He had directed few short films for Chai Bisket and I personally took him to a big banner. But after working for a year, his film never took off. Then, when I wrote this story, I felt Sandeep was the best choice and roped him in. Coming to Suhas, he is now a proven actor and I feel he is the next big thing in Tollywood. He is so underrated and perfect fit for the film and so we roped him in.
Why didn't you direct this film in the first place?
Post Kobbari Matta, I signed a film with GA2 Pictures that was supposed to be produced by SKN. So, when I wrote this script of Color Photo, I felt that Sandeep could direct it well. But my film with GA2 got delayed as I got busy with Color Photo.
You made two hilarious projects Hrudaya Kaleyam and Kobbari Matta. Since them why do you work so less?
I am a person who works according to my mood and am very lazy in writing. Also, I do not like working in banners where there is too much domination and our say is less. Once I am ready with my scripts, I shoot them quite quickly. We shot Hrudaya Kalyeam in 28 days, Kobbari Matta in 38 days, and Colo Photo under 50 days.
You were involved in a controversy with a media house recently. Tell us about that?
Media has every right to write about us but they should not go personal. They wrote about my personal life, wrote badly about my film as well. After such news coming out, the business of my film Kobbari Matta took a beating big time during the release time, and personally I suffered a lot.
Tell us about the film Color Photo?
The film is about racial discrimination and the hero's character is based on some facets of my own love life. How a dark-skinned guy with low self-confidence falls in love, how he is looked down in life, and how he comes out victorious is the story. Sunil is playing the main villain and Chandni Chowdary is the heroine. It is a solid role for her as well. Suhas has done a solid job. His performance in the last half an hour will shock everyone.
You gave two big hits to Sampoornesh Babu. But why is not utilizing his fame?
We launched Sampoo with a plan and it worked out quite well. He has huge popularity and also wants to do supporting roles as well. He has also approached a lot of producers but they did not take him saying after working as a hero how can you do a small role. He is in a very weird situation. He will not get more films as a hero and now he is not being taken as a comedian. I feel so sad for him and hope things will change for him.
Tell us about your background?
I am from Nellore and lived all my life there. I came to Hyderabad and wanted to get into films. Like how everyone struggles, I had mine too and made two films Hrudaya Kaleyam and Kobbari Matta. The money which I got from Hrudayala Kaleyam I put in Kobbari Matta and did the same with Color Photo as well. I want to produce as many films as I can and write good scripts.
Many say that you boost the mega family a lot on social media. What do you have to say?
I am a huge Mani Ratnam fan and got into films because of him and megastar Chiranjeevi Garu. He has been an inspiration to many and I loved all his films. I also met him many times and was bowled over by his nature. So, naturally, I love his films and his family. So, I show that on social media and do not bother what people think about me.
Finally about Color Photo's release?
The teaser has really changed the business dynamics of the film. So many good business offers have started pouring in now. We would love to release the film in theatres. That is the biggest plan of mine, Suhas and Sandeep as of now. as we want to see our baby on the big screen along with the public. Our film needs two more months to come out and by that time, if the theatres are not open we will think about alternate plans.
With that, we ended our interview with Sai Rajesh and wished him the best of luck for Color Photo?
Interviewed by Avad
Articles that might interest you:
Ad : Teluguruchi - Learn.. Cook.. Enjoy the Tasty food