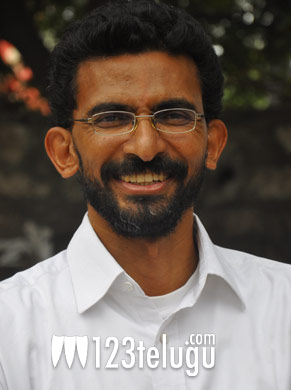 Sekhar Kammula does not have the air of a typical Telugu film director. In fact, there is perhaps nothing about him that says 'filmy'. As you all know, he is soft spoken and quite intelligent. We caught up with this talented filmmaker for a brief interview . The conversation happened in his car, which was loaded with LIB material and gave us a general indication of the incredible amount of time he was spending in it. It was actually quite amusing. Read on to find out what he had to say about 'Life is Beautiful', his philosophy and the driving force behind his films.
Q. Life is Beautiful is your biggest film, both in terms of scale and business. Are you gradually moving towards bigger canvasses?
A. Well, for me, every film I set out to make is my biggest ever. Right from my first film Anand, I have always made films beyond my capability and worth. Lets say I was worth 25 paise when I made Anand, I spent 2 Rupees on it. I have a gut feel and I stretch my limits. Be it for lighting schemes in Anand or the Godavari boat sequences, I have always been making films that are tough for someone to pull off with my background. So it was not a conscious decision to make LIB my biggest yet. It just happened.
Q. For perhaps the first time in your films, you have three big heroines in your project. Was it a business decision?
A. Not a business decision. For Shriya's character, we wanted someone with an aura, someone with a star appeal. So I approached her. For Amala to be a part of the project, we were just very lucky. Someone said she would make a great mother and we pitched the role to her. She has become a great asset for the film. As for Anjala Zaveri, I saw her in a Nirma ad and thought, "She is still so beautiful". She really is very beautiful even now and is a perfect fit for her role.
Q. You have a clean image. Do you keep that in mind while scripting your projects ?
A. I am fortunate that I have a good market for my clean films. My films are an extension of what I am in real life. I first justify any role/story to myself and only when I am convinced, I go ahead and make it. Because it is a natural process, it is not hard. For me, film-making is a creative process and I don't make films to prove a point to someone. My films should be a reference to future generations about how life was in the good old days. For example, Happy Days will be a benchmark film for student life. Life is Beautiful will be a benchmark for middle class colony life. I must thank audiences for giving me a chance to make my kind of films viably.
Q. Is it tough to make clean films, staying away from filmy formulas?
A. Yes. It is quite hard to make clean films, without conflicts and villains. It is hard to create an involving story where the raw emotions are not there. For example, Life is Beautiful is the hardest film I ever made. I worked quite a lot on writing and rewriting the script. Leader is the easiest script I wrote – I wrote that script in two weeks.
Q. Will you make a film with a big star? There were reports that you were working on a project sometime ago..
A. Well I first write a story and then look for a perfect fit for the character. If a big star fits the bill, I shamelessly go after them until they accept. Best example is Amala for LIB. I do not have any boundaries for myself. If my future scripts demand a big star, I will surely work with one.
Q. You have said sometime ago that songs and dance are perhaps the only original aspects left in our cinema..Does that reflect in Micky's music?
A. Micky's music has a contemporary feel and that is required for this movie. Even in Leader and Happy Days, I went with him as his music appeals to youngsters. But whenever required, I work with him to bring a native Telugu touch to the re-recording and background score. I went with traditional music in Godavari and Anand. Micky gives me what I want.
Q. Apart from films, what are your other passions ?
A. I love spending time with my two kids Vandana and Vibhavani. I hangout with my kids and play gully cricket with them. I love drives and keep going around a lot in my car on slow drives alone. You can see how my car is now like a mobile home. I like travelling , especially in the USA. I studied in the US and learnt a lot from that country. So I feel at home in the USA and love going around that country. Apart from these, I have small pleasures like having Irani Chai at roadside cafes and breakfast at Minerva. Otherwise, I spend time at my home in Padmarao Nagar.
Q. What can we expect from Life is Beautiful?
A. It will be a film in the Happy Days genre. I wanted to make a film on simple middle class colony life and showcase it for the next generation. I made this movie with a kind of eagerness and urgency. India is a very rapidly changing country and our socio-economic norms are changing very radically. Before I lose my innocence, I wanted to make this kind of a movie.
Q. What inspires you in your film-making?
A. I don't look for inspirations or sources. I don't watch too many movies either. I sit alone and work with myself, from within myself.
With that, we ended our conversation with Sekhar Kammula as he had to catch up with some prior appointments. Life is Beautiful is releasing on the 14th of this month so let us wish Sekhar Kammula the very best. We hope you enjoyed reading the transcript of our conversation.
Interviewed by Mahesh S Koneru
Click Here For Interview in Telugu
Articles that might interest you:
Ad : Teluguruchi - Learn.. Cook.. Enjoy the Tasty food