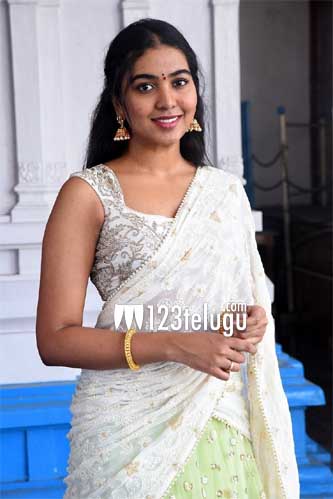 Continuing the lockdown interview series, today, we bring you an exclusive interview with none other than the super talented Shivatmika Rajasekhar. In a detailed conversation, we got to know a lot about the young actress, her family, career choices and much more. Here is the transcript.
How has the lockdown been treating you?
I was along with my sister Shivani shooting for her film in Ponidcherry when all this happened. We had to rush back to Hyderabad to be safe. Both I and my family have been extremely busy with the welfare activities for the needy.
Tell us about the charity work that your family is doing?
I can proudly say that we have been providing groceries to nearly 400 families in the last ten days or so. Apart from this, we prepare meals in bulk and go to areas like cancer institute where there are poor people and feed them. Other than this, both I and my sister donated one lakh each to the CCC fund.
How did you bag Krishna Vamsi's film?
It happened all of a sudden. I remember my mom telling me that a call from Krishna Vamsi garu's office. The first question I asked, was it for me or Shivani. When my mom told it was me I was quite excited. I met Krishna Vamsi garu at his office and came to know that he roped me in seeing my performance in Dorasani. In just four days before the start of the shoot, I was on board.
Working experience with Krishna Vamsi?
It is a dream come true for any actress and I loved every moment on the sets. I play Prakash Raj's daughter in the film and learned a lot during the making and evolved as an actress. I just have a few more days left with the shoot and am quite excited about joining the cast again.
Your elder sister is yet to debut but two of your films are ready. How do you feel?
Many ask me this question and personally, I don't like it at all. My sister has been a huge inspiration in my life and I look up to her in every which way. So, we don't look at the situation in that angle as who came first or what is one doing better than the other. I feel that she is super talented and will carve a niche of her very soon.
Your parents have not launched you both. Tell us about that?

My dad and mom brought us up in a very simple manner and never gave us the air that we are star daughters. Be it going into the public or interacting with people, we don't have any air. We have been doing films with the suggestions of our parents and they keep guiding us all the time as they are experienced enough. So, in a way, they are doing everything for us.
You were super impressive in Dorasani. Never looked it was your debut film?
Maybe acting comes naturally to me. We have been in this field for a long time. Being on sets since childhood, this was easy and came naturally to me. The character was so good that it gave a lot of scope to perform. I loved the compliments that came to me and happy that it was just for my first film.
Your dad always makes news for some reason or the other. How do you take it?
As everyone knows both my dad and mom are very transparent people. What is there in our hearts comes out and there is no fake fasad in it. So naturally, what he speaks and does creates news. But just for anyone, he will not change the way he lives. He is one of the most honest people I know and we all want him to be like that.
So, what have you been watching during this lockdown?
My grandfather is in town and we all are having a great time. My dad is cooking for us and I am watching a lot of shows. I am binge-watching Money Heist as of now and in love with Alvar Morte who plays a professor in the show. He's my latest crush and I am loving his role and performance.
In Tollywood, which heroine inspires you in recent times?
I have been quite impressed with Sai Pallavi, Nivetha Thomas and love the way Samantha has molded her career. She has done commercial films and ha nicely transformed into a terrific actress. I want to do the same and be an allrounder.
Both you and your sisters are actors now. Do you suggest to your dad about his career?
Sometimes we do but both my mom and dad have been there in the industry long enough and know what to do and when. We can only suggest some new style of filmmaking but it is their ultimate call.
What about Telugu heroes. Who is your favorite?
I like a lot of them but Nani is my current favorite and I love Vijay sir in Tamil. My tastes in heroes keep changing with each film and great performances.
Future projects?
As of now, I have two days left for Krishna Vamsi's film Rangamarthada. Apart from this, there is another film with Arun Adith which is yet to be announced.
With that, we ended our interview and wished Shivatmika the best of luck for her future projects.
Interviewed by Avad
Articles that might interest you:
Ad : Teluguruchi - Learn.. Cook.. Enjoy the Tasty food