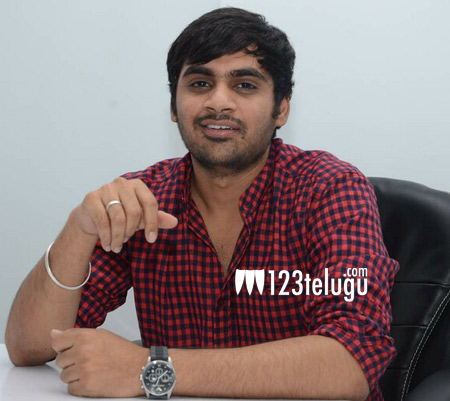 'Run Raja Run', marks the directorial debut of Sujeeth. He has earlier directed about 40 short films and got good response from the you-tube viewers. On the occasion of the films release, we caught up with Sujeeth for an exclusive interview. Let's see what he has to say..
Q) How did you enter the short film world?
Personally, I love story telling and made my first short film in 2005 – 2006 when there was a huge craze for those films. I was shocked to see when that short film got 1 lakh hits. Then, I formed a team and started making short films. Later I went to do Diploma in Film Technology. Then, I decided to make a action backdrop short film and started my short film 'Run Raja Run'
Q) How did this film happen?
I thought of making my directorial debut with a love story and narrated a story to UV creations. But due to budget constraints, I have shelved it. Then, they have asked me for a different and new script. I asked them one week of time and wrote a story in 6 days. They liked the concept and started the film.
Q) What is 'Run Raja Run' all about?
Firstly, I want to clear that my short film and this film are completely different, even though the title is same for both. This story is all about the journey of a boy who breakups with about 50 girls. To be specific, this film will be in a Tom and Jerry format.
Q) Why did you select Sharwanandh for this film, and how will be his character in the movie?
I suggested Vamshi that we will rope in Sharwanandh for this film and he agreed for it. It's true that Sharwa has previously done all serious roles but I was confident that he can do this character. I narrated this story to Sharwa in the sets of 'Satya 2' and he was in serious look at that time. He asked me just one question that, whether he can pull off this character or not. When I said yes, he signed for this movie. In reality, Sharwanandh is a jovial and fun loving guy. I tried to portray his original lifestyle in this film. He plays the character of Raja Harishchandra who always speaks the truth and gets himself into trouble.
Q) What is the reason behind selecting heroine Seerat Kapoor?
When I wrote the character of heroine, I thought that we should select a different girl who posses rich and proud look in her face. First, we saw few Telugu girls but later we selected this Mumbai girl in an audition. She is very dedicated and also learn t Telugu for this film.
Q) What made you to select Ghibran as music director of this film ?
In the beginning, I worked with the local music directors, but they use to give only 2 or 3 good songs. At that time I use to have a caller tune for my mobile which I liked a lot and then I found out that it is Ghibran who has composed music for that song. I informed my producers and narrated the story to Ghibran. Liking my behavior more than the story, he agreed to do this film.
Q) How is it working with the producers who have earlier given a hit like 'Mirchi'?
In the beginning, I was nervous with the producers as they have already given a hit. But they are not of that kind. I have tried a lot of new things in this film and they have supported me for everything. There are three people in UV creations. Firstly, Vamshi Krishna who has very good knowledge on scripts, he is the one who takes care of the story. Then, Pramod and takea care of locations and all the actors. Finally, Vivek is the one, who takes care of all the financial matters. Taking this interview as an opportunity, I specially thank them for all their support.
Q) What are the major highlights of this film?
For me, it's always the story that is highlight of any film. For this film, the story and screenplay are major highlights. In the same way, Madhi's cinematography, entertainment in the first half, thrilling moments of last 30 minutes will also be major highlights.
Q) Which is more difficult, directing a short film or directing a feature film?
To be frank, directing a film is much easier than directing a short film where I have to take care of every department. But when directing a feature film, there is some other person to manage the other department.
Q) Will you direct your next films in this genre? Do you have any dream hero you want to work with?
Thriller, Love, Horror, I want to try each and every genre with each and every film. I want to work with every hero. But the story which I write will suit only the young heroes like Nithin, Nani, Ram, Sharwanandh.
Q) Finally, what you would like to tell the audience who come to watch this film?
In 'Run Raja Run', there are thrilling moments along with the love track. First half will be full of entertainment and second half consists thrilling moments. We have made this movie in such a way that audience won't get bored. This film can be watched by whole family.
With this we wrapped up our interview, wishing him good luck for his debut film.
CLICK HERE FOR TELUGU INTERVIEW
Articles that might interest you:
Ad : Teluguruchi - Learn.. Cook.. Enjoy the Tasty food