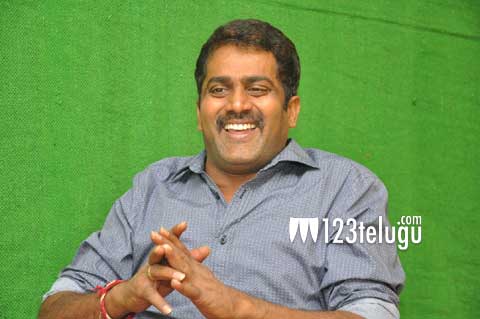 Director Veerabhadram Chowdhary has scored two hits in the past, with 'Aha Na Pellanta' and 'Poolarangadu'. His third film is the Nagarjuna starrer 'Bhai' and the movie is getting ready for release this week. Veerabhadram, who comes across as a very well mannered and soft spoken guy, is excited about this project and he is quite confident about the movie's chances at the Box Office. We caught up with this young director for an exclusive interview. Read on to see what he had to say.
Q. You have publicly expressed your admiration for Nagarjuna on a number of occasions. As an admirer, are you happy with the way this film has shaped up?
A. Absolutely. Nagarjuna garu is the first star hero who believed in me and gave me a break after 'Poolarangadu'. So I worked with passion and vengeance for this movie. Nagarjuna has spent a good amount of money for this movie and the film will have a very lavish feel. Nagarjuna's fans will be proud of this movie.
Q. How did you manage to convince Nagarjuna?
A. (Smiles) I must thank Nagarjuna garu for giving me a chance. Nagarjuna is known for his willingness to try new things. If he likes a story, Nagarjuna will not hesitate to give a chance to a newcomer. He does not bother too much about whether a director is big or small. If anything new has to be tried out in the industry, more often than not it is Nagarjuna who does it. I am a Sai Baba devotee. When I narrated the story of 'Bhai' to Nagarjuna, he was in Sai Baba getup for 'Shirdi Sai'. I knew then itself that we would work together.
Q. The audio album and the teasers created a good buzz, raising expectations. Will that be a problem?
A. No. High expectations are good for a star hero. High expectations bring in good openings. Because of the good entertainment quotient in the film and the stylish presentation, viewers will be very happy with this movie. The comedy scenes between Nagarjuna and Brahmanandam have come out very well.
Q. DSP is expensive. Whose decision was it to bring in DSP as the music director?
A. It is my decision. Once the script has been locked, Nagarjuna does not interfere too much. He gives a director complete freedom. When I asked for DSP, Nagarjuna did not say a word. He encouraged me to go ahead. That decision has paid off today. DSP's audio has become a big asset for the film.

Q. Any interesting or memorable incidents during the shoot?
A. Nagarjuna garu is the hero and the producer of the film. So a director's job becomes a lot tougher. There will be constant scrutiny and the room for error is very small. I used to be very conscious about this and I was quite tense during the initial days of the shoot. During our shoot in Bangkok, I happened to spend some time with Nagarjuna garu after the shoot. We connected very well during that time. EVV Satyanarayana Garu is my guru and Nagarjuna garu recollected his association with EVV garu. I really cherish those moments.
Q. Can you tell us something about Nagarjuna that no one knows?
A. Nagarjuna is a very caring person and he takes great care of his employees. I have seen how he helps the staff of Annapurna Studios. He has developed that studio along the lines of a corporate firm and the employees are quite happy there. Nagarjuna values their happiness. Nagarjuna also funds the educational expenses of the kids of some of his staff members. No one knows this, as Nagarjuna does not like to publicise such things. But I saw these initiatives with my own eyes. This is one angle that not many know about Nagarjuna.
Q. Is there something about Veerabhadram that no one knows?
A. (Smiles). I am a very positive person and I do not interfere in the activities of other people. When people criticise me, I do not worry too much as results speak for themselves. But on set, I can be a very different person if things go wrong. There is another angle of Veerabhadram that comes out (Laughs).
Q. Not much is known about your family. What do they do?
A. My father is a farmer and I have two other brothers. They are also into agriculture. I am the only graduate in my family. I came to Hyderabad for my MCA course, but I ended up in the Film Industry because of my passion for films.
Q. 'Bhai' Bullets have become quite popular on social networks. Who conceived them?
A. We worked hard for about 5 – 6 months for those Bhai Bullets. They are going to be a highlight for this movie. Good one liners and sharp dialogues are essential for a movie's success today. Viewers enjoy them tremendously. So we put in a lot of homework for these dialogues and I encouraged some newcomers for this task. We are quite pleased with the results.
Q. You seem to have brought out the entertainment angle in Nagarjuna again…
A. There is a terrific entertainer in Nagarjuna. He has very good timing and I have used that to full effect in this movie. My guru E.V.V. Satyanarayana garu used it brilliantly in 'Hello Brother' and I have tried to showcase that angle in Nagarjuna once again.
Q. Richa is an unconventional choice, according to many. What do you say?
A. I disagree. Once you see her in this film, you will realise why Richa was picked for that role. She looks good and she complements Nagarjuna very well. A heroine's presentation lies in the hands of the director. So, if the director can do a good job, the heroine will look good.
Q. What can fans expect from 'Bhai'?
A. The movie is a complete mass entertainer. The film will have a very rich feel and there is ample comedy in the film. There are many noted artistes in this movie and all of them have done a good job. A family can come and have fun at the theatres. Apart from comedy and action sequences, there is good sentiment in the film as well.
Q. What are your future projects?
A. I want to make a nice romantic film, with good entertainment. I have some commitments in hand and I will officially announce my next projects after the release of  'Bhai'.

Q. Any message for our viewers?
A. Do watch 'Bhai' in theaters and have fun. Do not encourage piracy. We have worked very hard for this movie and we hope you will enjoy the film.
With that, we wrapped up our conversation with Veerabhadram. Let us wish this budding director the very best for 'Bhai'.
Interviewed by Mahesh S Koneru
CLICK HERE FOR TELUGU INTERVIEW
Articles that might interest you:
Ad : Teluguruchi - Learn.. Cook.. Enjoy the Tasty food