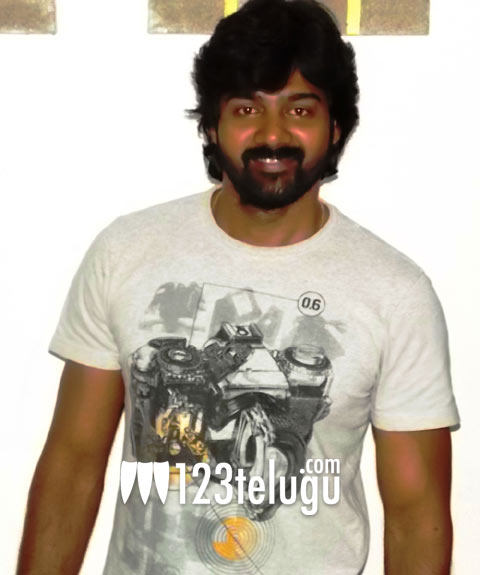 Naveen is a tall and ruggedly handsome actor. At first glance, he doesn't strike you as your average Telugu hero, with the big mop of hair and the beard. But talk to him for a few minutes and his intelligence and intensity grows on you. He is a family man at heart and is as cosmopolitan as they come. Despite being a Tamilian, Naveen speaks impeccable Telugu. We caught up with him for an exclusive interview. Read on to see what Naveen has to say about Andhala Rakshasi, his aspirations and his passions.
Q. You are speaking very good Telugu. Did you pick it up recently?
A. I am a Tamilian but I have spent time in both Andhra Pradesh and Karnataka. I have always been exposed to Telugu and I am very comfortable with the language.
Q. How were you chosen for 'Andhala Rakshasi'?
A. Its a big miracle. It happened through Lakshmi Bhupal, a common friend of Hanu and mine. Hanu casually told Lakshmi Bhupal that he was on the lookout for a rugged and muscular guy, a fresh face. Immediately, I was referred to Hanu and I mailed my picture over to him. I was shooting for a Tamil film then and Hanu asked me if I could meet him in person. I came over to meet Hanu, who saw me and observed me from head to toe for a while. His next question was "When will your shooting complete?". He checked out my walking style, which is an asset for me. I was picked for the role and Hanu asked me to grow the hair and beard for a while.
Q. How did you prepare for the character of Surya?
A. Hanu groomed me for the character of Surya. He told me "There will be atleast one guy like Surya in every city bus, especially buses frequented by college students". He asked me to roam around the city in buses for a week. I was asked to remove all sophistication from my life. Hanu asked me to walk to office and I refrained from using cars. If I had to use a vehicle, I was asked to use my bike. I was slowly identifying and transforming myself into Surya.
Q. How different is Naveen from Surya?
A. There are some differences and some similarities. I was a very reserved person earlier. Now I am speaking a lot and my family members are very happy at my transformation. The character of Surya is that of a very boisterous and 'massy' guy. To get into the skin of the character, I took a separate flat in Manikonda and the entire flat was plastered with huge posters of Mithuna (Lavanya's character in AR). For three months, I saw nothing but Mithuna every moment of my life. I got into the character so deeply that when I saw Lavanya on the set, I always used to see Mithuna, never Lavanya.
Q. Impressive. Such attention to detail is rare.
A. My director Hanu gets the credit. He is a perfectionist. He takes extreme care in each and every frame. For example, there was one instance where we shot a scene satisfactorily. But Hanu wanted to re shoot the scene just because a few strands of my hair were out of place. He worked with me, groomed me and shooting for the film is a life changing experience. He is simply the best.
Q. What was the most challenging aspect encountered while shooting for AR?
A. There was this chase sequence where I had to run for 2 Kilometers and escape from the goons. We shot with a quite a number of monitors. This sequence was shot for three days. Immediately after that, we shot for the scene where I had to run after an auto in the rain. So totally,it was 7 days of running. It was physically very strenuous but the output came out very well.
Q. Apart from films, what do you enjoy doing?
A. I love gaming. I am a mega Play Station freak and I play a lot of action games. I also love dancing and I am very passionate about it. The other thing that I actively want to do is make life comfortable for old people. It is so sad to see a lot of old people suffering in their last stages due to negligence. I want to do something for them, perhaps adopt atleast one old person. "Alanti valla ki edaina cheyatam kosam ayna nenu life lo pedda vadni avvali" (smiles). I also love my Royal Enfield. I take it wherever I go and I am so much in love with it that you can find me kissing it at times.
Q. Thats a very noble thought. So you are a family man.
A. Yes, completely. I love my family and I will do anything I can to make them happy.
Q. What about your personal life? Are you single or in a relationship?
A. (Smiles shyly) I have a girl friend, so I am in a relationship but it is not the right moment to reveal more about it.
Q. Do you watch Telugu films? Who are your favourite actors?
A. I used to watch a lot of Telugu films earlier. I grew up in Bellary where we used to watch all big hero films regularly. I love Chiranjeevi garu a lot. He is a great dancer and because of my love for dance, I admire him. Even now, if a Chiranjeevi song comes, you will find me watching it intently. Amongst actresses, I love Savithri garu and Sridevi garu a lot. If I can get a chance, I would love to meet Sridevi garu and tell her what a great actress she is. (laughs)
Q. Any special care for your physique? Foods you love to eat?
A. I used to be a foodie earlier. I am quite muscular naturally. I love eggs. I eat about 40 eggs a day! Apart from that, I also love fish.
Q. How was it to work with Lavanya and Rahul?
A. They are fantastic people. I used to be a little reserved around Lavanya in the initial stages. Hanu one day forced me to go to Lavanya's room as a surprise visit and asked me to start reciting a few scenes from the movie. As soon as I started doing that, she panicked and was about to complain when Hanu stepped into the scene and explained what was happening to her. That was when I realised how Surya irritates Mithuna. As for Rahul, we are great friends. We are so close that people wondered initially if we had a 'Dostana' relationship (laughs out).
Q. What feedback have you received from people who saw Andhala Rakshasi?
A. I got a great compliment from Suresh Babu garu. He said that I did complete justice to my character and it felt very nice. A special compliment came from an unexpected source. I visited KFC in Cinemax and as you know, differently abled people are employed there. As I was about to place my order, the person there started making excited gestures after looking at me. He wanted to convey that he loved me in the trailer of Andhala Rakshasi. For someone who cannot speak and hear, the fact that Andhala Rakshasi trailer was exciting is a great compliment for me.
Q. Any further projects in Telugu or Tamil?
A. I am working for a Telugu film called 'Dalam'. I also have another Tamil film in hand.
Q. It was great talking to you. Any message you want to convey to our readers?
A. (Smiles) It was great talking to you too. I would like to thank the media and the people of Andhra Pradesh for supporting Andhala Rakshasi so well. It means a lot to us as newcomers. We have worked very hard as a team and we hope to win the appreciation of movie lovers on August 10th. Watch it with your friends and family members. If you feel its a good movie, please spread the word.
With that, we finished the conversation with Naveen. We hope you enjoyed reading this transcript as much as we enjoyed doing the interview with Naveen. Let us wish him the very best for "Andhala Rakshasi"
Interviewed by Mahesh S Koneru
Click Here For Interview in Telugu
Articles that might interest you
Ad : Teluguruchi - Learn.. Cook.. Enjoy the Tasty food