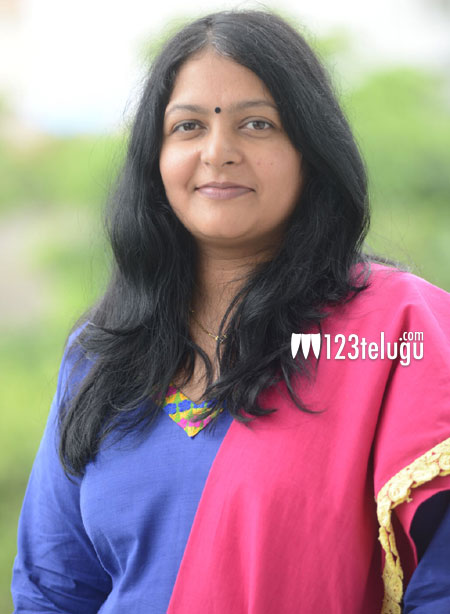 Neelima Thirumalasetty is one of the very few lady producers in the industry. She ventured into film production with Pawan Kalyan's 'Panja' and after a short break, she is now producing some small budget films. Neelima is ver clear about her intentions. She is passionate about films and wants to stay in this industry for a long innings. We spoke to her for an exclusive chitchat. Read on to see what she had to say.
Q. How did 'Alias Janaki' happen?
A. I want to make good films.I am fascinated by the art of filmmaking and I am very passionate about this craft. After 'Panja', I wanted to make films with new talent. Pawan Kalyan garu is the person who motivated me to do this. 'Alias Janaki' is the first product of that.
Q. How did you select the hero, Venkat Rahul?
A. Venkat Rahul actually came to me with this story, when I was looking out for scripts. At that time, I did not know his connection with the Mega family. I thought he wanted to direct the film. But he wanted to act. He had so much conviction and belief in himself and the story. I was convinced. Some people have remarked that the hero looks mature. But if you look at his performance and the way the film has shaped up, you will call him a success.
Q. What kind of a film is 'Alias Janaki'?
A. Alias Janaki is a very intense drama, with a good message. Perhaps, we should call it an intense message drama. It would be a new genre (Smiles). This is actually a very simple story. It is about an honest man who suffers because of his sincerity. But we have treated it differently.
Q. You set out to do low cost films. Did you manage to get good quality output within the budget constraints?
A. My first film, Panja, was a big project. Through that film, I learnt a lot about the process of filmmaking. I could spot areas where costs can be lowered, like pre-production maybe. My software background also helped me in creating structured environments, which make things more organised. I think we have managed to do a good job within the budget. When costs are low, everyone in the filmmaking chain benefits.
Q. As a woman, do you face challenges in film production? You are also attempting to make small budget films,which is quite a challenge itself..
A. You are right. I have faced issues in many areas and every step has been a struggle. The sad truth is, this is a male dominated industry. They will treat you extremely well but they wont take you seriously. That is something which I realised. But I am very strong mentally and I don't let these things affect me. I don't mind being a torch bearer for women in this field. After all my efforts, finally,I am winning their acceptance. People are seeing how hard I am working and how I am getting things done. They are taking me more seriously now.
Q. Who has been a source of support for you in your struggle?
A. My husband is my support system and the anchor of my life. I must also thank Pawan Kalyan's fans. They have been with me along every step since 'Panja'. They are like my family now. My kids are also a big source of motivation for me. They see how hard I work. My kids understand me well and they are proud of me. I want them to be have a carefree and good upbringing.
Q. Apart from films and production, how do you spend your time?
A. Right now, my world is revolving around movies. I never expected this to happen in my life. But that is how things are. Whenever I can, I like to spend time with my kids.
Q. The music of 'Alias Janaki' has turned out to be a big success. Did you anticipate that?
A. From the beginning, I was very confident about the music. Sravan will go places. The film's music has a very fresh feel. Though we always believed in it, our real joy came once the audience response came in. It strengthened our belief.
Q. What do you think are the highlights of Alias Janaki?
A. Alias Janaki is a perfect example for teamwork. The main highlights of the film will be music and cinematography. But the entire team did a good job. A lot of credit goes to Anisha Ambrose. Director Daya garu extracted everything possible from the artists.
Q. What are your future projects?
A. 'Arere' is in production. Sekhar Kammula's assistant is directing that movie. It is a rom-com and it will release this year. After that, I have Sekhar Suri's project, which is quite innovative and fresh for Telugu Cinema.
Q. Would you like to say something to our readers?
A. Alias Janaki is a must watch film. We are a team with social awareness and we have tried to show that in the film. It is a very relevant movie for this generation. Please do watch it and encourage us.
With that, we wrapped up our conversation with Neelima. She seemed to be quite confident and upbeat about the film's chances. Let us wish her the very best for her project.
Interviewed by Mahesh S Koneru
CLICK HERE FOR TELUGU INTERVIEW
Articles that might interest you:
Ad : Teluguruchi - Learn.. Cook.. Enjoy the Tasty food