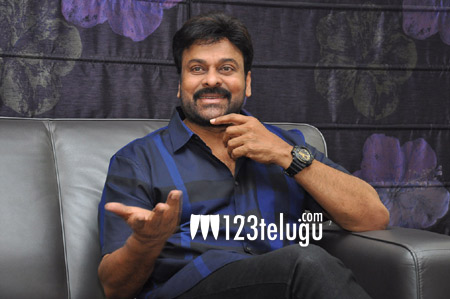 After a gap of nine years, megastar Chiranjeevi is back to the silver screen with Khaidi No 150. There is a huge euphoria around this film and during this occasion, we met Chiranjeevi for a very detailed interview. Let's see what the megastar has to say.
Firstly, tell us about the pre-release event that happened in Vijayawada?
I need to thank each and everyone who came from such a long distance just to see me. My sources reveal that more than 2 lakh people turned up for the event which is quite huge for me. The way the event was held made me so happy and once again confirmed that the audience still loves me a lot.
Did you miss the cine field all these years?
Frankly speaking, I did not miss it as I was among the people itself. Sometimes, results are not in our hands and the way the general public has shown love towards me and my work, I will always cherish it and have no regrets about it.
Why did it take such a long time in deciding on your 150th film?
Frankly speaking, the day I decided I should get back into acting, I started hearing a lot of scripts. Even though some were very good, they were not up to the standard of being my comeback or 150th film. So, I waited for a long time before deciding on Khaidi150.
What made you choose a remake?
There is nothing wrong in doing a remake. When I came to know about Viajy's Kaththi, I watched the film at once and felt that the subject matter would be right for my stature and we started rolling right away.
What kind of changes did you make for the remake?
The Tamil film was quite serious and we added a lot of humor and extra characters like Brahmanandam. Also, our film is fast based with more commercial elements keeping my following in mind.
You look great in the promos. What kind of preparation went in from your side?
I need to thank Ram Charan for my changed look. He became my personal trainer and decided what I should eat and do to keep myself fit. I was low on carbs and had more protein shakes to make myself fit.
How difficult was it to dance at this age?
Even though I was away from films for over nine years, the rhythm in my body never died. Frankly, I never practiced a single step until I went to the sets. Once I started hearing DSP thumping music, dance moves automatically came out from within.
So, can we see a signature step in this film?
Yes! I have done the Veena step once again in the film. Even though I was against it, Lawrence made me do it and you will enjoy it big time when you see it on screen.
In your absence, the social media has taken a huge leap. How do you perceive it?
The emergence of technology has changed so much in the recent times. Everyone is free to talk or post whatever they like and the trolling or whatever word they use these days has become a bit over. Personally, I do not bother with such negative comments that come against me and my family as I feel that all those who are doing this need to think ten times when they are speaking.
What do you think of the latest controversy that is surrounding Naga Babu and RGV?
Firstly, I don't have any problem with RGV or neither had anytime back.Coming to Naga Babu's speech, I look at it in a very different perspective. In such situations like these, I will not react at all and let people say whatever they feel like. But Naga Babu has his own right and reacted in his own way and I feel he is right from his thinking. All these things depend on every individual's thinking as they should know what they are talking on public platforms. For me, all these issues do not affect one bit and neither my fans should take them seriously.
How do you see the competition that is around for both the big films that are coming out this Sankranthi?
Healthy competition is very good but it should not be taken too seriously. Sankranthi is a festival which can take many films at a time and I feel that Satakarni will also do extremely well too.
Personally, how do you deal with the rivalry inside the industry?
I do not take it seriously at all. For me, my films are more important among all these small issues. At the same time, I also feel that it is up to our heroes to send a message that we all are one. For example, both Ram Charan and Mahesh took off on a personal holiday recently. This itself shows that there are no problems within us. The more we are close, the less will be written about.
How do you look at Charan's career as of now?
After watching Dhruva, I am happy that he is selecting some very good films. His performance in Dhruva was top class and I thoroughly enjoyed it. He is in a good space right now and so are the entire boys in the family.\
How do you look at the competition that is building up within the family?
The competition is only from the outside. We as a family are quite united and have a good time and keep encouraging each other. All the boys are on the right track and everyone is mature enough to handle their careers.
When can we see you playing roles which suit your age?
I am ready even now if any interesting roles come my way. Venkatesh has already taken that path with Guru. I feel that if the subjects are interesting, I am even game to do roles which are even above my age group.
So can we see you in a film like Dangal or any other biopic?
Everything depends on the scripts that we get. Bollywood is a place where there is scope for such films. Coming to the biopics, I will be interested in doing them only after knowing the person whom I will be playing on screen.
Are you bidding goodbye to politics now?
No. As of now, there is nothing much to do in state politics as Congress is not in power. I am not going to jump parties do any other things as reported and have kept all my options open. As of now, my concentration is only doing good films.
Upcoming projects?
Talks are on for a film with Surender Reddy, Boyapati, and a few other directors. Once Khaidi releases, I will get a better idea.
With that, we ended out interview with megastar and wished him the best of luck for his film.
Articles that might interest you:
Ad : Teluguruchi - Learn.. Cook.. Enjoy the Tasty food