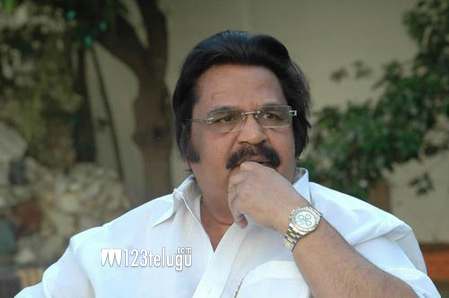 Darsakarathna Dr. Dasari Narayana Rao is going to celebrate his birthday tomorrow (May 4th). The veteran director is currently working as the elder statesman of the Telugu Film Industry and he has announced a raft of new films. He also spoke about certain trends in the industry and his future plans. Read on to see what he had to say
Q. How do you plan to celebrate your birthday?
A. I have been away from films for the past year and half. I will being working on my new film, titled 'Vaddi Kasula Vaada'. The film will be an entertainer and a peon who works in the CM's office will be the central character. I will be essaying that role. It will be an entertaining film, with a lot of realistic incidents. I will also be distributing some scholarships and other stuff to poor students.
Q. Any other films apart from this one?
A. Apart from this project, I will be producing three other films. One film will be directed by Relangi Narasimha Rao. My assistant director Ravi will be directing another film and the third film will be directed by Suresh Krishna. I will also be directing a film that will be produced by Mohan Babu and Vadde Ramesh. Vishnu Manchu is going to be the hero of this film. I also want to direct a love story with newcomers.
Q. Why are you working with newcomers and not stars?
A. (Laughs). These days, very few films are being made without stars. I want to work with new people so that they bring fresh ideas. Today's newcomers will turn out to be tomorrow's stars. Manchu Vishnu will become a star hero after my film.
Q. Will you encourage new directors in a similar manner?
A. Yes. New directors and directors who have failed in their first attempt can come to me if they have a good script. The script must be registered in the AP Story Writers Association. They can come and meet me every Sunday to narrate stories.
Q. Indian Cinema will be completing 100 years today. What are your comments on this?
A. I feel extremely proud to be a part of this industry. Indian Cinema has completed a 100 years and Telugu cinema has been around for 82 years. Incidentally, I will be completing my 50th year in the Telugu Film Industry this May. Out of those 50 years, I have spent 40 years as a director.
Q. The latest trend in the industry is to release big films in the maximum of theaters within the first week. Is this a healthy trend?
A. Big budget films are being released in a maximum number of theaters in the first week and as a result of this,collections are extremely strong on the opening weekend. Seeing these opening weekend collections, every producer is declaring his/her film a big hit. This may seem fine for now, but will backfire in the long run. This practice is not fair towards small budget films and they suffer due to a lack of theaters.
Q. The government has increased the movie ticket prices. What is your opinion on this?
A. This is ok to a certain extent. But small films should have been left out of this hike. In our state, people do not watch too many small films.With this increase, those numbers will fall further. I have written to the CM with a different proposal. Do not tax films which release in less than 150 screens. Tax films which release in more than 150 screens. Impose 100% tax on dubbed films. This way, the Government will not lose revenue and it will also end up protecting the interests of small and weak producers.
Q.Filmmakers are facing a lot of issues from the local censor board. What is being done about it?
A. Censor Board was originally a self regulatory committee that was established as an independent authority. The Government has no say in this. But our political leaders have started filling in the censor board posts with good for nothing politically bankrupt members. They don't know the Telugu language but they censor our films. The members are forgetting their duties and indulging in unnecessary activities.
Q. Atrocities on women are increasing day by day. Do you think films have an impact on society?
A. To a certain extent, yes. Films do have an impact on the society. That is why I keep telling young directors and producers to stay away from too much sleaze and violence in films. Love and lust can be showcased in an aesthetically pleasing way, without vulgarity. Be conscious of what you are depicting in your films
Q. You tend to release a political satire on the eve of elections. Do you have any such plans for the 2014 elections?
A. (Laughs) There is still time for elections. But I will release a political satire when the time comes.
With that, we winded up our conversation with Dr. Dasari Narayana Rao. 123telugu.com wishes this veteran director a very Happy Birthday in advance.
CLICK HERE FOR TELUGU INTERVIEW
Articles that might interest you
Ad : Teluguruchi - Learn.. Cook.. Enjoy the Tasty food