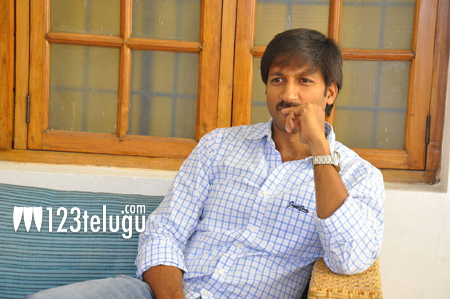 Macho hero Gopichand is testing his fortunes at the Box Office after a long gap. His film 'Sahasam' is going to hit the screens this Friday, July 12, and he is quite excited about it. Chandrasekhar Yeleti has directed this action adventure and BVSN Prasad is the producer. We had a very candid and interesting conversation with him. He spoke about his previous projects, his career choices and his expectations on 'Sahasam'. Read on to see what he had to say.
Q. It has been a while since your last film released…
A. Yes. It is a very long gap. I have never had this kind of a gap in my career. When we started out, we planned to complete 'Sahasam' in six months. But the careful detailing, the special effects and other such issues prolonged it beyond six months. But I am very happy with the final output.
Q. Is the story based in Pakistan?
A. Yeah, the hero goes to Pakistan in search of something. The story is set in the Pakistan border areas. We shot those portions in Ladakh, as it is easy to replicate the landscape and the conditions of Pakistan.
Q. Your previous films did not exactly do well…
A. (Smiles) "Did not exactly do well kaadhu. They are flops."
Q Is it not a 'Sahasam' then to attempt an action adventure instead of a commercial entertainer?
A. 'Sahasam' is not an experimental film. It is a proper commercial entertainer. It is just that the film will have fewer songs that other films. The two songs will come in only during appropriate times, without disturbing the emotion of the film. We did not want to disrupt the flow of the story. Other than this part, the film is a typical commercial entertainer with Yeleti's touch.
Q. When you look back at your career, 'Mogudu' is very different from the other movies. Did you want to come out of the action hero image?
A. I had great faith in Krishna Vamsi garu and I banked on him to bring me out of the action hero image. I was expecting something along the lines of 'Ninne Pelladutha'. But it did not come out as expected and went off in a different direction.
Q. Sentiments play a big part in the film industry. Did the team think twice before casting Tapsee?
A. "Mana time bagolenappudu papam thanu maatram em chestundhi? ". If you look at the recent trends, heroines who had a flop image are scoring hits. Heroines who were known for their hits are tasting defeat. So, I do not believe in this. Chandrasekhar Yeleti also insisted on Tapsee for this role.
Q. Is this the most demanding film you have worked in?
A. Physically, this is the most demanding film. I learnt horse riding for 20 days in order to shoot a few scenes. Shooting in Ladakh was also tough due to the thin air in high altitudes.
Q. 'Sahasam' seems to be the most expensive film in your career..
A. All I can say is, the film will look a lot grander and bigger than it is supposed to be.For the money we spent, the look and feel of the film is simply superb.
Q. How is married life?
A. (Smiles) It is good. It is quite different from bachelor life. I enjoyed that life all these years. Now let me enjoy this.
Q.Who stood by you during this tough phase?
A. I kept myself busy with this project. Apart from this, I also believe in fate. "Mana time bagoledhu ani odileyatam"
Q. How different is 'Sahasam' from other Telugu action adventure films?
A. As far as I know, the last Telugu film in this genre is 'Takkari Donga'. Technology has changed significantly after that and our budgets are bigger now. We have scope to do things in a much bigger way. So 'Sahasam' will be a very new experience.
Q. What are your future projects ?
A. I will work with B.Gopal garu and with Deva Katta. Vakkantham Vamsi provided the script for B.Gopal's film and I liked that story. Some other films are in discussion stage. I will reveal more details soon.
Q. Will you accept negative roles again in future if they appeal to you ?
A. I would love to do a role which has negative shades. "Heroism undi, negative shades unte baguntundhi". Rajasekhar's 'Talambraalu' is a good example.
Q. What can you tell viewers about 'Sahasam' ?
A. The trailer has created good expectations among viewers. The film will be better than the trailer. There will be many edge of the seat moments and the RR for this film has come out really well. Shyam Datt's cinematography is also a big asset for the movie. So, viewers will definitely have an enjoyable experience.
With that, we wrapped our interview with Gopichand and wished him the very best for 'Sahasam'. We hope you enjoyed reading this transcript.
Interviewed by Mahesh S Koneru
CLICK HERE FOR TELUGU INTERVIEW
Articles that might interest you:
Ad : Teluguruchi - Learn.. Cook.. Enjoy the Tasty food