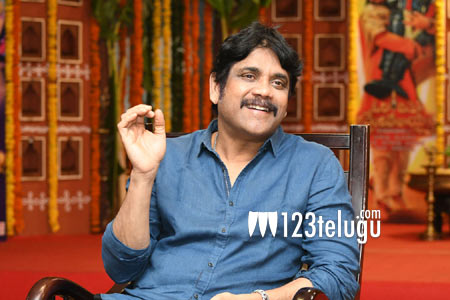 Nagarjuna treads a versatile path among the rest of the stars in Tollywood. Over these years, Nag successfully blended experiments in commercial cinema. Manam, Soggade Chinni Nayana and Oopiri are some of the finest examples of Nag's penchant for variety.
Nagarjuna's forthcoming devotional movie, Om Namo Venkatesaya, is slated for its release on February 10th and we caught up with him for a chitchat. Here are the excerpts:
Q) After the devotional classics like Annamayya, Sriramadasu and Shirdi Saibaba, Om Namo Venkatesaya is up for its release. Tell us its specialities?
A) Just like all those previous devotional dramas that I did in the past, Om Namo Venkatesaya too is deep in emotions, which is the major highlight of the movie. Raghavendra Rao has an uncanny ability to make a devotional film work commercially. You can see his signature in Om Namo Venkatesaya as well.
Q) You played a staunch devotee of Lord Venkateswara in Annamayya and Om Namo Venkatesaya. Are there any similarities between both the movies?
A) No, there are no similarities between both the movies and they have entirely different stories.
Q) What went into the preparation of your Hathiram Baba's character in Om Namo Venkatesaya?
A) There is very little information about Hathiram Baba in our history. We had to fictionalize the film's story around the available information about Hathiram Baba's arrival to Tirupati from North India. The strong emotional drama in his story gave us the confidence to go ahead. As for the looks, I simply followed K Raghavendra Rao's inputs.
Q) What's the idea behind casting Hindi TV artiste Saurabh Raj Jain instead of a known face for Lord Venkateswara's role?
A) Venkateswara Swamy is also called as 'Nitya Yavvanudu'. We can feel a certain aura whenever we imagine him. Saurabh has all the qualities to be the Lord Venkateswara. You will agree with our belief after watching the movie.
Q) How was it working with K Raghavendra Rao yet again?
A) Raghavendra Rao works with the same commitment be it a commercial or devotional movie. I never thought four devotional movies will come out of our combo. KRR often used to tell me on the sets that Om Namo Venkatesaya could be his last movie. I wish it wouldn't be true and KRR makes many more movies.
Q) The film's audio has turned out to be a huge hit. What could be its impact on the film's success?
A) The audio surpassed our expectations and became hugely popular. MM Keeravani's music for devotional movies takes us into a kind of trance. All the songs in Om Namo Venkatesaya move the film's narrative forward. So the songs will be more popular after the film's release.
Q) Tell us about Anushka and Pragya Jaiswal's characters in the movie?
A) Both Anushka and Pragya Jaiswal have story-driven characters. There's no scope for romance in this movie like Annamayya and Sriramadasu. Anushka plays the role of a Lord Vishnu devotee and a guide to Hathiram Baba.
Q) You have been scoring successive hits and winning today's generation's appreciation with movies such as Manam, Soggade Chinni Nayana and Oopiri. Do you think Om Namo Venkatesaya will reach the present market expectations?
A) I cannot judge how the today's generation will receive Om Namo Venkatesaya. However, I strongly believe that the movie will connect with the audience who have been admiring my movies right from Manam.
Q) Naga Chaitanya and Akhil are going to settle down in their lives. How do you feel as a father?
A) I'm very happy. Chay-Sam and Akhil-Shriya looked quite happy in yesterday's engagement ceremony. I want them to always be happy and enjoy life like this. As a father, I am quite excited at this moment and that's why I released the engagement pictures myself.
Q) Tell us about your ongoing movies, Raju Gari Gadhi 2 and Bangarraju? Your fans say that Bangarraju will be your 100th movie. What kind of special plans you have for this landmark movie?
A) Raju Gari Gadhi 2 is a horror comedy. It's quite exciting to shoot for a horror comedy right after a devotional film. Bangarraju will begin after Raju Gari Gadhi 2. Fans might have counted even my guest appearances. However, I have my own plans for the 100th movie irrespective of my fans' calculations. I will come up with my calculations and announce my 100th film later.
Articles that might interest you:
Ad : Teluguruchi - Learn.. Cook.. Enjoy the Tasty food