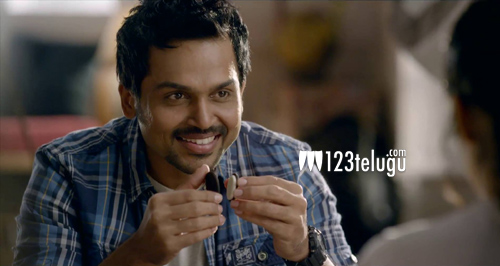 Hero Karthi is getting ready to test his luck with the stylish entertainer 'Biriyani'. The movie is all set to hit the screens in Andhra Pradesh and Tamil Nadu simultaneously on December 20th. The affable star interacted with media members today, to speak about his upcoming movie. As always, the Karthi enlivened the conversation with his wit and humour. Read on to see what this hero had to say.
Q. What can you tell us about 'Biriyani'?
A. 'Biriyani' is a very realistic and stylish film. It will have director Venkat Prabhu's stylish treatment and I will be seen as a playboy in this movie. Biryani satisfies almost everyone and this film is also like that. The second half of the film is a thriller. There is good importance to emotion in this movie. Even the fights in this film are quite realistic.
Q. How about your character in this movie?
A. In this movie, I have a very sophisticated and suave look. My character likes women and he is liked by women. My character has a peculiar habit in this film. After having a few drinks, he must have Biryani. During one such Biryani encounter, something unexpected happens and that changes everything.
Q. You have acted as a playboy in the film. Are you like that in real life?
A. (Laughs) No No. I do not even drink in real life.
Q. You seem to prefer action films a lot?
A. I like action movies. Even as a kid, I used to prefer films with a lot of fight sequences. However, I am not like that in real life. I am a very soft person and I listen to what my parents tell me. I am not a rebel.
Q. What kind of a role is Hansika playing?
A. Hansika is essaying the role of a journalist in the film. It is quite a tough role. There is not much in terms of romance in this movie,as the film starts with our breakup story. I have worked with Hansika for the first time.
Q. You now have to take care of two markets for your films. Telugu and Tamil people have very different tastes. How do you manage?
A. Yes, that issue is there. When a film has good emotions, there is no problem. It will run well in both states. But certain films cannot do well in both states. For example, the film Sakuni did well in Tamil Nadu as people could identify with the political issues that were shown in the film. But for a film like 'Naa Peru Shiva', this problem doesn't exist. So I look for stories with good emotions.
Q. Are you comfortable with intimate scenes?
A. No. I do not agree to intimate scenes and I make this very clear. I do not agree to lip kisses either. Directors keep saying "Heroine ki leni problem meeku enduku sir". (Laughs)
Q. Are you happy with Venkat Prabhu's work?
A. Yes. I think 'Biriyani' is going to be his best ever flick. There is logic in each and every aspect of the film. People don't go flying around in fights. I do not hit police officers in the film, as it doesn't happen in real life. He has kept the film as realistic as possible. Even conversations are very natural. I saw 'Atharintiki Daaredhi' recently and I loved the film. The conversations in that film are so good.
Q. When will you act in a straight Telugu film?
A. I have been looking for a good script. I have listened to a few from newcomers, but nothing excited me. I will do one when I get a good story.
Q. What are the other highlights of 'Biriyani'?
A. Yuvan Shankar Raja has given a terrific background score for the movie and his music has elevated the film in a big way. Nasser has played a very challenging role in the film. Mandy Takhar, who is quite popular in Punjab, has played the role of a seductress in this movie.
Q. Your last few films have not done too well. Are you taking special care now?
A. I have to take special care as I my films have a good market in South India now. I need to make sure that a film succeeds. I have to stop trying and start delivering. As for some of my past films, I was given a good narration. But the project failed during the execution stage.
Q. What are your upcoming projects?
A. I am working with Attakathi director Ranjith for a very raw and realistic film. This movie will be set in the a government housing project, like the ones found in slum areas of North Chennai. This film has a very unique concept and I can proudly say that no one ever tried a story like this before.
We wished Karthi the very best for 'Biriyani' and wrapped up our conversation with him.
Interviewed by Mahesh S Koneru
CLICK HERE FOR TELUGU INTERVIEW
Articles that might interest you:
Ad : Teluguruchi - Learn.. Cook.. Enjoy the Tasty food