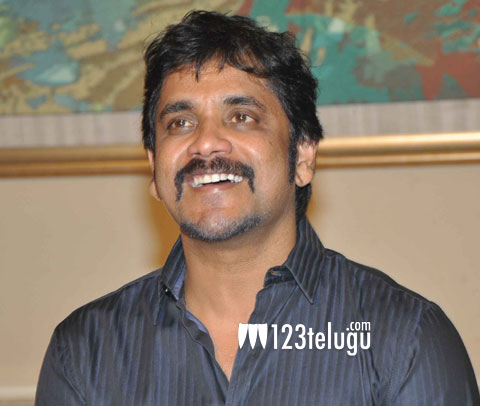 Akkineni Nagarjuna seems to be quite happy these days. The reason for this happiness is the success of his son Naga Chaitanya's 'Tadakha'. Nagarjuna interacted with members of the press today to share his happiness. He spoke about Chaitanya's improvement in the movie and had some good words to say about director Dolly. Read on to see what Nagarjuna had to say.
Q. How do you feel about Tadakha's success?
A. I was in Europe and felt very happy when I heard the good news.Bellamkonda gave a good film for Chaitanya..As I expected during the film's audio launch, the movie has been received well by the people of Andhra Pradesh.
Q. Do you think Dolly lived up to the expectations?
A. Yes. I must say a special thanks to director Dolly for doing a good job. He has shot a better film than the Tamil version. Naga Chaitanya has got a good break as a mass action hero with this movie.
Q. You were very confident about Tadakha right from the start. Why?
A. The Tamil film itself is a hit. That gave us a lot of confidence. On top of that, the Telugu film has certain better scenes. The fights are better in the Telugu version. The second half is more polished. The dialogues are very nice. All these factors convinced me and the film's unit about success at the Box Office.
Q. What do you think are the highlights of the film?
A. Action sequences are really good. Fight masters Ram – Lakshman did a good job, especially with rain fight. "Shiva lo chesina rain fight gurtochindhi.". Naga Chaitanya's timing has improved. Ashutosh Rana is a big plus for the film.He did a good job as the villain. The picturization of the songs was good. More than all that, the emotional bond between the brothers was established very well. Telugu movie lovers have always welcomed films with good brother sentiment.
Q. Do you think Sunil was a big plus for the movie?
A. Yes. When Bellamkonda Suresh garu first proposed Sunil's name for the film, I felt very happy. Sunil is basically an actor first. He understands what is important for the overall success of a film. He knows the importance of changeovers. Though he has scored hits as a solo hero, he has very graciously adapted himself to the role, for the benefit of the film.
Q. Did ANR garu and Akhil watch the film? What did they have to say?
A. Nanna garu really liked the film. I was quite surprised as he does not usually like action films. But he called me up and told me that the film came out well. As for Akhil, he immediately liked the movie and had nice things to say about Chaitanya's performance. But more than that, he was speaking non-stop about Tamanna (Laughs out). He was very excited and that is when I realised what a big asset Tamanna turned out to be. She has clicked well with youngsters. I really liked the 'Maara o Maara' beach song, shot on Chaitanya and Tamanna.
Q. What kind of a film are you going to make with Dolly?
A. The story of the film with Dolly is yet to be finalised.. I will sit down this week and look at the options. Bellamkonda Suresh is keen about making a mass entertainer. Let us see what we can come up with. I will announce it officially later…
Q. Are you happy with Chaitanya's improvement as an actor?
A. Yes. But I will not give only Naga chaitanya the full credit for the improvement. It is a team effort and the director plays a big part in this improvement. A director needs to understand hero and his body language. He needs to bring out the comedy timing in an actor.It is a team effort.
Q. Were you worried about the short gap between 'Greeku Veerudu' and 'Tadakha' ?
A. There were some apprehensions about releasing Greeku Veerudu and Tadakha within such a short span of time. But it was not intentional.There were some release dates shuffle and that caused this. But all said and done, the final date helped this movie. The timing was right.
Q. What kind of a film will 'Manam' be?
A. Manam will be a complete laugh riot. There is magic in that film. The film will most probably complete its shoot by October. Post production might take a month. Vikram is a perfectionist and I am sure he will be quite picky and fussy with this aspect (Laughs).
Q. Will Akhil be a part of 'Manam'?
A. No. Akhil will not be a part of 'Manam'. Vaadu hero ayyaka inkoka multi-starrer cheddam (laughs)
Q. Will you encourage Chaitanya to remake some of your hits?
A. Certain formula entertainers can be attempted. The screenplay needs to be adapted for today's generation. But the entertainment angle in them can be used. That apart, certain cult films should not be touched. For example, 'Shiva'. I will advise against a remake of 'Shiva'. But I will be happy if he remakes 'Hello Brother' or 'President gari Pellam' etc.
Q. How is Bhai shaping up?
A. 'Bhai' is shaping up well. Shooting will be completed by July. Veerabhadram Chowdhary is a director who is good with comedy and entertainment. The film will be a nice and hilarious entertainer.
With that, Nagarjuna wrapped up his conversation. We hope you enjoyed reading the transcript of our conversation.
CLICK HERE FOR TELUGU INTERVIEW
Articles that might interest you
Ad : Teluguruchi - Learn.. Cook.. Enjoy the Tasty food