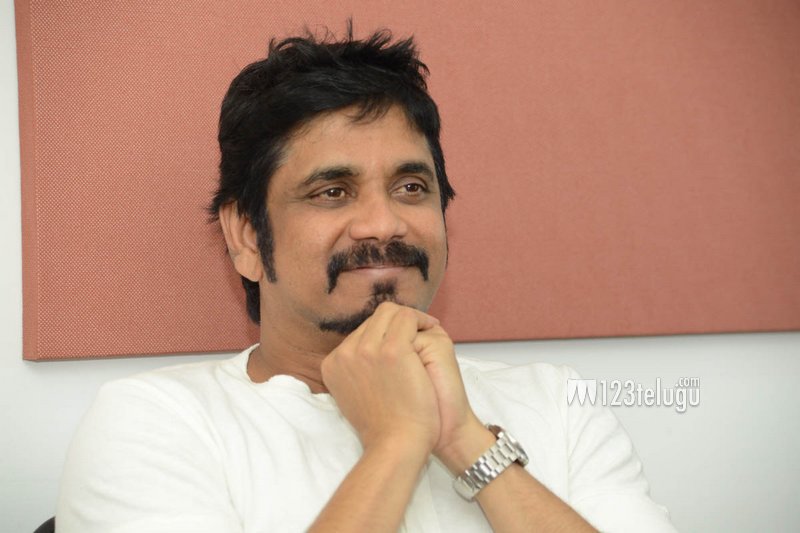 Akkineni Nagarjuna's 'Greeku Veerudu' is gearing up for a release this Friday. Nagarjuna will be seen in a full length family entertainer, a genre that he is very comfortable in. Nagarjuna interacted with a few media personnel today, to speak about his upcoming release and trends in the industry. See what he had to say
Q. What are your expectations from Greeku Veerudu?
A. The movie has come out really well and I am expecting a good hit. Indian Cinema will complete a 100 year journey on May 3rd and I am extremely happy that my film is releasing on that day.
Q. You have been to the 100 Years of Indian Cinema event recently. How did you feel?
A. It was a nice but shocking experience. I saw a film titled 'Throw of Dice', which is almost a 100 years old. There are a number of kissing and smooching scenes in the movie. There was no objection to such scenes in those days. But if we attempt such scenes now, the censor board will object.
Q. How do you plan to tackle the inconsistencies of the Censor Board?
A. Something needs to be done soon, but it cannot be a one man effort. Everyone needs to unite. The present set of rules were written in 1952 and they are hopelessly outdated for this age. Telugu, Tamil and Hindi industries need to work together and chalk out some new guidelines that are more relevant.
Q.Who/What convinced you to attempt 'Greeku Veerudu'?
A. My character in this film is quite interesting. I will be seen as a very selfish guy and my character has some negative shades. I will be seen as a guy who gives more importance to personal success than family wellbeing. I found this characterisation to be quite fresh and appealing.
Q. You seem to have tried out a few dance moves in this film?
A. (Smiles). I did what I could. Viewers are appreciating good dance in our films. Youngsters like NTR, Ram Charan and Allu Arjun are superb dancers and you can see how popular they are among movie lovers in the state.
Q. Movie lovers are gravitating towards comedy entertainers these days. Why do you think this is happening?
A. I think the biggest reason for this shift is the growing stress in our daily lives. People are looking for stress relief in movies and that is the reason why comedy films are doing so well. A few years ago, action entertainers were considered to be safe bets. Now, comedy entertainers are safe bets.
Q. But don't you think there is too much monotony setting in?
A. What can I say? Yes, you are right. But this is not new in our industry. Whenever our folks see a hit 'formula', they wring the most out of it. This will continue until a new trend catches on.
Q. How did Nayanatara perform in this movie?
A. Nayanatara is a very professional and talented actress. She has the ability to grasp scenes very fast. Once a scene is narrated to her, she takes care of her costume and her body language on her own. Our on screen chemistry is quite good.
Q. What about Thaman's music? Are you happy?
A. Thaman's music is a big asset for this film. I have worked with him before and I like his music. His tunes are very catchy and the audio album of 'Greeku Veerudu' is a big hit. We added one more song during the re-recording phase and that song is not there in the album.
Q. You are known for giving new comers a chance. We heard that Harsha (GJG fame) will be penning the dialogues for 'Manam'?

A. Yes. Harshas will be penning the dialogues for our family multistarrer. He sent me some dialogues to listen to and I just loved them. They are very interesting,but also decent at the same time. He is doing some good work.
Q. According to you, which of your films should Naga Chaitanya attempt to remake?

A. He can attempt films like 'Manmadhudu', 'Hello Brother' and 'Ninne Pelladutha'. But he should not attempt them now. He should first prove himself as an actor and get a good foothold in the industry. I have seen his film 'Thadaka' and I am quite confident about its performance at the Box Office.
Q. Will you be contesting the upcoming elections ?
A. No. I am not contesting any elections and I will not be joining any party. I have made that very clear even before. My father ANR faced a lot of pressure when the TDP was founded, but he never joined. We are not interested in politics. But the one thing I will say is, think twice before you vote and analyze the merits and demerits of the candidate of your choice.

Q. What can viewers expect from 'Greeku Veerudu?
A. The film is a complete family entertainer. The movie has come out well and will not disappoint. Do watch the film and enjoy yourselves.
WIth that, we wrapped up our interview of Nagarjuna. We hope you enjoyed reading this conversation.
Interviewed by Raghava
(Translated by Emmess)
CLICK HERE FOR TELUGU INTERVIEW
Articles that might interest you:
Ad : Teluguruchi - Learn.. Cook.. Enjoy the Tasty food