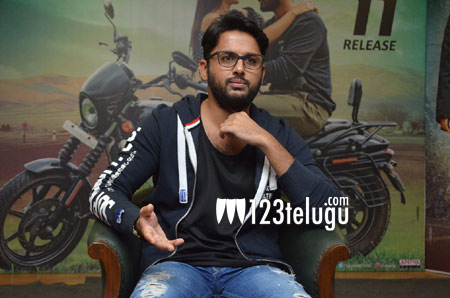 Young hero, Nithin is back after a year's gap with his new film LIE. On this occasion, we caught up with him for a brief interview. Let's see what he has to say.
Why such a long gap after A.Aa?
The success of the film shook me up and I was in a daze for close to 2 months. I was very confused as to which film to do next and approached my guru Trivikram for assistance. He suggested me that I should do a hard hitting which will change my image and keep my market intact. That was the time Hanu came with LIE's script and things fell into place automatically.
What is LIE all about?
The film has a very interesting theme and is told in a very stylish and racy manner. My conflict with Arjun will be the major highlight of the film and I play the guy who wants to settle in the US. What problems do I face once I land in the US is the whole film about?
Why US backdrop and high budget for the film?
Already, two of my films have been shot in Europe and that is the reason we chose the US. I need to thank my producers 14 Reels for spending a lot on the film. Most of the film is shot in some of the best locales in the US and a lot of money has been pumped in for the same. We shot in a Las Vegas Casino which was 25 lakh rupees just for 3 hours. Such is the scale of the film and every penny spent will show on screen.
Working with Arjun?
This is my second film with him after Sree Anjaneyam. He has not changed one bit and has become even fitter now. The climax fight with him on top of a plane will be the biggest highlight of the film. I still remember the shoot conditions which were quite tough and the entire unit was blown away by the wind and cold and not once did he complain or used a dupe for the fights.
Why new girl?
As the film was to be shot for two months in the US, we wanted a new girl who could give us bulk dates. We signed Megha for a two film contract and she will be seen in my next film too.
About your new look in the film?
A lot of research went before the film went on floors. Both I and my director went to the US and observed a lot of things and planned my look and various aspects of the film before hand. My look has been appreciated well and I will sport two different get ups in the film.
There is a talk that it is very hard to approach and narrate scripts to you?
Even I have heard this recently and don't know from where do such rumors come from. I am very open to new directors and scripts and always give time for aspiring film makers.
What kind of influence has Trivikram made in your life?
He is everything for me now. I feel that he is like a gyani who knows everything and I consult him for both my personal and professional problems. Even a few days back, I called him for some personal issue and he gave me the best advice.
Looks like you have used Pawan Kalyan's reference in this film as well?
Initially, when I showcased my love towards him in my films, everyone told that I am using him for stardom. Now, I feel that I am in a decent position and need not use his name. But my love towards him will never decrease and Pawan Kalyan's reference will be there for every film of mine from now on. I don't care what he feels for me but he is my idol and I wont shy away from taking his name.
Articles that might interest you:
Ad : Teluguruchi - Learn.. Cook.. Enjoy the Tasty food