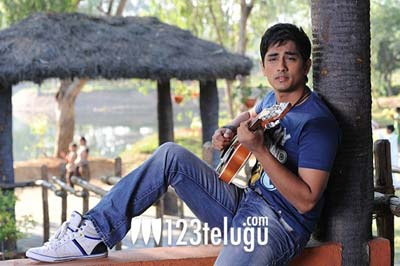 We met up with Actor Siddharth today evening for a chat and the actor was his usual candid self. Speaking about a varied range of topics from his current release 'Oh My Friend' to his upcoming releases, Siddharth projected a picture of quiet confidence, the confidence of a man who knows what he is doing. Here is that transcript for you folks.
Q) How do you feel about the mixed talk that 'Oh My Friend' is generating.
A) Well, the movie is running to packed houses all over Nizam and Ceded. We have just come back after watching a couple of shows in various places in Hyderabad and the reaction of the public is amazing. For a movie that is generating 'mixed talk', I think it is pretty awesome
Q) Is the stupendous success of Bommarillu a major burden in terms of audience expectations from every release of yours?
A) Some people wait for their entire lives for a success like Bommarillu. I am very fortunate that I have earned it so early in my career. Why should I consider it a burden? People will have their expectations and it is a good thing, for we will work extra hard. But I really enjoyed Bommarillu and I have been enjoying every movie I work for. When Dil Raju and I team up after 5 years, the public will naturally expect another Bommarillu. But Oh My Friend is a good follow up to that movie.
Q) Do you think the movie will reach your commercial expectations?
A) Absolutely! I have seen family crowds today in the theaters and that is a very positive sign. The movie has been embraced wholeheartedly by young people. We are waiting for the second week as the family crowds will come in then. Only then will we know the true range of the movie's success. But all the signs so far are very healthy and positive.
Q) How was your experience with your costars during this film's shoot?
A) I absolutely enjoyed working with Navdeep, Shruti and Hansika. Navdeep and I hit it off right from day one and we had a great time working together. Hansika was the last person to be cast in this movie after a lot of brainstorming and she was fantastic to work with. My chemistry with Hansika had to be markedly different compared to my chemistry with Shruti and Hansika's bubbly nature made it a lot easier for me to bring this out.
Q) You've worked a lot with newcomers. Is that a conscious decision?
A) No, I think it is just a coincidence. I've always been approached by newcomers with scripts and the films just happened. I am working with a successful director, Nandini Reddy, for my next project, so its not a question of newcomers only. However, newcomers have a lot of zeal and passion in them and I find that really appealing.
Q) How was it to work with Venu Sriram?
A) Venu is an absolutely terrific guy and I am sure that we will work again in future. He knows what he wants and I am happy that he tried to experiment in his debut movie itself. That takes a lot of guts and he will only get bolder and better as he progresses. Both Dil Raju and I felt that the dialogues should be penned by Venu Sriram only for this movie, and he has lived up to our expectations. We have received a lot of applause for the last 20 minutes of the film and it shows Venu's ability.
Q) Who is the most demanding director you have ever worked with?
A) I would say Deepa Mehta. She is one very tough taskmaster and is a perfectionist. The movie ( Deepa Mehta's film based on Salman Rushdie's Midnight's Children) has come out really well.
Q) Is the character of 'Chandu' in Oh My Friend the toughest you have ever played?
A) Well, I put in a lot of effort and did a lot of homework for this character. I have received many compliments for being able to play the character of such a young guy 5 years after Bommarillu. But apart from that, every new character in every new film is demanding. Everyone is a newcomer once a film begins production. There is a lot to learn and understand.
Q)You have sung two songs for this film. What was the rationale behind this decision?
A) Actually,Dil Raju and Venu wanted me to sing all the songs in this movie. But I did not want to risk it and limited myself to the two most crucial songs in the film. It was actually quite a tough task singing for 'Ma Daddy Pockets'.
Q) Are you happy with the progress of your career?
A) Yes! My life changed after 'Nuvvostanante Nenoddantana' and I have enjoyed every moment of my career after that film. 2012 will be a major year for me as I have films releasing in 4 different languages that year. It is going to be a very rewarding year for me. I also have a major announcement to make and I will do so in a month's time.
(Smiles)
With that, the interview ended. So there is Siddharth for you folks. Let us wish him the very best for his future projects. And just like you, we are very eager to hear about this 'major announcement' that Siddharth was talking about .
– Mahesh K.S
Articles that might interest you:
Ad : Teluguruchi - Learn.. Cook.. Enjoy the Tasty food