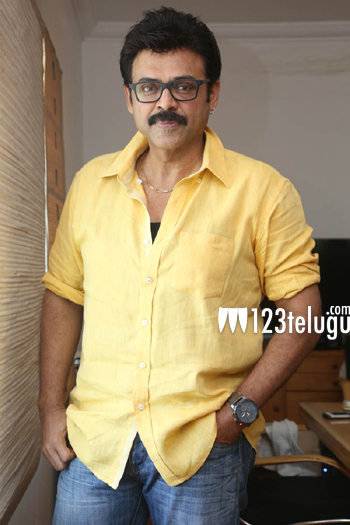 ​Drishyam has been one of the most awaited films in the recent times. Remake of a Malayalam super hit, this film has Victory Venkatesh in the lead role. As part of the film's promotion, we caught up with a very jovial Venky for a detailed interview. Let's see what he has to say.
Q) How excited are you about Drishyam's release ?
Right from the day we wanted to remake this film till date, I was very excited because very rarely does a story comes across where you have something for everyone. I am very eagerly awaiting for its release, and itching to see how the audience will react to my film.
Q)Tell us something about your role in the film ?
I am playing the role of Rambabu, a cable operator in the film. He is a very simple and genuine person who had come up in life with his hard owned money. A small incident changes his life up side down, and how he handles that situation is what Drishyam is all about.
Q)You play a middle aged character, where you have a teenage daughter. How difficult was this transition for you ?
See ! It is high time that I start doing roles my age. I am very happy that I am playing a mature role and will continue to do these type of roles in the future as well.
Q) When you watched the Malayalam film, what is that one factor that made you feel that you should do this film ?
When I watched this film, I was blown away by the script. The emotions which the film portrays, connected me big time and prompted me to do the film.
Q) You do Mohan Lal's role in this film. Did you ever speak to him about the film?
Yes ! I met him personally, and also discussed about the film. He was very happy that and felt that I was the apt choice for the role.
Q) Your inspiration, Kamal Haasan is doing the Tamil version of Drishyam. Did you take any inputs from him ?
The day Kamal knew that I was doing the film, he called me up and congratulated me for doing the film. He encouraged me to do different roles like these in the future too.
Q) How was it working with Meena ?
This is my fifth film with her, and I had a great time working with her. She has given a stupendous performance in this flick which will surprise one and all.
Q) You have moved away from a commercial hero and have done a mature fathers role. Do you think audience will accept you ?
Luckily, when ever I have done some thing different, audience have always accepted me. So even with Drishyam people will like me and will encourage a different film like this.
Q) How was it working with a lady director ? Did you feel any inconvenience ?
I had absolutely no problem working with Sri Priya. She herself was an actress and has done television too. She has balanced the film very nicely, and will impress everyone with her storytelling.
Q) You have started the trend of multi-starrers, When can we see you in yet another film ?
I am all game for multi-starrers, but the scripts which are coming in are not interesting. When ever I get a decent scrip, I will surely do it.
Q) What about the small screen, do you have any plans of doing Television ?
You never know. As of now, I have no idea, but if some thing exciting comes up why not.
Q) What about Gopala Gopala, how is it shaping up ?
Oh ! It is shaping up quite well. Right now, I am shooting for my portions, and Pawan will join me soon. Our scenes have been written quite well, and I am quite sure that audience will just love our combination.
Q) After the state has been divided, there is a debate that Film Chamber and other film bodies should also be separated. Your opinion on this ?
See this is a tricky situation. As actors, we never worry about the associations, and want to work with every one. As things are new, there will be slight difficulties, but an amicable solution will soon be evolved.
Q) Finally, sum up Drishyam for us ?
It is a clean and healthy film with strong script, performance and emotions which will connect with everyone. I want everyone to watch these kind of films, and encourage new and different stories.
Articles that might interest you:
Ad : Teluguruchi - Learn.. Cook.. Enjoy the Tasty food