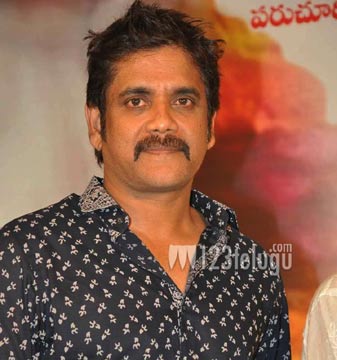 When you meet Nagarjuna these days, he exudes an air of peace and tranquility. There is a very calm air around him and those associated with Nagarjuna say that he has been like this ever since 'Shirdi Sai' happened. Nagarjuna himself said something similar on multiple occasions. Now that 'Shirdi Sai' is getting ready for release next week, we caught up with Nagarjuna for an interview. He spoke about 'Shirdi Sai' , 'Damarukam' and his plans for the future. Here are excerpts from that conversation
Q. Annamayya, Sri Ramadasu and now Shirdi Sai. How has this journey been?
A. All three are very different experiences. I played a devotee in the earlier two films whereas I play a Sadguru in this installment. Apart from that, Sri Ramadasu and Annamayya have a lot of cinematic liberties because of the way they were conceived. With 'Shirdi Sai', we had to stick to historical references. We have stayed true to the story of 'Shirdi Sai'. Director Raghavendra Rao garu went into the tatvam of Shirdi Sai and he succeeded in coming up with a successful project.
Q. So Shirdi Sai is a faithful replica of Sai's lifestory?
A. To a large extent, yes. There is a missing episode in Sai Baba's life. He left Shirdi for a while and came back enlightened. There is no clear picture of what happened in this period. This is where we took cinematic liberties to come up with a dramatized version.
Q. Playing the role of a God is not easy. Were you nervous?
A. Surprisingly, no. Shirdi Sai is the easiest film I ever did. I read about Sai and I embraced his philosophy wholeheartedly. He is a very enlightened man and a very strong man. I could identify with his ideals and I had a very satisfying time with this movie.
Q. Did you look upto previous Shirdi Sai films for insipration?
A. Not at all. I wanted to leave my own mark on the role and I have let my interpretation of the role flow through. Someone gave me a lot of DVD's of previous works on Shirdi Sai but I refused to see them. But with dialogues, there is only one way you can say them. Baba is such a loving soul, so all dialogues must be said in a very pleasant and loving way.
Q, What are your expectations over the commercial performance of the movie?
A. I honestly do not. I think that the movie will have very good openings because of the interest around the project. But I am not sure what to expect. For example, Annamayya started getting good revenues after the 10th day of release. We have done a good job and we are hoping for a good result.
Q. What is the most appealing aspect of Sai's philosophy for you?
A. Sai Baba's teachings are simple. There is no caste, no creed and no complex rituals. He just asks us to be good and love the people around us. Unfortunately, our human race will make even Sai Baba's teachings very rigid and build in complex rituals. I have connected big time with that philosophy. My favourite song is John Lennon's 'Imagine' and that is the first song I play after the clock strikes 12 on Dec 31st night.
Q. The movie seems to be riding a wave of good publicity
A. (Laughs). Baba is taking care of it. People are basically owning the film and doing their part in promoting the film. Many corporate houses are coming and placing huge hoardings voluntarily for the movie.
Q. Immediately after shooting for Shirdi Sai, you shifted to a totally new role in 'Love Story'. Did you find that tough?
A. Yes. And that is the reason I went in for a radically different haircut and look. I wanted to completely leave that image and give myself a totally new orientation. I wanted to give people a drastically different feel when they see me.
Q. The last Sai film came very long ago. Will viewers of this generation be able to connect to it?
A. I think they will. People are embracing Shirdi Sai more and more these days and we see a lot of new followers and temples. They will be interested in the film and they know what to expect when they go in for this movie. No one will go into 'Shirdi Sai' seeking entertainment. I have a feeling that people know what they will getting from this movie.
Q. So will we see Sai transforming from a Sadguru into a God?
A. No. Sai was against it and he emphasized on many occasions that he is simply a messenger of God. That is what we show in our movie. Initially, he was even against the use of Aarthi for him. But in his later days, perhaps after he was 80, he allowed that.
Q. Telugu Cinema is breaking new barriers commercially. Are you feeling sad that you missed out on this phase in your youth.?
A. No. Actually, our commercial potential has not yet been tapped properly. We are feeling satisfied with our collections but we have the potential to collect atleast 3 – 4 times more. Our problem is stagnant ticket prices. We need to raise our ticket prices. All commodities, fuel, electricity etc have more than doubled and trebled over the past 3 years. But have ticket prices increased? It is not fair. The Govt is not supporting us and the film industry is the easiest target for everyone. Right from rioters to politicians,everyone thinks that the film industry is the easiest to manipulate and control
Q.About a month after 'Shirdi Sai', 'Damarukam' is coming in. Will that not be a problem for you?
A. Not really. People have very short attention spans these days. Even blockbuster films are going off public spotlight after 4 weeks. So it will not be a problem.
Q. Will the shooting of the item song with Charme complete Damarukam?
A. Yes. But the film was completed a long time ago. After seeing the movie, I felt that a nice masala song would make things more entertaining. So I asked for this song. It was not in the original script. The movie's special effects are superb. I have seen a few and now I know why the movie is taking so much time. I am happy with the output.
Q. What are your future projects?
A. Immediately after 'Love Story', I am doing 'Bhai' with Veerabhadram Chowdhary. I am working on the characterization of this movie and I am very excited about it. Multi-starrer with Nanna garu and Naga Chaitanya will start next year. The basic story line is frozen and we are working on the screenplay now. I also have projects lined up with Durga Arts and Bellamkonda Suresh. My best is yet to come. My life is getting better and better after 50. I want to make every film from now on special.
Q. What about Akhil's entry?
A. (Laughs). There is still some time. I have left it to Akhil. All I said was "Look at the competition around you. Once you feel you are ready to face them, come to me".
Q. Challenges facing our Industry?
A. We need to increase ticket prices immediately. It is a pressing need. Like I said, our industry is a very soft target for everyone. Piracy and other issues are there, but we need to increase prices first. Look at ticket rates in Maharashtra and Karnataka. Look at Tamil Nadu. They have all gone up. Cost of making cinema is going up.
Q. Any message about 'Shirdi Sai'?
A. Its a satisfying movie and a heart touching movie. Especially the second half. I am sure that people will connect to it. Raghavendra Rao garu and Keeravani garu did a fabulous job and it will be a special film in my life.
There you have it folks. It was a tiring day for Nag as he came straight from the song shoot of 'Damarukam'. He bade a friendly goodbye and left for home. Hope you enjoyed our conversation with Nagarjuna.
Click Here For Interview in Telugu
Articles that might interest you:
Ad : Teluguruchi - Learn.. Cook.. Enjoy the Tasty food