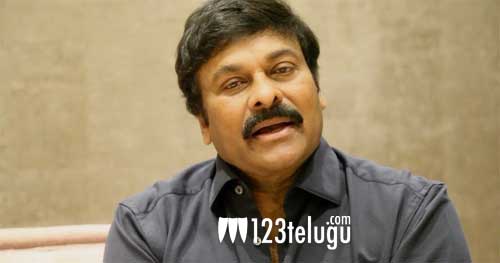 A couple of days ago, Megastar Chiranjeevi took to Twitter and piqued everyone's curiosity by tweeting that April 8 is a memorable day in his life and that he will reveal more on the very special day. As promised, Chiru took to Twitter this morning and went on to reveal an interesting story from his childhood. He also tweeted a precious picture of Lord Hanuman.
"Today is Hanuman Jayanti. I have a special connection with Anjaneya Swamy since my childhood. I won this Hanuman picture in a lottery in 1962 and I have been safely treasuring it ever since. That day, my father told me that my eyes, eyebrows and my nose are similar to that of Hanuman's in the picture," Chiru tweeted.
The stalwart actor went on to say that even legendary filmmaker and artist Bapu had told him while sketching the Anjaneya Swamy picture that the image had similarities with Chiru. The actor got Bapu's sketch imprinted on a marble stone and kept it in his puja mandir.
ఈ రోజు హనుమజ్జయంతి. ఆంజనేయస్వామి తో నాకు చాలా అనుబంధం ఉంది…చిన్నప్పటి నుంచి…1962 లో నాకు ఓ లాటరి లో ఈ బొమ్మ వచ్చింది..అప్పటి నుంచి ఇప్పటి దాకా ఆ బొమ్మ నా దగ్గర అలాగే భద్రంగా ఉంది..ఉంది అని చెప్పటం కంటే దాచుకున్నాను అని చెప్పటం కరెక్ట్. కారణం ఏంటో తెలుసా?…to be continued pic.twitter.com/TdVKjg05nS

— Chiranjeevi Konidela (@KChiruTweets) April 8, 2020
బాపు గారు చెప్పిన మాట "ఏంటోనండి …బొమ్మని గీస్తుంటే మీ పోలికలే వచ్చాయండి …అలానే ఉంచేసాను …మార్చలేదు " అన్నారు. చిత్రకారుల ఊహలో స్వామివారి పోలికలు నాకు ఉండటం చిత్రమే. అందరికి హనుమజ్జయంతి శుభాకాంక్షలు. ఇవ్వాల్టి తారీఖుతో కూడా నాకు అనుబంధం ఉంది…#8thApril …to be continued. pic.twitter.com/m3J6S1ZEMs

— Chiranjeevi Konidela (@KChiruTweets) April 8, 2020
Articles that might interest you:
Ad : Teluguruchi - Learn.. Cook.. Enjoy the Tasty food