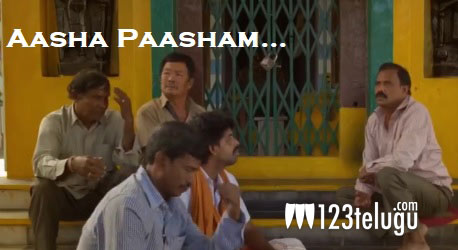 It has been so long that I have explored a lyric. It is not that I did not like any songs recently. Telugu cinema has always been blessed with great lyrics. But after I heard this song, I felt the urge and need to write an article on it. The song is "Aasha Paasham" from C/O Kancharapalem.
The Pallavi of the song itself is very touching. There is one place or one goal we all have in our lives which we consider as our final destination. A first movie release for a movie maker, going home for an NRI, a medal for an athlete or success in love for Sundaram in this movie. The below lines suggest that Sundaram is just living his life because of the people around him and his relationship with them and also with a small hope. But he is not sure what will happen to him when he reaches his destination. There is an answer to this question of his in charanam ending.
ఆశ పాశం బంధీ చేసేలె
సాగే కాలం ఆడే ఆటేలె
తీరా తీరం చేరేలోగా
నే ఏ తీరవునో
The next lines talk about how his failures now make him wonder if he truly deserved them and also wonders if this confusion is he losing more than he already lost. That is the whole conflict of this movie. You lose so much in life and when you start seeing good things happen to you, you are confused about whether to embrace them or not hope much out of them.
చేరువైనా చేదూ దూరాలె
తొడవుతూనే వీడే వైనాలె
నీదో కాదో తేలేలోగా
నే ఏదేటవునో
These next lines again stress the same thing. After so many failures he is not sure if his fate has been changed. He is scared to raise hopes. But the answer to all his questions are the last two lines. Unless you live to see tomorrow, you cannot have your answers. This again ties to the first line of the song. So build your "ఆశ"s and "పాశం"s to live your daily life and one tomorrow will eventually bring you your answers.
ఏ హేతువు నుదుటి రాతల్ని మార్చిందో
నిసితంగా తెలిసేదెల
రేపు ఏటవునో తేలాలంటె
నీ ఉనికి ఉండాలిగా
After reading until now, how can you not love this song? I am not done yet. Below lines are so sharp. The world shames you for what you are doing like shaming the small kid singing the super hit song from a super hit movie made super hit by the same people, or shaming a girl for thinking of marrying outside her religion while her dad goes outside his religion to earn money or shaming another girl for her means of life based on religion or finally shaming Sundaram and Radhika on late marriage. But the same world that is shaming you is constantly screwing around in their own world. The usage of "రంగు లీనుతున్న" is very sharp and pure genius. The world does all the screwing around in the dark(under సిగ్గు ముళ్ళు) but you will be faulty if you are caught doing the same. This is the biggest lie of this world, shaming others.
సిగ్గు ముళ్ళు కప్పి
రంగు లీనుతున్న
లోకమంటె పెద్ద నాటకమె
తెలియకనే సాగే కథనం
Because of all this hypocrisy and double-standards Sundaram's life is going haywire and so he can never reach his goal like the "తీరం" for a water body or "కంచి" for a story.
నీవు పెట్టుకున్న నమ్మకాలు అన్ని
పక్క దారి పట్టి పోతుంటె
కంచి కి నీ కథలే దూరం
So what is the solution for this?
నీ చెతుల్లొ ఉంది చేతల్లొ చూపించి
ఎదురేగి సాగాలిగా
రేపేటవ్నూ తేలాలంటే
నువ్వెదురూ చూదాలి గా
Do what you can do within your limits and move forward. The only way to find out what tomorrow has to offer you is to wait. But until then…ఆటు పోటు గుండె మాటుల్లోనా ఉంటున్నా keep moving forward.
As a tailpiece, let me add that it is not just the song, even the movie has a lot to offer you and to teach you about life and its workings in an entertaining way. Do not miss this masterpiece C/O Kancharapalem.
–Column by Rohit (Opinions expressed are his own)
Articles that might interest you:
Ad : Teluguruchi - Learn.. Cook.. Enjoy the Tasty food