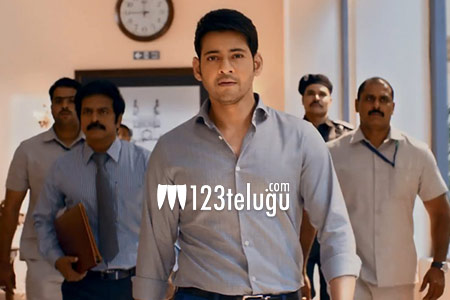 The much-awaited first look teaser of Mahesh Babu's Bharath Ane Neu is finally revealed. As expected, the vision of Bharath packs a solid punch. Mahesh Babu as the CM Bharath Ram is quite intense and means business.
Special credit should go to the way the teaser has been edited as it showcases the theme of the film and also presents Mahesh Babu in a never seen manner.
Within minutes, the teaser has gone viral all over the social media and is being praised big time. We bring you some of the tweets from various celebs as to what they are saying about the teaser.
I know it's tough to resist when mahesh is on your screen but just close your eyes and listen to it, his voice is mesmerising….very inspiring 😊 teaser Ela vundhi ante inka cinema!!!! 👌 #TheVisionOfBharat #BharatAneNenu https://t.co/Fk4Mo0yB77

— Sudheer Babu (@isudheerbabu) March 6, 2018
https://t.co/7kCKFt2Gb4#TheVisionOfBharat is vry impressive
All the best to @urstrulyMahesh garu @sivakoratala garu & team, Waiting for the film

— Maruthi dasari (@DirectorMaruthi) March 6, 2018
Bharath's PROMISE is very intense and intriguing :clap::skin-tone-3::clap::skin-tone-3::clap::skin-tone-3: #TheVisionOfBharat https://t.co/PGg81QBbv3

— Sai Dharam Tej (@IamSaiDharamTej) March 6, 2018
PROMISEEEE!!!.. It's Very Promising ..:ok_hand::ok_hand: @urstrulyMahesh @sivakoratala :+1::+1: #TheVisionOfBharat https://t.co/tYzCxGL8aR

— Gopichand Malineni (@megopichand) March 6, 2018
#BharathAneNenu..wahhh..superb.. goosebumps #promise..gattiga kodathru…all the best @urstrulyMahesh Garu nd @sivakoratala Garu..nd team:+1::ok_hand:https://t.co/yr6RSDjIrK

— Anil Ravipudi (@AnilRavipudi) March 6, 2018
గగురుపాటు…నిఖార్సైన నిజాయితీకి నిలువెత్తు ప్రతిరూపం..గొంతువిప్పితే ఇట్టాగే ఉంటది…yes..he z a MAN of actions..cant wait apr 20th:sunglasses: https://t.co/z4FA7uQAJy

— Ramajogaiah Sastry (@ramjowrites) March 6, 2018
IT'SA MANLY PROMISE. BHARATH RAM will promise our fans and telugu film lovers a most cherished movie on April 20th. It will be worth the wait for past 2 years. Thanks @sivakoratala and @DVVEnts for this vision.

— Anil Sunkara (@AnilSunkara1) March 6, 2018
#TheVisionOfBharat
FANTASTIC :ok_hand::ok_hand::ok_hand::ok_hand::ok_hand:.https://t.co/TfnxqiDN48

— ram achanta (@RaamAchanta) March 6, 2018
Wow!!!!!! Goosebumps !!! https://t.co/vCCgDk5VeZ

— Sriram adittya (@SriramAdittya) March 6, 2018
Articles that might interest you:
Ad : Teluguruchi - Learn.. Cook.. Enjoy the Tasty food