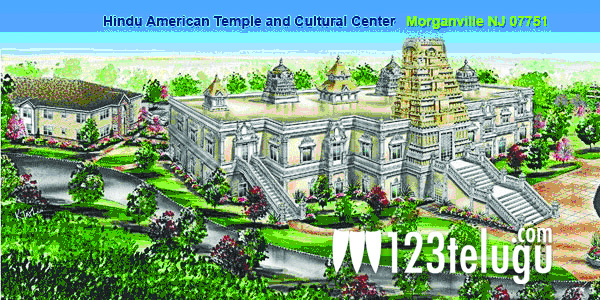 The Grand opening and Pranapratishtha-Mahakumbhabhishekam of the authentic Hindu Temple in Morganville, NJ, will be conducted on Sunday, the 1st of July, 2012 in a grand scale. The religious proceedings will start on Thursday, the 28th of June and the celebrations conclude on Wednesday, the 4th of July. The Temple plans to perform this authentic celebration with the participation of learned religious scholars from India, and other parts of the world. Mahakumbhabhishekam of the Vimanams and Rajagopuram are planned to be conducted on the same day! Several cultural programs by artists from the USA and India will be organized as part of the celebrations. Showering of flowers from a helicopter during the Kumbhabhishekam, worship of cow and elephant, traditional Nadaswaram recital by musicians from India, a ceremonious car-festival and procession with the Lord seated on top of the elephant in the evening of July 1st, will add to the excitement!
The presiding deity of the Temple is Lord Guruvaayoorappan. In addition, the temple will house, Ganesha; Balaji with Sridevi & Bhudevi; Siva with Ambika; Subrahmanya with Valli and Devasena; Ayyappa; Satyanarayana; Kannikaparameshwari; Bhadrachalam Rama, Krishna, Durga/Lakshmi/Saraswati, Gayatri, Kalabhairava, Hanuman and Navagrahas. All deities are made of Granite and sculptured by traditional artisans of Tamilnadu. Lord Ayyppa sanctum will have the 18-steps similar to those in Sabarimala in Kerala.
In addition, the temple has several unique features. It houses the utsava murty's of Lord Kalyana Srinivasa with Sridevi and Bhudevi from the Tirumala-Tirupati Devasthanam (TTD), and Lord Satyanarayana from the Annavaram Satyanarayana Swami Devasthanam. The temple hosted a spectacular Kalyana Utsavam of this Kalyana Srinivasa by TTD in May 2010, with the participation of their priests and several officials from TTD. Similarly, Satayanarayana Vratam was hosted by the Temple when the Annavaram Devasthanam performed it in 2010 also.
The sanctums and vimanams of Guruvaayoorappan and Ayyappa will be similar to those in Kerala, with wood-copper finish. The others will be of typical Tamilnadu/Andhra architecture, using glass fiber-reinforced-concrete (GFRC) for better durability.
The Temple completed the priest quarters consisting of twelve, fully-furnished apartments in 2010. A 130-feet walkway, with fountains and lighting, is to be completed before the Kumbhabhishekam. The upper level of the temple houses all the sanctums within an area of ~17,500 sq. ft. The lower level has a multi-purpose hall, facilities, gift-shop, class rooms etc. Broad magnificent granite steps lead to the temple in the upper level. The temple is built on a ~40 acre property with parking for over 300 cars, with access from Texas Road and Wooleytown Road in Morganville, and is one of the largest temples in USA.
HATCC invites everyone to be part of this grand celebration. Please visit www.krishnatemple.org or contact the temple for various sponsorship opportunities and be part of the temple builder.
Articles that might interest you:
Ad : Teluguruchi - Learn.. Cook.. Enjoy the Tasty food