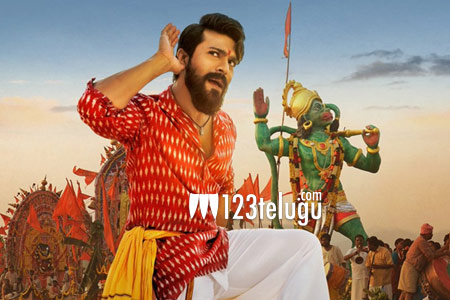 First things first. By now it is a well-known and universally accepted fact that Ram Charan, the actor has arrived after 11 years of his career and in inimitable fashion. This Chitti babu will be forver immortalized in the history pages of Telugu cinema. Chitti babu proved that a good actor goes beyond any fan bases or any commercial expectations.
Now let's talk Rangasthalam, the movie. In Hollywood there have been numerous classics but till date God Father stands on top. The reason being not a great story but brilliant drama in the story well supported by Hollywood's finest acting talent. It is not an exaggeration to say that Rangasthalam is that for Telugu cinema. People who have seen the yesteryear movies like Trisulam, Ooriki Monagadu and Manavoori Pandavulu would not find anything new in Rangasthalam story wise. But what sets this apart and higher is the writing of Sukumar and his team. Never have Telugu cinema seen such intense drama in a village backdrop. There is a mood to the movie. A mood that will haunt you even few days after watching it.
—All the world's a stage, and all the men and women merely players; —-
That is what Rangasthalam precisely is, a stage given to the people of Rangasthalam (intentionally named Rangasthalam meaning Stage). No one actor is in control of the proceedings. Neither Jagapathi babu' roles, nor Prakash Raj role not even Chitti babu are in control of the proceedings. They all play victims of the situations created by the writer. That point, if understood, clearly justifies the story and all the twists in it. Drama is the key element, in my opinion, that made Rangasthalam an instant classic. But there are few key scenes in the movie that set the ground for this classic. My first high in the movie came from Jabardasth Mahesh's angry outburst on Ajay Ghosh's role. Mahesh did a brilliant job in that scene and also as the close aide of Chitti babu. Even in the scene where everyone is crying over Aadhi's death, Mahesh is the one that notices that Chittibabu left for President's house. That is a minute detail included in the narration to depict how closely he moves along with Chitti babu. In other scenes, where he is helping Chitti babu to hear or cover his disability, he conveyed their relation very adorably. For me Mahesh is the second most impactful role in the movie next to Chitti Babu.
Aadhi as the do-gooder Samaritan is the soul of the movie. On his twitter handle, he expressed his happiness for being a small part of Rangasthalam and the replies from audience for that tweet were a delight to read. Everyone tried to correct him saying that his was not a small role at all and he indeed was the main pillar of the movie. Aadhi, if you are reading this, let me tell you, on behalf of all the audience, Telugu audience had never cried so much for an on-screen death like we did for Kumar Babu's. That is only possible because your role was the key, it was beautifully written and impeccably acted. Take a bow.
All other actors did brilliantly. Samantha in the arrest scene, Rohini and Naresh in Orayyo song, Ajay Ghosh and Jagapathi Babu in many scenes, Anasuya in the drinking scene, all Jabardasth actors in serious roles and Prakash Raj. Everyone did a flawless job to fulfill director's grand vision. Art work, camera work, music, fights and all technical departments too worked as if their life depended on it and the outcome is Rangasthalam. The whole team deserves the credit for making Rangasthalam a classic.
But before I conclude, I want to talk about few things/scenes. In the fight scene where Chitti babu is trying to save his brother, after fighting for some time, Chitti babu smashes heads of each goon on to the stone, tries to hear their voice and then smashes again until he does not hear it. That scene, though very very violent conveys the emotion of Chitti Babu and his way of coping up with his disability. That amount of detailing from Sukumar is totally praiseworthy. Also towards the end, Chitti Babu tells Prakash Raj's character that Srimannarayana cannot be from his village because they are all "Gangamma thalli biddalam" and so will not have Lord Vishnu based names. That there told me how much hard work and home work was done for this movie. And in the scene where president kills Ajay Ghosh's character, he was shown walking up the stairs in a very weak manner leaning forward. That conveys the old age of the president who hardly has any energy to fight back and his descent in energy levels to take the ascent up the stairs (symbolically to the President post) and that is very well connected to the scene where Chitti Babu finds him later. All these scenes are a proof that Rangasthalam was not made but all the people involved in it lived it. Finally, Maa Baadhalanodaarcha, Thodunde Vaadiviraa… Ee Baadhanu Oodaarcha, Nuvvunte Baagunduraa… Nuvvellotthaanantu Seppevuntaavura.. Maa Paapapusevikadi Inapadakuntaadiraa…
Chandrabose gaaru I will hate you for life for these lyrics. I am choking up even writing these lyrics. Signing off again with some more of your lines…
Kanapadani Cheyyedo Aadisthunnaa…..Aata Bommalam Antaa..
Inapadani Paataki Sindaadestunnaa…..Tholu Bommalam Anta..
All the world's a stage, and all the men and women merely players;
–Column by Rohit (Opinions expressed are his own)
Articles that might interest you:
Ad : Teluguruchi - Learn.. Cook.. Enjoy the Tasty food