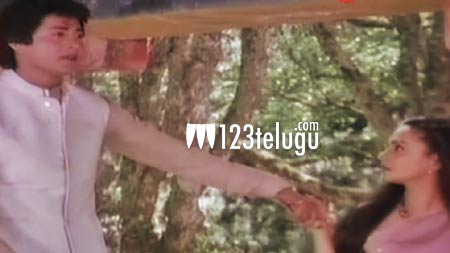 No introduction is required to Sirivennela movie and it's cult classic songs. But the moment we think about that movie lyrics, the first song that comes to mind is "Vidhatha thalapuna". Yes it is a classic undoubtedly but the same movie has two other gems in Aadhi Bhikshuvu and Merise tharaladhi. The latter is the song in focus today.
The song goes in a question and answer fashion with actress questioning the actor what he knows about her, her roots, her beauty, her habits etc. and the actor, who is blind, explaining it to her that he does not need to know. Guruvugaru is one of his best forms in this song. The song is in simple Telugu but deep in philosophy.
మెరిసే తారలదే రూపం విరిసే పూవులదే రూపం
అది నా కంటికి శూన్యం
మనసున కొలువై మమతల నెలవై వెలసిన దేవిది ఏ రూపం
నా కన్నులు చూడని రూపం గుడిలో దేవత ప్రతిరూపం
నీ రూపం అపురూపం
This is the reply to her question of what does he know about how she looks. This lyric explains how you don't pray to a Goddess based on how she looks but because she is divine for us. The actor infers that he will treat her like a Goddess irrespective of how she looks and no matter how she looks in reality, for him she is precious(నీ రూపం అపురూపం). Worshipping someone is considered the strongest form of Love.
ఎవరి రాకతో గళమున పాటల ఏరువాక సాగేనో
ఆ వసంత మాసపు కులగోత్రాలను ఎల కోయిల అడిగేనా
ఎవరి పిలుపుతో పులకరించి పురి విప్పి తనువు ఊగేనో
ఆ తొలకరి మేఘపు గుణగణాలకై నెమలి వెదుకులాడేనా
This is in reply to her question of what he knows of her caste and character. This line is my personal favorite, for two reasons. One for its mind blowing meaning and other for its subtle comment on humans. Nightingale bird (Kokila) sings out of joy at the start of spring. It gets inspired by the season and it does not check the caste of its inspiration. Same way Peacock starts to dance when it sees a lightening in the anticipation of rain. It is its instinct and so it does not look for the character of that lightning even though lightning strike is considered life threatening. In a subtle way this line hints at how we humans look for gender, caste, character and other discriminating factors even for our inspirations and instincts.
ప్రాణం పుట్టుక ప్రాణికి తెలియాలా
గానం పుట్టుక గాత్రం చూడాలా
వెదురును మురళిగ మలచి ఈ వెదురును మురళిగ మలచి
నాలో జీవన నాదం పలికిన నీవే
నా ప్రాణ స్పందన
నీకే నా హృదయ నివేదన
This is in reply to her question of shouldn't he know where she was born and what her roots are. This line is another favorite. Sorry I cannot decide which one I like better. I love the whole song equally. We do not the exact moment when we took our first breathe or a voice (singer) does not need to know where the sound originates in their body. The next lines are a very intelligent continuation to the first two lines. A bamboo does not know that it can be a great musical instrument like a flute. In other words it does not know where in itself, the music is born (గానం పుట్టుక గాత్రం చూడాలా). And the song continues to explain how the actor was also like a bamboo and she infused life in him (ప్రాణం పుట్టుక ప్రాణికి తెలియాలా). The line ends by saying that it is that new life she gave him and that new life only responds to her (స్పందన).
I can not think of any other song that put the actress in such high regards using references like divine, inspiration, instinct and response.
–Column by Rohit (Opinions expressed are his own)
Articles that might interest you:
Ad : Teluguruchi - Learn.. Cook.. Enjoy the Tasty food