Repati shishuvuku patte aashala sthanyam
Ee poote inkadu andaam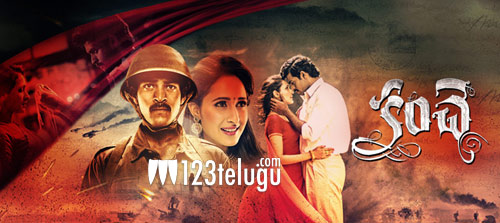 The one who writes such lyrics in Telugu cinema songs should be banned from writing any more lyrics and should be made a world peace ambassador. Okay I might have gone a bit overboard there but that lyric is a punch straight to the face of our history. For the uninitiated, that is the song "Raa mundhadugedham" from movie Kanche. The context is about war and it's uses (or lack of). The above line is right on context because the movie is based on World War II and we all know what the children of Hiroshima have gone through for ages after that.
It is so brutal of Guruvugaru, to put so much into that one line. The usage "aashala sthanyam" for the subject "Repati sishuvu" signifies how the hopes of future generations in Hiroshima had been shattered by that one bomb in world war II. Yes that one bomb killed people but it did not stop there. The ones that did not die on that day suffered for few more days and died. It affected future generations and kids were born with disabilities. And then he says "Ee poote inkadhu andaam" meaning let's stop that thing today itself. As in 1944, the time when the movie is happening and a year before the Hiroshima bombing. Going back to 1944 and making a statement hoping that the future generations hopes should be alive and should not be affected by this war when the war did the exact opposite is a stroke of a genius but also a brutally sad thought.
Below is the complete lyric of the song highlighting few lines that need a special mention.
Neeku teliyaindaa nesthamaa, Chentha cheranane panthamaa
Nuvvu nenani vidiga lemani, Ee naa shwasani ninu namminchanani
Vidwesham palinche desham untunda
Vidwamsam nirminche swargam untunda
Undunte adi manshidi ayyuntunda
Adigava bhugolama
Nuvvu choosava oo kaalamaa
Asking earth and time these questions about humans on how we let hatred rule the nations or how we seek destruction for achieving peace and indirectly posing those questions to humans is a very good rhetorical expression.
Raa mundadugeddam
Yuddham ante artham idhi kadantu
Sarihaddulne cheripe sankalpam avdaam
Premanu minchinda brahma astramaina
Aayuvu postunda ayudamedaina
Rakasula mukalle marchada pidivadam
Rabandhu la rekkala sadi ye jeevana vedam
This above line, I have to admit, is way above my intelligence level and only Guruvugaru can answer what he exactly meant by that. I am sure that he meant something very deep. The only time you can hear "Rabandhula rekkala sadi"(flapping of the vulture's wings) is when they are ready to start feeding on your body during your last breath. Like I said I am positive that Guruvugaru meant something very enlightening in there.
Sadinchedemundi ee vyardha vinodam
Ye sasyam pandinchadu maru bhoomula sedyam
There is nothing green that can be grown in a desert and desert here means a place deserted by humans because they all died and greenery represents progress. In short what is the progress that is being achieved when all the humans are extinct through wars like this.
Repati shishuvuku patte ashala sthanyam
Ee poote inkadu andaam
I just cannot say enough about these above lines.
Neti dhynnyaniki dhairyam iddaam
Raa mundadugeddam
Yuddham ante idi artham kadantu
Sarihaddulne cheripe sankalpam avdaam
Andariki sontham andala lokam
Kondariki unda ponde adhikaram
Matti thoti chuttarikam maripinche vairam
Gurthistunda manishiki manishithoti bandham
This is another masterpiece. What is our relationship with "Matti"? It is that we all die and get buried in it. So here he stresses that in our fights and enmity we conveniently forget that we will all die eventually and all this enmity is a temporary affair. And then he questions can such enmity ever try and remember the relationship between one human and the other while we are here? And that unity among humans is the best thing for the whole humanity.
Ye kalyanam kosam inthati kallolam
Neeku teliyaindaa nesthamaa
In all of Hindu mythology it is said all the God's doings are for greater good and we coined a term for that as "Loka Kalyanam". Here Guruvugaaru is questioning what is that greater good that can come out of this chaotic war and then he immediately follows with the question "Neeku theliyanidha nesthama" in a mildly sarcastic tone, meaning you know that there is no such greater good that can come out of this.
Evvari kshemam kosam ee marana homam
Chentha cheranane panthamaa
Kandaluga vidadese jandalanni
Thalavanche thalape avudam
We are taught in our childhood that one should bow with respect before one's national flag and here Guruvugaru says that we should make all those flags that divided humanity into different countries bow before our ideals of staying united, if we can stay united.
Aa thalape mana gelupani andam
And that thought my friends to stay united irrespective of borders, countries, color, race, religion, caste, gender etc., if cultivated in all of humans, is the biggest victory in all of the eternity.
Like I said earlier, one should not be given the opportunity of putting so much philosophy into a 5 minute song. He needs a bigger forum than these and a Telugu song is very small for this.
All I can say is "Respect to this great man, Guruvugaaru, Sirivennela Sitarama Sastry garu."
–Column by Rohit (Opinions expressed are his own)
Articles that might interest you:
Ad : Teluguruchi - Learn.. Cook.. Enjoy the Tasty food