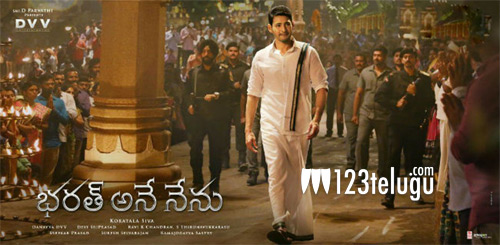 Superstar Mahesh Babu's intense political drama, Bharat Ane Nenu, opened in cinemas yesterday and received glowing reviews from critics. On the other hand, the word of mouth among fans has been quite overwhelming.
Bharat Ane Nenu is being termed as an important film in Telugu Cinema. The film carries a social message and a vision that common man desires to see being implemented in the twin Telugu States. Koratala Siva's taut narration and Mahesh Babu's career best performance are being appreciated by not only fans but several industry celebrities as well.
Stars like Rajamouli, Nandamuri Kalyanram, Rakul Preet, Nikhil, Sudheer Babu, Raj Tarun, Vamshi Paidipally, Sreenu Vaitla, Subba Raju, Shashank, Meher Ramesh, Sarath Kumar, BVS Ravi, Thaman, Harish Shankar, Anil Ravipudi, Madhura Sreedhar Reddy, Sreenu Vaitla and Gopichand Malineni etc have given a collective thumbs up to Bharat Ane Nenu.
Raising issues like Local Governance in a commercial film requires a lot of thought. Truly appreciate @sivakoratala garu and @urstrulyMahesh for their conviction. Press meet scene is the best amongst many good moments in #BharatAneNenu.

— rajamouli ss (@ssrajamouli) April 20, 2018
. @urstrulyMahesh delivered his best performance. Casting is very good. Everyone fit in perfectly. Congratulations Danayya garu and the team of #BharatAneNenu.

— rajamouli ss (@ssrajamouli) April 20, 2018
What an inspiring film #BharathAneNenu is!how amazing is @urstrulyMahesh sir as Bharat!Such well written n well executed scenes!Clapped thru d film :grinning::grinning: still feel the high of watching a lovely movie. Congrats to d entire team!Thanku @sivakoratala sir 4 giving us #BharathAneNenu

— Rakul Preet (@Rakulpreet) April 21, 2018
#bharathanunenu @sivakoratala sir
Pls plan a sequel like a part – 2
And make it to a national level
Respect sir :sparkles:

Perfectly narrated
Perfectly executed
Always wanted @urstrulyMahesh
To do this kind of social films :movie_camera:
Can't take eyes of him :hearts:#Congratulations :muscle::skin-tone-3:

— thaman S (@MusicThaman) April 20, 2018
Just watched Bharat Ane Nenu . Fantastic movie . @urstrulyMahesh sir stellar performance @sivakoratala What an idea sir. Hats off @Advani_Kiara welcome to telugu cinema.

— Atluri Venky (@dirvenky_atluri) April 20, 2018
Just watched #BharathAneNenu. Blown away by @urstrulyMahesh performance and @sivakoratala writing & direction. Terrific film. Congratulations to the whole team for a remarkable film

— Kalyanram Nandamuri (@NANDAMURIKALYAN) April 20, 2018
#bharathanunenu :flag-in:SUPER STAR @urstrulyMahesh Splendid performance :clap::skin-tone-2:@sivakoratala :clap::skin-tone-2:sharp Pen &Vision,very relatable Content to present world,@Advani_Kiara Fantastic @ThisIsDSP :clap::skin-tone-2::clap::skin-tone-2:Rayalaseema Episode Heroism peaks&Pressmeet scene Goosebumps @DVVEnts Blockbuster Hit pic.twitter.com/lWYaQKVr5N

— Meher Ramesh (@MeherRamesh) April 20, 2018
BharatAneNenu chudadam jarigindi, cinema Addirindhi :ok_hand::clap::clap: SuperStar Mahesh Babu is incredible in the Movie.. Congratulations to @sivakoratala Sir ND the team of #BharatAneNenu for the Blockbuster… @urstrulyMahesh

— Nikhil Siddhartha (@actor_Nikhil) April 20, 2018
#BharathAneNenu kept its promise beyond anyone's expectations. :bow: bow to @urstrulyMahesh @sivakoratala.

— subbaraju (@actorsubbaraju) April 20, 2018
Exceptional writing .. Class Direction by @sivakoratala Sir n Outstanding performance by @urstrulyMahesh Garu makes #BharatAneNenu a perfect watch :ok_hand::skin-tone-2::ok_hand::skin-tone-2:
Summer continues with one more Blockbuster Hit from our SuperStar :star:
Congratulations to the team for the huge success :+1::skin-tone-2:

— Shashank (@ActorShashank) April 20, 2018
Hearty congrats to 'Bharat Ane Nenu' team, Koratal Siva, @urstrulyMahesh & others produced by DVV Creations. Happy & proud to be part of yet another film with a strong message for the society with #MaheshBabu #KoratalSiva#BharatAneNenu

— R Sarath Kumar (@realsarathkumar) April 20, 2018
#BharathAneNenu..superbbb..@urstrulyMahesh Garu at his best .@sivakoratala :clap::clap:..it's very honest attempt..@ThisIsDSP fantastic BGM..congratulations to whole team:ok_hand::+1::+1:

— Gopichand Malineni (@megopichand) April 20, 2018
#BarathAneNenu meets all those huge expectations :+1:Maheshs performance in the press meet scene stands out for me as one of his best performance till date. Super congratulations to the entire team @sivakoratala @ThisIsDSP @DVVEnts

— Sudheer Babu (@isudheerbabu) April 20, 2018
#bharathanenenu superb…@urstrulyMahesh Garu done great job….so many good momments.@sivakoratala Garu..writing nd presentation..very nice sir… congratulations to whole team:ok_hand::+1::+1:

— Anil Ravipudi (@AnilRavipudi) April 20, 2018
Brittle premise yet tough script matched with outstanding performances and top notch directorial and technical brilliance of @sivakoratala makes #BharatAneNenu yet another memorable blockbuster for @urstrulyMahesh congrats @DVVEnts @ThisIsDSP

— BVS Ravi (@BvsRavi) April 20, 2018
#BharatAneNenu…@ThisIsDSP is ruling the roost, Back ground score is Fantastic Buddyy.. CONGRATULATIONS to the whole Team for this Huge One.. @DVVEnts @Advani_Kiara @DOP_Tirru…:+1:

— Vamshi Paidipally (@directorvamshi) April 20, 2018
Watched a Nice & honest movie #BharatAneNenu. Brilliant performance by @urstrulyMahesh. Thanks to @sivakoratala for discussing some genuine and basic issues of society.

— Madhura Sreedhar Reddy (@madhurasreedhar) April 20, 2018
Watched Bharath ane nenu ..@urstrulyMahesh ruled our hearts as a prince and now taking charge over us with his mind blowing performance and extraordinary looks..Congratulations to the entire team for the blockbuster.

— Sreenu Vaitla (@SreenuVaitla) April 20, 2018
Congratulations to Super Star @urstrulyMahesh for his careers best performance in
" BAN " ; and @sivakoratala for his mind blowing writing last but not least @ThisIsDSP excellent work … which took the drama of the film next level…. Very Inspiring film..:+1:

— Harish Shankar .S (@harish2you) April 21, 2018
Articles that might interest you:
Ad : Teluguruchi - Learn.. Cook.. Enjoy the Tasty food