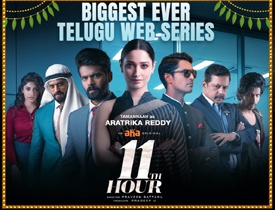 Release date : April 09,2021
123telugu.com Rating : 2.75/5
Cast : Tamannaah Bhatia, Arun Adith, Vamsi Krishna, Madhusudhan Rao, Shatru, Pavitra Lokesh, Anirudh Balaji, Srikanth Iyengar, Priya Banerjee and Jayaprakash
Director : Praveen Sattaru
Producer : Pradeep Uppalapati
Music : Bharatt-Saurabh
Editor : Dharmendra Kakarala
Cinematographer : Mukesh G
Star heroine Tamannaah has made her debut in the Telugu web-series world with the just released Aha original series, 11th Hour. The intriguing trailer hinted that 11th Hour will be a nail-biting crime thriller set in the corporate world. Let's find out if the series succeeded in living up to the expectations.
Story:
11th Hour's story unfolds over one night in Hyderabad. Aratrika Reddy (Tamannaah), Chairman of Aditya Group of Companies, dreams of providing clean and safe power to all the Indians at affordable prices using the revolutionary AHNR technology. However, due to a political conspiracy at the national level, Aditya Group is on the verge of liquidation. Aratrika and the key stakeholders have to pay Rs 9,000 plus crore to the Imperial Bank by 8 AM the next morning to save their company.
Aratrika's ex-husband Siddharth Singh (Vamsi Krishna), business rival Rajvardhan Rathore (Shatru), Imperial Bank Head Sundar Das (Srikanth Iyengar), a Dubai Sheikh named Prince Sadiq (Anirudh Balaji) individually place proposals worth millions in front of Aratrika, but she declines them all and awaits a miracle to save her company by sunrise. With her dreams and the company's future at stake, will Aratrika manage to pull off a miracle or does she have a masterplan in her mind? Watch the full series on Aha to find out more.
Plus Points:
11th Hour starts off on a gripping note. The main conflict and all the stakes involved in the story are established right in the first few minutes of the first episode, thereby setting up the ground for a nail-biting boardroom battle drama.
Performances by all the lead actors are brilliant and director Praveen Sattaru must be credited for bringing out various shades of his actors quite effectively. Adith Arun, Shatru, Jayaprakash and Madhusudan deliver memorable performances.
Tamannaah is undoubtedly the biggest surprise package of 11th Hour. She effortlessly displays resilience and helplessness as the head of a sinking Fortune500 company. She looks suave and elegant as she confidently pulls off the businesswoman in distress role. She also mouths the 'F word' in style.
Minus Points:
After a terrific start, 11th Hour takes a hit due to a stretched out and slow-burn narrative. All the thrills fizzle out slowly, as the back and forth narrative oscillates between past and present. Even the climax where such a massive conflict comes to a dramatic end isn't too convincing and appears simplistic.
The unnecessarily stretched out drama featuring the kidnappers, Aratrika's Secretary's romance track with Rajvardhan Rathore's Secretary and Jagannath's son only slow down the thrilling drama that struggles to unfold with all the interesting ideas running out quickly.
All the lead characters are one-dimensional and have a single and similar motive and this only adds to the redundancy. Even though actors like Adith Arun, Madhusudhan Rao and Jayaprakash deliver strong performances, the aimless narrative doesn't give their characters enough meat to shine.
Technical Aspects:
As mentioned above, lack of a gripping narrative is the main drawback of this otherwise intriguing series. Director Praveen Sattaru does a decent job with a half-baked script he has dealt with.
Background score is quite effective and elevates even several loosely knitted scenes. Cinematography is decent and the muted colour tones add to the mood of the proceedings. Editing is decent, but the unnecessary scenes mentioned above should have been trimmed down.
In terms of production values, 11th Hour is undoubtedly the best series in the Telugu digital world till date. Even though a major portion of the story unfolds in a star hotel, the rich visuals, aided by some splendid camera work and production design make it look like a lavishly made series.
Verdict:
On the whole, 11th Hour offers a mixed bag of emotions and thrills. What starts off as a riveting corporate crime drama goes all over the place before ending on an underwhelming note. That said, you may definitely watch this well-made series this weekend for its impressive performances and technical values. However, you may consider taking a short break between each episode instead of binge-watching the entire series at one go to better experience this slow-burn thriller.
123telugu.com Rating :2.75/5
Reviewed by 123telugu Team
Articles that might interest you:
Ad : Teluguruchi - Learn.. Cook.. Enjoy the Tasty food