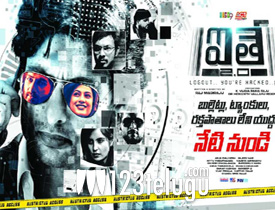 Release date : March 16, 2018
123telugu.com Rating : 2.25/5
Starring : Indraneil Sengupta, Zara Shah, Kartavya Sharma, Mrudanjali
Director : Raj Madiraju
Producer : Hemanth Vallapareddy
Music Director : Arun Chiluvera
Editor : Karthik Palle
Aithe 2.0 is one film which has been lying low without a release for the past two years. The crime thriller has finally hit the screens today and let's see how it is.
Story:
The story of the film is all about four engineering graduates who are jobless. Frustrated with their lives, they commit various cyber crimes and join a software company. As time passes by, one of the employees in the company commits a huge fraud. Upset with this, they decide to decode what the cybercrime is. Rest of the story is as to how these four friends stick as a group and nab the criminal.
Plus Points :
The basic point of cybercrime is pretty good. The whole concept of doing the crime and for what purpose has been showcased well. The pre-interval scenes are pretty good and generate a decent interest in the film.
Also, the manner in which the friends nab their boss through cybercrime has been shown well to an extent. The film looks quite rich visually as the basic point is set in a good backdrop.
Even though all the actors in the film are newcomers, they have done quite well in their roles. The various aspects of how money is robbed through cybercrime have been showcased fairly well.
Minus Points :
Even though the director's vision is good, the way it has been transformed on the screen in not that impressive. Many scenes have been added to elevate a small concept and this prolongs the proceedings unnecessarily.
The screenplay takes a beating as the film has a roller coaster effect. The heroines of the film have absolutely nothing to do. The climax of the film is quite predictable as we exactly know what is going to happen next.
Major post-production formalities like dubbing and re-recording of the film are very bad and are of low quality. There is a lot of crime in the film which looks overdone.
Technical Aspects :
Dialogues of the film are pretty ordinary. The camera work is just about okay as one can find out that the film is quite old and has been in the making for quite some time now. Music of the film is below par and the background is even more disappointing. Editing is strictly okay as many scenes in the second half could have been edited out. Coming to director Raj Mudiraju, even though his vision is good his narration of the film lacks the depth. He does not manage to execute things in an entertaining manner.
Verdict:
On the whole, Aithe 2.0 is a good concept gone wrong. The lack of depth and entertainment value in the proceedings disappoints the audience most of the time. All those who think that Aithe 2.0 is the sequel to the hit film Aithe, they will surely get bogged down after watching this film. Except for some gripping episodes regarding the cybercrime, this film has nothing much to offer.
123telugu.com Rating : 2.25/5
Reviewed by 123telugu Team
Articles that might interest you:
Ad : Teluguruchi - Learn.. Cook.. Enjoy the Tasty food
TAGS:
Aithe 2.0 Cinema Review
,
Aithe 2.0 Film Review
,
Aithe 2.0 Movie Review
,
Aithe 2.0 Movie Review in Telugu
,
Aithe 2.0 Review
,
Aithe 2.0 Review and Rating
,
Aithe 2.0 Telugu Cinema Review
,
Aithe 2.0 Telugu Movie Review
,
Aithe 2.0 Telugu Movie Review and Rating
,
Aithe 2.0 Telugu Review
,
Aithe 2.0 telugu Review and Rating
,
Indraneil Sengupta Aithe 2.0 Telugu Movie Review